As they seemingly every year under head coach Bill Belichick, the Patriots entered the 2012 NFL Draft with a pair of picks in the first round.
But the last time the Patriots actually made two selections in Round 1 was back in 2004.
After a furious start to the first round, which saw numerous rapid-fire trades at the top, the Patriots decided to get in on the action. First, they traded their 27th overall and their third-round choice (93 overall) to Cincinnati for the Bengals' 21st pick. With that choice, they then selected Syracuse defensive end Chandler Jones (6-5, 270).
Shortly thereafter, New England did it again, moving up from their slot at 31 to 25, swapping picks with Denver (they also sent the Broncos their fourth-round selection - 126 overall) to take Alabama linebacker Dont'a Hightower (6-2, 265).
This marks just the third and fourth times in the Belichick era that New England has moved up in the first round (2003 for Ty Warren, 2002 for Daniel Graham the others). Interestingly, the upward moves came just hours after the club denied - via the team's official Twitter account - an NFL Network report earlier in the day that suggested the Patriots were interested in trading up to the 12th pick owned by Seattle.
"I thought we had a good day today," Belichick told reporters immediately following the conclusion of the first round. "As usual, the draft always takes some interesting twists and turns. You just never know how it's going to go."
Belichick added that he was somewhat surprised he was able to climb the first-round ladder without surrendering either of New England's two second round selections (the 48th and 62nd overall choices).
Jones, as the head coach pointed out, was predominantly a defensive end for the Orange, whereas Hightower was more of a moving part in Tuscaloosa. However, Belichick added that he's excited to work with both players and see how they might be utilized in the Patriots system.
"Chandler's a little younger, has a little less experience, but a very talented player," he continued. "Smart guy, works hard, did a good job against some quality players.
"Hightower's been in a great program for a great coach [Nick Saban], won a couple of national championships, been the signal-caller for that defense. He played middle linebacker, inside linebacker off the line for Alabama in their base defense and nickel, but he also played defensive end in their nickel, opposite [Courtney] Upshaw. He rarely came off the field, defensively.
"Both players have some versatility we can work with."
Jones' sack numbers weren't eye-popping, but his overall skill set - ability to set the edge versus the run, as well as get to the quarterback - appears to have won over Belichick.
"No matter what I do, people will criticize," Jones told reporters during a late-night conference call. "Bill Belichick picked me for a reason. I'm excited and happy to be a Patriot."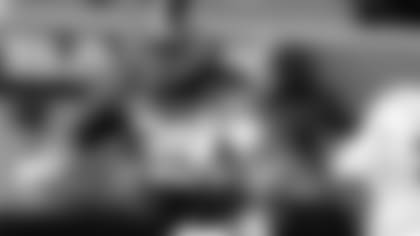 Hightower, too, praised his new boss in a phone Q&A with reporters gathered at Gillette Stadium.
"Coach Belichick is a genius when it comes to football, let alone defense, so, to play for somebody like that and gain more knowledge, after playing for Coach Saban, is only going to help me."
Jones recalled meeting Hightower during the Scouting Combine, and said the two joked about winding up as teammates in the NFL. Now, it's a reality.
"Can't wait to see him tomorrow," an enthused Jones remarked.
Both players are scheduled to arrive in Foxborough sometime Friday for their introductory photo op and first in-person media session. That should take place by mid-afternoon, at the latest.
Meanwhile, the Patriots will get back to business when the draft resumes at 7 p.m. with rounds two and three.
Belichick didn't rule out making more moves, up or down, on Friday. The final day of picking begins at noon Saturday, though at the moment, New England doesn't have any picks beyond round two.