Many dream of becoming a professional athlete or attending an ivy league university. Only some pursue that dream to every extent of their power.
Against all odds, both Devin McCourty and Andre Norman did just that in the NFL and at Harvard, respectively. But as the two sat next to each other in the radio studio at Gillette Stadium last winter, the newly retired New England Patriots safety learned how different their journeys to the top were.
"I used to listen to these games. About five miles from here there's a state prison. It's called MCI Walpole. It's a maximum security prison. I was there for 14 years," Norman said, thinking back to the most memorable Patriots games he loyally watched from the confines of either county jail or state prison.
"When they had games here, we could hear the cheers in the prison yard. The flyover, or if there was a concert here, we could hear it from the prison. I was five miles away and I was cheering for you every week."
Above all, McCourty and Norman are connected by the Patriots and by serving the New England community – even those behind bars.
Born and raised in Boston, illiterate and involved with gangs, Norman's bouts with the law found him sentenced to over 100 years in maximum security.
Norman rose to the top of the prison gang system only to land in solitary confinement. During this two-year stint alone, he set a few goals for himself.
Attend Harvard. Find success.
In the eight years that followed that epiphany, he learned to read, earned a GED, and won the appeal that led to his release after 14 years of imprisonment. Since turning his life around, he's instilled the same type of motivation from others in the form of mentorship and public speeches.
Imagine him now, inspiring at-risk youth, holding his own Ted Talks, and speaking before Fortune 500 CEOs and the employees of the New England Patriots.
Norman first arrived at Gillette Stadium to speak to employees at a Kraft Sports + Production "Work Talk." Patriots executives were so moved by his message, they wanted to find a way to amplify it to the entire fan base.
Not to mention, he had to at least meet McCourty, who called upon his Patriots teammates to sign a letter urging former Massachusetts Governor Charlie Baker to recommend clemency for a Brockton man who was harshly sentenced to life in prison without parole at just 21 years old.
How profound could a podcast conversation between Norman and McCourty be? Who could benefit from hearing their perspectives? Because before he was a two-time Super Bowl champion, McCourty was one of three sons to a widowed mother raising her sons in Nyack, New York. His father died when he was just three.
If anyone could get the 13-year NFL veteran to open up and show a side of him most haven't seen publicly, it's Norman. And in addition to its publishing across Patriots.com and team social channels, the podcast could also be distributed to those inside prisons across the United States.
The five-episode series features Norman's in-depth conversations with McCourty and teammates Matthew Slater, Ja'Whaun Bentley, David Andrews, and Jonathan Jones about football, failure, faith, family, and more.
Hear Slater offer his perspective on building a fulfilling life through faith, Bentley open up about the years his family was homeless, Andrews speak vulnerably about the pulmonary embolism that could have ended his playing career, Jones discuss the trials and tribulations of making it in the NFL as an undrafted free agent, and much more.
Above all, learn about the power the Patriots have to bring people together and inspire the best out of them.
"When I watched the game between the Bears and Patriots in '85 I was in the county jail," Norman tells McCourty in the first episode.
"I didn't watch it from home, I was in jail. The whole jail would top and root for the Patriots. There's no beef. There's no drama. That Patriots are on and that's it. When I was in prison there for 14 years, come Sunday was probably the lowest amount of violence in the prison because everyone was watching the game. Take another state where they don't have a winning team and a winning culture and nobody's watching the game and everyone is out in the yard. We, religiously, were in front of that TV for four hours. You all gave us peace of mind and something to talk about the next day.
"Did you understand you had that type of impact?"
Find "The Andre Norman Show: Conversations with the New England Patriots" on Patriots.com and all podcast streaming services.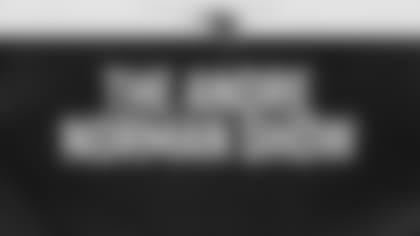 New for 2023! The Andre Norman Show
Join Andre Norman as he sits down, one-on-one, with New England Patriots players for conversations about football, faith, family, and more. Full episodes are available now on your podcatcher of choice.