OFFENSIVE POSITIONAL COACHES
RUNNING BACKS COACH IVAN FEARS
(On not having Kevin Faulk, who was so strong in pass protection and whether this year's group is improving in that area)
"Sure. I mean, the guys have done a good job with it so far. Everybody has got to pass protect, I don't care who it is. Danny [Woodhead] is probably our most experienced guy back there are figuring out what's going to happen. But Shane [Vereen] and Rid [Stevan Ridley], they've all got to do a good job. We can't play without having a guy be able to pass protect for us. That's an important aspect of their job. All of them work at it in the drills and in the meetings and figuring out what we expect our opponent to do to us, and then they've got to get out there and see it. They've got to anticipate it and be able t pick it up. Kevin was great at anticipating it – figuring out what these guys were going to do. Danny is probably the best at that right now, but the other guys are doing a good job of figuring it out."
(On if receiving out of the backfield is a work in progress)
"I think every week is different. You work at it all the time and try to get our guys in positions where Brady can find them. The guys can catch the ball; that's not the problem. But they've got to get open and they've got to get out when they're supposed to get out, and that requires then first making the decision on whether they have blitz pickup, then getting out, running the pattern and beating the guy one on one or beating the zone and finding a spot to be open. Kevin was really, really good at that and the other guys are learning that. That's something you've got to have a feel for, you've got to see. And we work hard at that and I think that's something that we'll continue to work on. But every week is different. Every opponent is different and the looks that they're going to give the guys and what the guys have got to try to figure out how to win against."
(On the makeup of Stevan Ridley that could make him a great NFL running back)
"They biggest thing about Stevan is that he's very passionate about the game. Stevan loves to play and I think that's his first and biggest asset. There's no doubt – on a game day, he is there. He is mentally in the right frame of mind to play the game. I think as long as he's got that kind of passion for the game, he's going to do the little things that he needs to do to be physically ready to play the game. So he's maturing. He was a young guy when he came in and he's figuring it out. He's figuring out how to be a professional athlete. He's figuring out what it takes to be a professional athlete. That's what you like to have."
TIGHT ENDS COACH GEORGE GODSEY
(On the tight ends group)
"I think all of those guys in that room area really true professionals. I think they put in the time that's needed in this sport to be successful. If you're just going to put [in] the normal time that's on the calendar or on your schedule that you're given, you're not going to be as good as I think we want or as good as they want. I think all the guys in that room really put in extra time physically, mentally and preparing for the game."
(On what makes Michael Hoomanawanui who he is)
"They each have their own niche. Mike isn't as outspoken as some of the other guys in the room. But he's defiantly a good note taker and I think he understands his responsibilities and I'm proud of how he's taken his role. The more he can do, the better off we'll be and I think that's how he's looking at it, too."
(On what he teaches the tight ends and how receptive they are)
"I think as an offensive staff, there are a lot of points that go into each particular play that applies to each one of them differently. I think whether it's in the passing game when we go over routes as a whole with Josh [McDaniels], or when we get individually with myself or likewise in the running game with Dante [Scarnecchia], they each have different roles – Aaron [Hernandez], Rob [Gronkowski], Daniel [Fells], Mike [Hoomanawanui] – and they're different players. So it's trying to get those guys as prepared as possible for what their particular role is, and not the big picture of maybe a play that they won't be playing in."
(On how professional Rob Gronkowski is, despite his fun-loving attitude)
"I couldn't ask for more from those guys from a professional aspect. Those guys are here a good majority of the day; it's not just check in and check out. They do a good job of accepting their role of putting the time in and doing what it takes to be successful at that role. There are times when each one of those guys are out in a receiver position. There are times when they're in line at the point of attack tight end. There are times when they're in the backfield. There are times when they're motioning. So, it's not just the typical tight end role, so I think it takes a little bit more time than coming in here, grabbing you sheets of paper, checking in and checking out. I think those guys have done what we've asked as far as putting the time in."
WIDE RECEIVERS COACH CHAD O'SHEA
(On Brandon Lloyd's play against St. Louis)
"I thought Brandon did a good job vs. the Rams. He worked extremely hard in practice, did a good job in preparation and that resulted in good execution in the game. That's really what's he done throughout the entire year. He's worked very closely with Tom [Brady] to try to be on the same page. Those two have spent extra time together and have really worked hard and try to execute the game plan that the coaches have asked them."
(On his concerns about Brandon Lloyd bouncing back after hurting his shoulder)
"I don't have any concerns about Brandon bouncing back. This time of year, all players have injuries that they go through. I think that's true for a lot of our roster and it's true for a lot of our opponents. As far as him bouncing back and doing a good job, I have no questions he'll do that. He works extremely hard at what he does. I'm really happy with how he works."
(On his thoughts on the way the receiving corps performed in the first half of the season)
"Just as all facets of our team and our offense, there are areas that we definitely have to make improvements in. That's what's great about having a bye week is the opportunity to kind of address some of the things that we need to improve on, really make those points of emphasis clear to our team and to move forward. The one thing our team has done a great job of, whether it's the receivers or any other positions, is they've really taken the coaching and really handled that really well and responded well to that."
OFFENSIVE LINE/ASSISTANT HEAD COACH DANTE SCARNECCHIA
(On Donald Thomas and his expectations)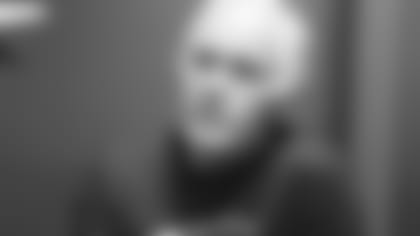 "He's had multiple starts this year, he had a couple starts last year, or certainly one I can remember. When you put him in there, the expectations levels are high. I think they're high on their part, on his part and on all the others. Nick McDonald has done it; he essentially started two weeks ago against the Jets because Dan [Connolly] couldn't play because he was so sick and he started a couple games for us last year. We just feel that those guys understand their roles. They're on the roster for a reason because we feel like they're really good players. Our expectations of them are very high and we hope that the expectations of themselves are very high."
(On why the team consistently has better records in the second half of the season compared to the first half)
"I don't know. I hope it's true and I obviously hope it's true this year. I just think that [mentality] around here is to improve every day. I think that holds true from day one to wherever we are now, at the halfway point, and going forward. Today we're going to go out and practice. Today our goal is to improve. If our team embraces that, we have a chance to be a better team as we go forward."
(On Nate Solder's development in his second year and his assessment)
"He's just like all the other guys and all the other starters. We have expectations of him. He plays a critical position because it's the left tackle position and those guys always have a tough job, but they all have tough jobs. There are good players in this league at all positions. Is Nate satisfied? No. I think that every day he wants to do better and get better and he always has challenges. He's going to be challenged next week, just like all of them will be challenged. They [Buffalo] have some really good pass rushers on the edge – they have Mark [Anderson] and they have Mario [Williams]. Kyle Moore now all the sudden got a bigger role for them and [Chris] Kelsay has always been a good player. Every week, every week if you don't play your best football, you're going to have a problem over there, or any of those positions. I think that's really true obviously on the edges where you see things a little bit more lucidly than you do inside."
(On if he would say Ryan Wendell has done an excellent job stepping in at center)
"I think he has. I think clearly the obvious is that he replaced a very, very good football player and a very popular football player [Dan Koppen]. That's as tough a decision as we've ever had around here for those reasons. But we also knew that this is a young guy that has played very well when we've asked him to play. He's done a very good job through the first eight games of the season. He's all the things we thought he would be. He's very tough, he's very smart, he's a really competitive guy on every down, through every down. he's a great finisher. That's why he's here and that's why we kept him as a rookie and kept him around here and that's why this kid is on our roster and that's why he's starting for us, for all those reasons. It's not a comparison, that's just what he is. So yeah, we're pleased with the way things have gone there. Yet, if you asked him, I'm sure he would probably say he has a lot of work to do and he could play better in a lot of situations. He's a great kid, I'm glad we've got him."
(On how much this team has improved since Week 1)
"I'm going to leave that up to you guys to answer. We're a 5-3 football team. As has been stated around here many times, you are what your record is. A lot of people wouldn't want to be 5-3, we would like to be better than 5-3 but that's what we are. What we need to do is have a great week this week and next week hopefully get to 6-3 and see where it goes. We have a tough opponent next week to do that though, so I don't know how much it's improved. That's up to others to say, we just feel like we have to improve every day or we'll never get to where we want to be."
DEFENSIVE POSITIONAL COACHES
CORNERBACKS COACH JOSH BOYER
(On what he's telling Alfonzo Dennard to help him keep improving)
"With Alfonzo, there is a long way to go, there are a lot of things to improve on. He doesn't have a lot of experience in the NFL. Things that we're doing here are different than what he did at Nebraska so each week he is growing a little bit, he's getting to see more things. With him, it's a lot of little things, working on alignments, working on techniques. He's making the most of some opportunities, he's doing some good things for us but we have a long way to go. There are a lot of things that we can improve on, too."
(On if there are overlapping technique changes they can make to the defense to improve)
"There are some technique things that we can improve on. A lot of times, it's different with different guys. Maybe one guy is struggling with something and another guy is struggling with something else. Maybe there are some things that we can do structurally to help that. Those are all things that we take into consideration every week going into the game. Those guys are working on the individual things that they can do to get better. Again, being younger, a lot of the experience those guys get, it helps them. They understand things a little bit better, they see the game a little bit better, they understand the film study a little bit better. Those things will help them improve as we move forward."
(On if he thinks the youth in the secondary has created camaraderie among the players)
"I think in the back end we have a very close-knit group. I think those guys have a good chemistry together, they work very hard, they're here all the time, they watch film together, they're working to improve. There are some good things that we've done and there are some things that we need to improve on. I think those guys are all headed in the right direction. I think the key thing for them is that all of them have stayed the course, they understand what we're trying to do – we're trying to improve each day, we're trying to get better on some things. When we have some bumps in the road, they know, 'OK, we have to try to fix this, we have to make this better.' Sometimes it's a matter of, the other team, they have good players, they'll make plays too. Sometimes we're technique-sound there, other times it's, 'OK, if I just do this little thing here, maybe the result will be a little bit better.'"
(On if the St. Louis game was an example of staying calm after surrendering the big play to start the game and if staying flat emotionally is something they preach)
JB: "I think from a defensive perspective and especially in the back end, one of the things that we talk about is you have to play with patience, you can't play with panic. The most important play is the next play. Whether the play that happens is good, bad or indifferent, you need to move on and play the next play, which is again, the key process of our whole learning process here. It's just trying to get better with each play, each day. That's why the bye week is so great. It gives us an opportunity to improve on techniques today and try to get better today and moving forward next week." (On if it's a point of emphasis to tell the players to tune out the noise and focus on getting better week to week)
"The thing we talk about is to stay the course, try to improve. I know this is very redundant but that's how we approach it and that's how I approach it. We need to get better. Things that we've done well, let's keep doing well and just stay the course and try to get better today. In the end, all that really matters is that we're improving each week and we're playing our best ball down the stretch."
SAFETIES COACH BRIAN FLORES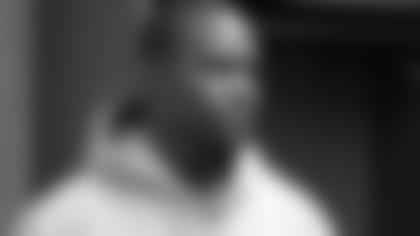 "I think he's made a lot of improvements over the course of this year. He's made a lot of good plays; obviously he's had some not so good plays. The thing about him is he works hard. He definitely comes in here every day, wants to improve, he puts the work in. He's done a good job for us and he's made a lot of good plays."
(On if he thinks Tavon Wilson has the skill set to be a very good contributor for years to come)
"I think he's contributed a lot so far. He's made some plays for us. He's obviously still developing, he's a young player. He's going to learn, every play is an experience for the young guys. Good or bad, it's something you put in the memory bank and you move on and you get better from it. I think all of our young guys and all our players do that."
(On what it says that Devin McCourty, a Pro Bowl cornerback can move to safety and shore up the back end)
"It says that he's a selfless player who just wants to do whatever he can to help the team win. I think Devin is always selfless. He has all the traits: he communicates, he's a focused player, he's smart, he does a lot of things well. He can make that transition, a lot of guys can't. I'm happy to have him."
(On if he has to get the players to not let the big plays given up fester)
"In this game, you can't let things fester. Our guys don't do that. You have to move onto the next play. You're going to have hardships, you're going to have a lot of good plays, you're going to have bad plays. With your bad plays, you turn around and you forget them, you move on from them. I don't think our guys are in a situation where they're thinking about that. They're thinking about improving, moving on to the next play and trying to make the next play better."
DEFENSIVE LINE COACH PATRICK GRAHAM
(On the defensive line as a whole)
"The line as a whole, I think I've been blessed with a good group of guys, starting with our leader, Vince [Wilfork]. Great football player. I think I'm learning a lot from him [laughs], just like I try to [teach] being a coach. But with his experience, him and Kyle Love, all those guys have done a good job – Rob Ninkovich, all hard workers, diligent workers. And that's the biggest blessing for me in terms of that they're professionals, they work hard and that's all you can ask for, really.
(On Chandler Jones as a run defender)
"I think number one your job as a defensive lineman is to help stop the run and he understands that and we've made that clear in our room from day one that that's going to be part of your role and your job. He's done a good job doing that and I think he has room to improve, but we all do, just like I have room got improve on a daily basis in terms of helloing the guys prepare. But I've been pleased; he's doing a good job for us."
(On the large role of rookies on this team this year and whether the long season compared to college can take a toll on them)
"Well, each player is an individual. I think the thing we've been blessed with here, all our rookies and all our veterans, they're all professionals and they go about, whether it's taking care of their bodies, putting in the studying, understanding the grind of the season, and so far so good with those guys. So I wouldn't expect anything less than that as we go along."
LINEBACKERS COACH PEPPER JOHNSON
(On whether it's fun to coach this group of linebackers)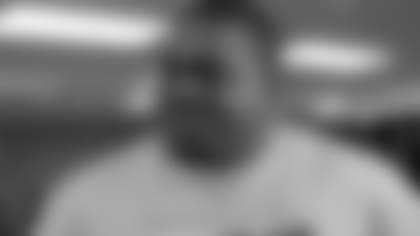 "Yes, definitely. Yes. Those guys have a lot of energy and they're excited about playing and they're happy about playing the game. It's fun to coach them and it's great to see them go out there and play. They're having fun, so that's a good thing for us."
(On his impressions of Dont'a Hightower so far)
"It was as expected. The guy is not your average rookie. He's like Vince [Wilfork] in the mindset that he came in already a professional, already fine tuned into what it takes to be a professional football player. He's young sometimes in conversation, but his approach to the game is strictly professional, so he's easy to coach to me."
(On bringing Mike Rivera back and what he brings to the group)
"The same attitude. During the offseason, we all kind of grouped together knowing that some guys are going to still be here and some guys might not be here, but everybody committed themselves to take the same attitude and approach to the ball game. We had family member that was out there for a little while, and he just returned home."