DAN CONNOLLY, OFFENSIVE LINEMAN
How difficult did the Bengals defense make it for you today?
"The Bengals played great today. The defense held us. They stopped us in the red zone and we couldn't score. They did everything that they wanted to."
How frustrating was it not to be able to move the ball?
"Our job on offense is to score, and when we don't do that, we are disappointed. That's our part of the deal, and we didn't do it."
Are they as well-balanced of a defense as you have seen?
"Yes. They are a good team. They played just how they show up on film."
What about the execution could be better?
"If you look at the film, then you'll see what it is. Every guy needs to step up and do a little bit better."
What was the difference in the game?
"Obviously, in the end, we didn't make enough plays to win the game. That's how it is in this league. You have to play your best. Overall, we didn't play our best. We have to go back to work this week and get better. There is a lot of football left to play this year, so we need to get to work and keep growing."
Can the defense hang their hat on the fact that they only gave up 13 points?
"We did some good things out there, but we still lost the game. We need to work on the things we didn't do so well and try to find ways to win games. That's the main goal."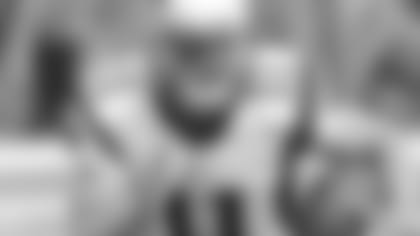 ](/node/46631)JULIAN EDELMAN, WIDE RECEIVER**
What happened on that last play where the ball was intercepted?
"I don't know. It was a bang-bang play. I'm not sure if he got a hand on it. I should have came down with it."
When you got the ball back at the end of the game, did you think you were going to score because you've done it before?
"Yes. We practice that situation all of the time. Unfortunately, we weren't able to execute it today. So, it's unfortunate. We just didn't have it today."
How aware are you as a wide receiver when the defense is getting so much pressure on the quarterback?
"You're not really aware of it; you are just trying to do your job. My job is to get open and catch the ball, and I didn't do it well enough today."
AARON DOBSON, WIDE RECEIVER
What happened on the second-to-last play? It looked like you went to the post and Tom Brady threw it to the corner. Did you just see it differently?
"We must have just seen it differently. I guess our communication has to be better."
When happened when you let the ball go after the catch-and-run?
"I was just trying to make a play. He came from behind me and knocked the ball out. I just have to be better with ball security."
What were they doing to make it difficult for you guys?
"I feel like we beat ourselves. If feel like it's stuff that we can improve on. It's nothing that they did. We just have to improve."
What's the mood of the locker room after a game like that?
"You can look around and tell. It's upsetting. We don't want to lose. We have to bounce back and have a great week of practice and move on to next week."