Stevan Ridley, Running Back
(On if he has improved confidence as a player after his third 100-yard game of the season)
"It didn't end the way I wanted it to, but besides that, I'm just thankful to be out there. Some things are going in my favor and some things aren't. For me, I just need to come back in here on Monday and get back to work. But we're going to continue to work hard, that's the only way they do it around here and that's the team way."
(On if Denver was looking to strip the ball more aggressively toward the end of the game)
"Absolutely. It was late in the game, you've got to close it out, you've got to run the football and I told myself before the play [that] I had to hold on to the football. Like I said, they're getting paid to play, too. You can't make any excuses, I messed up. I'm sure coach is going to have something to say about it, but like I said there's always another day tomorrow. So I'll be back to work and working ball security high and tight. And that's all I can do."
(On if it's a sense of pride for the running back group to have consecutive 200-yard games)
"It's awesome, man. I just have to say, it takes a lot of pressure off [Tom] Brady. And that's our leader, that's our team. A lot of people key on him and our running back group has to get some pressure off him so he can be the quarterback he can be. If they're sitting back there staring Brady in the face every play, we can't be a one-dimensional offense. So we're taking pride in that and we're thankful for it, but there's a lot of work to be done. We're not satisfied and it's still early in the year. There's a lot of football to be played.
Jerod Mayo, Linebacker
(On changes in the defensive lineup affecting communication between players)
"We practice a lot of different looks. We have a lot of different people doing a lot of different things. Those guys do an excellent job translating the practice over into the game."
(On the success of the run defense and hitting "midseason form")
"We have a lot of good players as far as up front and those guys (the secondary) do an excellent job keeping us clean on the back end. We're doing a pretty good job against the run, but we're always trying to improve."
(On the effect the Patriots run success offensively has on the Patriots defense)
"I enjoy when we run the ball. The clock is moving. Especially when we're going against a great offense like Denver has. Anytime you can keep the ball out of their hands and anytime we can get turnovers to get the ball back in Tom and those guy's hands it's always a good thing."
(On Peyton Manning at the line of scrimmage)
"He still did the things that he's done in the past. He checked a lot of plays at the line of scrimmage. Even if it's not vocally, he's still doing hand signals and little subtle things that change the entire play. It's like a chess match out there."
(On forced turnovers and the first drive of the game)
"It was a big play for them that turned into a big play for us and that's always huge. Like I said earlier, we strive to get turnovers. Anytime you get the ball back over on that side it's a good thing."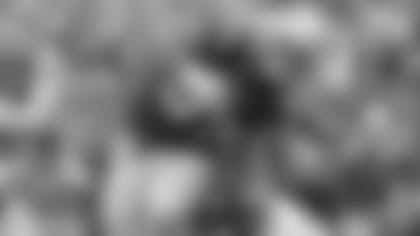 Rob Gronkowski, Tight End*
*(On the offense's balanced attack)
"Yeah the o-linemen were blocking great. The coaches were calling what they saw and they did a great job—the coaches and the o-linemen—and the running backs were running hard. Like I just said, whatever is called we just have to go out there as an offense and execute it as a team, whatever the play is that's called."
(On the importance of starting the game fast on offense)
"It's always important to start fast. Get up on the board and just keep on playing. You've got to play all sixty minutes of the game. Keep going, keep working hard, keep playing and keep executing. It's a sixty minute game and you've got to play all sixty."
(On if it is fun to run the no-huddle offense)
"It's just fun being out there. With our offense, going quick, going slow or whatever it is, it's just fun being out there."
(On how much concentration it takes to run the no-huddle offense)
"It takes a lot of concentration. It takes a team effort for sure. You've got to have all eleven guys working at the same pace and you've got to make sure you're doing your own job out there. You've just got to focus during the week and you've got to focus at practice, so when it comes to game time I'm out there myself personally doing what I have to do and we're all working as a team."
Brandon Lloyd, Wide Receiver
(On how it felt to play against his former team)
"It felt like a normal game."
(On if Denver's defense had a hard time keeping up with the offense's fast pace)
"It's the pace that we play at every game. It's what we practice, what we've been practicing since training camp and it's just the tempo that the coaches and that Tom [Brady] want to play at."
(On if the no-huddle offense put Denver's defense on the ropes)
"It helps, it helps. Like I said, we're just going at the pace that the coaches and Tom [Brady] want to go at. You definitely see a change later in the game."
Donald Thomas, Offensive Lineman
(On if there if there is a goal in practice each week to run the hurry-up offense)
"There is a sense of urgency on every play. There's never been something like that. We all just go out there and know that we don't know – I've never counted the seconds between each play and I don't know if anyone else has talked about it. We just talk about doing it at a fast pace."
(On whether he saw the team rushing for so many yards)
"No, I didn't, I mean, we always try to run the ball well and protect the passer. I didn't know it was that many yards, honestly, until you just told me. We just try to go out there and have a great run game each week."
(On whether he can sense the offense is starting to wear down the other team)
"When we start clicking, I think that's when we all get a sense of, 'OK, we can move the ball.' Sometimes it takes a little time to do that. Some games it's faster than others. That's going to be one of the things we need to keep trying to do."
Dan Connolly, Offensive Lineman
(On when the team decided to strive for a more balanced offense)
"We always try to be balanced. As offensive lineman, we like to run the ball and you have to run the ball to set up the passing game and that whole thing. It's working for us."
(On what is working correctly for the offensive line)
"I don't know what it is. We just start to get in a groove and things just start to work for us. I don't know if it's the play calling or it's the blocking or what. But it just starts to work. "
(On the challenges for the offensive line to execute the hurry-up offense on long drives)
"Communication is key. As long as we all know what we're doing and we're on the same page, we can go fast."
Alfonzo Dennard, Defensive Back
(On getting first game action)
"I felt pretty good. I was a little nervous out there, got a few mistakes I got to fix."
(On if he knew he would receive playing time)
"The coaches told me to just go out there and compete at practice and we'll see from there."
(On being challenged by Peyton Manning late in the game)
"Like coach Bill [Belichick] said, 'just go out there and compete.' That's what I like to do so I just go out there and compete."
(On if he was satisfied with his play)
"I feel I got to do a lot more work, you know technique-wise, kind of sloppy. I've got to watch film first."
(On if he would rather the offense constantly attacking him)
"Yah, if they keep coming at me I get into my comfort zone, I mean just go out there and make plays."
(On if part of his nervousness was going up against Peyton Manning)
"I know he is a great quarterback, so I was kind of nervous at first, but I did pretty good I think."
(On making the big third down play)
"It felt pretty good. I mean going up against Peyton Manning, like I said, I know he's a great quarterback and I just had a lot of comfort from Devin [McCourty] and Kyle [Arrington], all of them said just to go out there and play my game and everything will come to you."
Rob Ninkovich, Defensive Line*
*(On the sack-fumble play)
"I was trying to set up my moves a little bit early. I know those guys out there are good and they're big and you have to give it to [Peyton] Manning he's got great pocket presence so the first couple drives I was trying to just bull rush, trying to collapse the pocket a little bit. Then on that one rush I just changed it up and swiped and got on the field and the ball was there so we just got it out."
(On the fumble at the end of the game on the draw play)
"The fumble at the end of the game on the draw play I just saw the running back step inside so I just followed him and saw the ball on his right hand and tried to throw a hook at it."
(On if he's feeling good about his play the last few weeks)
"I knew I was capable of making some big plays and being a guy that you can count on so the first couple of weeks I didn't feel I was playing my style and the way I would like to play, so I felt the last couple weeks I'm doing some things that I've been trying to change."
(On if there is anything in particular he could identify as to why he struggled early)
"Sometimes it's obviously just moving to a different position. I was just trying to do my job and you know do the best I could for the team and as a defensive end you know you can't play the pass in a run situation and play the run in a pass situation so it's something that you just get a feel for. You know just getting off the ball when it's pass and playing the run when it's run."