Vince Wilfork, Defensive Lineman
(On if he felt the team could have done more in the win)
"The most important thing is to walk away with a W. That is the biggest goal, so when you can do that against a divisional team, it always feels good. Things weren't perfect, we understand that but we made plays when we needed to make plays. We have to take something like this and keep it moving. We fought and they fought. We are two teams that know each other very well. It came down to the last couple of seconds, and like I said, anytime you play a divisional game, you have to always expect it to be a close game, and it was. We are not disappointed at all about winning the ballgame, but there are some things that we have to do better and there are some things we did well out there, but at the same time, the main goal was to win, and we did."
(On the Bills playing better than their 3-5 record)
"We're not surprised, trust me. We knew coming into this game that (C.J.) Spiller averages seven or eight yards a carry and that hasn't been done in who knows how long, but that's a big stat, and they showed tonight that they have very explosive backs and (guys at) skill positions. I think they have one of the better offensive lines and they're coached very well. They gave us a handful, so we knew it was going to be a tough game. Playing against the Buffalo Bills is always tough. Divisional games are always tough and you really can't look at records.
(On the Bills rushing attack)
"They run the ball very well. We have two (running) backs like that and it is just very tough to defend those guys. Like I said, the biggest stat is to win. We can always get better and do things a little differently going forward. There are some scheme and fundamental things we'd like to clean up, but we got away with a W to be 6-3. You've got to be proud of that.
Deion Branch, Wide Receiver
(On the offense's ability to take time off of the clock and extend the lead to six points on the team's final scoring drive)
"It was good. I think more importantly we were trying to score [a touchdown]. If we would have scored [a touchdown] the game would have been a little different. The outcome would have played out a little different. Kudos and thanks to our defense, man. They did a great job of saving us."
(On if he had the feeling that the game could fall apart)
"It was a weird game. I mean there are going to be games like this here. This is one that teams have to stand up and continue to just push and fight through it. It's not a good feeling, because I know that we're a lot better than what we put out on the football field today. We know that. Buffalo is a great team, but at the same time we didn't put our best game on the field."
(On why Buffalo always proves to be a tough game)
"It's a division game. We know each other and we did just enough to get the victory. We didn't put our best on the field, but we did just enough to get the victory."
(On if it is frustrating that there were still mistakes coming out of the bye week)
"Yeah and no. There are times when you go through these games here and people will say that it's the bye week that causes this slacking and stuff, but not with us. Like you said, we had a lot of time; we put in a lot of work going into this game and we knew what to expect from these guys. They didn't do anything different. Earlier in the game it was OK, but we just didn't do enough to put them away."
Danny Woodhead, Running Back
(On if scoring two touchdowns made it a good day)
"It's a pretty good day because we got the 'W'. That's really the only thing that matters. Two touchdowns, whatever, that's not the most concern. It's just getting the win and we got the win."
(On what he saw on his touchdown run)
"It was a great play, great blocking and I just tried to do the rest."
(On if he realized that today was his first multiple touchdown game)
"Now that it's mentioned, I guess, yeah. But that's not something I'm too concerned with. The team comes so far before myself and it's the win that matters. It's not myself getting two touchdowns."
(On if it is fun to get a few more touches in a game like he did today)
"You know whatever the coaches ask me to do, I'm going to do. If it's blocking, if it's playing special teams, if it's running or catching, I'm a football player and that's what I try to be is a football player and to do whatever I'm supposed to do on a particular play to the best of my abilities."
(On what the mood was like on the sideline when the defense was trying to stop Buffalo and close out the game)
"We're watching the game like everyone else. Trying to get the fans into it and they definitely were. We got a great stop by the defense and we got the win."
(On if he feels that his ability to play in the passing game, running game and special teams helped him get a shot when he first joined the NFL)
"Maybe it did. I don't know you'd have to ask the coaches that have played me. I try to do everything that I'm asked to do and I try to do it as well as I can."
Marquice Cole, Cornerback
(On nearly recovering a fumble in the fourth quarter)
"Well, the ball is on the ground, you've got big guys diving all over the place, so [the Bills] came up with it."
(On if he got his hands on the loose ball initially)
"Initially I did. But I'm a little guy [laughter], so I got knocked around a little bit. "
(On the importance of getting a divisional win)
"Yeah, it's huge. It puts us where we need to be moving forward."
Steve Gregory, Safety
(On if the defense gets frustrated by giving up so many yards, third-down conversions, etc.)
"Oh yeah, you want to do a better job with it. No one wants to give up third downs or give up a lot of yardage and give up big plays. But you've got to try to poise yourself and figure out a way to correct it. It's not getting frustrated and getting mad at guys, it's getting in there together and working as a unit to get things better. That's what we're going to focus on this game. But like I said, the main thing is to win football games and we won today. We came up with a play at the end of the game to seal it. The offense did a great job and we appreciate that."
(On Devin McCourty playing alongside him at safety)
"It was great. Devin [McCourty] is a smart football player, a good football player, so we communicated well."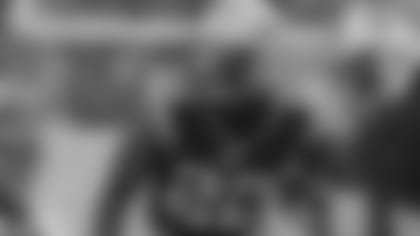 Stevan Ridley, Running Back
(On the play of Danny Woodhead Sunday)
"Phenomenal, man. That's the leader in our room and Woody [Danny Woodhead] does it all. He runs well, he catches well. He's a threat for the defenses. They've got to find the little short guy out there somewhere, but most of the time he's making plays and it's too late. My hat's off to Woody for leading our room and doing it strong."
(On his false start late in the game when the offense was on the two yard line)
"That's a mental error by me and that's something that I have to do better on and I can't continue to live by. That's a blow to us because we're lining up to punch the ball in and get a touchdown and get a false start and bring us back. Those are things we have to eliminate to play cleaner football. But overall, I just say the team - we did a phenomenal job to finish it and play 60 minutes."
(On Danny Woodhead's touchdown celebration)
"He's [Danny Woodhead] feeling it, man, he's feeling it. What can we say about Woody? Two touchdowns, I say he does what he wants [laughs]."
Wes Welker, Wide Receiver
(On the missing the catch in the first half, was the sun the problem)
"Yeah just a little bit, but it's still a play I need to make and be more consistent on, it's something I have to work on."
(On do you think things are starting to click on some areas of offense)
"On some, but there's is still a long way to go. We still have a lot of work to do and we left a lot of plays out there we have to make and I think it starts with myself."
Nick McDonald, Offensive Lineman
(On coming into the game after the injury to Logan Mankins)
"You have to prepare each week as if something like that is going to happen. It's unfortunate that someone goes down you never want to see that, we're good friends and good teammates but when they go down and your number is called you have to play just like they would, just like a starter would."
(On what's the biggest challenge of going in off the bench)
"Honestly it's not a big challenge it's just a matter of being prepared for it, that's the biggest thing. Preparing mentally as if you're going to start the game, so going into it sometimes it is hard to do that but you have to be ready just like they (starters) are."
Stephen Gostkowski, Kicker
(On the final kick and preparation heading into kicking a late field goal)
"During the game I don't think about that stuff. I'm just trying to make one kick at a time and go straight from the kick to the kickoff. Other than that it's just – I'm kind of like a robot out there – I don't really show that much emotion. I don't really get into the game as much because if you experience so many highs and lows it's hard to focus on your job and you only get on opportunity to go out there and kick. You need to remain focused as much as possible and not waste energy being a cheerleader on the sidelines. When they were about to score at the end I was just getting ready to go if we had enough time to make another kick and it was just good to get the opportunity and come through and it was especially cool on Veteran's Day and we would like to thank all them for all they do for us."
(On if the team prepared more for special teams due to the Bills' return specialists)
"We always work a lot of every aspect of the game, especially we pay a little closer attention to the team when they have an explosive returner like Leodis McKelvin and even their back up returner Brad Smith. They're just so explosive and so good, but everybody's good in this league and it's just I don't think we leave any stone unturned when it comes to special teams and you can't take any team for granted especially one as good as the Bills."
(On the ability to pin the Bills at the 20-yard line all game)
"You just take what you can get. You aren't going to get many 60-degree days in November so I take advantage of them and try to kick it deep and keep the ball out of their hands."
(On coach Bill Belichick's confidence in him)
"I wouldn't be on the team if the coaches and players did not have confidence in me and I have confidence in myself and I just try to practice well and then if you practice well and consistently practice well it's going to carry over into the game consistently and it's tough to go out there and be perfect every time. Everybody makes mistakes, has bad plays and has bad kicks, so if that happens to me I just think about all the ones I've done well and I don't over think it and I don't try to over analyze it – guys miss every week, a lot of it's about timing and when you miss, all that stuff. It's just good to come through and get on a roll and get a little streak going and win a couple games and it's a lot more fun that way."
Donald Thomas, Offensive Lineman
(On entering the game with little warning)
"You got to come to the stadium ready to play. You never know if you'll play or not play. You got to be ready to go and another situation happened today where I had to step in and fill the void for somebody."
(On the difference between receiving notice prior to the game and entering due to injury)
"When you know kind of beforehand it's different than in the flow of the game and you just kind of go. It's a little bit different."
(On if it's easier because the game is already going)
"No. I think it's a little bit more difficult because you need to catch up to the speed of the game when you've been standing there and then you got to go from 0-100 in a split second. You just got to be ready to go. Luckily, it was right before the half so I got two plays in the half and then got a chance to settle in and think about what I was going to do for the second half."
(On if the team played well under the circumstances)
"I think we played well enough to win the football game. I think you know with what happened today we managed the game and were able to move the ball. There is always room for improvement and you can always go back and break down the film a that's any team and any player, so we take the good and the bad and move on from it and try to not make the same mistakes twice."