DEFENSIVE END MARK ANDERSON
(on how the experience from playing in a prior Super Bowl helps him going into Sunday)
"The first one was at Miami, so the whole scene was crazy. Just being there helped me realize what I'm feeling to get into this week; which is just a lot of media stuff, a lot of fans, just a lot of different things that throw you off your schedule. I'm already kind of used to this, and I can just kind of sit back and go with the flow-really soak in the moment."
(on the sting of losing Super Bowl XLI)
"That hurt, man; that hurt bad. We should have won that game right there. I don't even like to think about it anymore. It was pretty bad, getting all that way and still weren't able to win. It was tough."
(on if the Patriots defense is playing their best football right now)
"I think we're at a good place right now. We worked real hard, it's just one-and-done come playoff time, and we're playing our best ball right now. You should be showing up when it's playoff time. All the stuff in the regular season doesn't really matter to this point until you get to the next level, and that's winning a championship."
(on the strengths of the Patriots defense)
"Everybody plays as one, we play as a unit. We do everything together-both off the field and on the field. We all play for each other and we all know what is at stake. We use that for motivation to go out there and do our job."
(on Bill Belichick's pregame speech before their playoff game against Denver)
"Yeah, I do remember that speech, it was an amazing speech. Bill basically went through each player and told them the reason why he brought us here. It was a powerful speech, everybody really took it to heart and you could tell by how we played that Sunday."
(on the main message of Bill Belichick's pregame speech before their playoff game against Denver)
"Just that everybody is here for a reason. He personally picked out each and every one of us. We have a job and everybody has a job to do, and it's up to us to do that job."
(on what Bill Belichick told him his purpose for bringing him to New England was)
"He just told me that he wanted me to come in and make plays and help the defense out in the pass rush. That's basically what I've been doing."
(on if he watches the Super Bowl every year)
"I don't really watch the Super Bowl every year-I used to when I was younger, but after we lost my first year I couldn't watch it after that. I couldn't do it. This is the first time I've even thought about the Super Bowl since 2006."
(on what made the Super Bowl XLI loss so hard)
"Just all the hard work you put in, and then you get to the big game and you lose. You would rather lose and not even make it to the playoffs. It just seemed like everything you worked for went down the drain. Even though we had a great season, we made it to the Super Bowl, but ultimately you want to win the Super Bowl. Nobody remembers the second place guy; it's all about winning."
(on if he dislikes losing the Super Bowl more than he appreciated being in the Super Bowl)
"Losing is the worst, because like I said, you get all that way and you want to win, you don't want to lose. When you lose it's like you didn't even make it to the Super Bowl anyway-that's how I feel."
(on how he is taking in the Super Bowl experience having been through it once before.)
"Being a veteran player, I'm just trying to do the same things I've been doing the whole season. Every week I have a certain schedule I stick by that schedule, just try to treat it like a normal week. Don't let all this hype get to me, just focus on the job I have to do and take care of my responsibilities on the field."
(on how much of him is focused on not having the same feeling he had after losing Super Bowl XLI)
"All of me. I can't lose again. I don't want to lose again. That was a horrible feeling. Just seeing the confetti come down for the opposite team, I don't want to see all that. I want the victory."
(on if he is over the Super Bowl XLI loss)
"I'm over it now. I'm not even thinking about it anymore. I just remember that feeling and I don't want that bad taste in my mouth again."
(on defensive line coach Pepper Johnson doing things to create unity on the defensive line)
"That's big when you're trying to create a chemistry within the defensive line. It's big to do things off the field, get to know one another, get to know the guys. What they like to do, what they don't like to do, and I'm very appreciative to him and his wife. They always have some type of gathering or something where everybody is all over. We really appreciate that, it's good for the chemistry."
(on if there was speech this season that has stuck with him)
"We were just talking about the Denver (playoff) game, Bill (Belichick) gave a crazy speech - it was remarkable. It was pregame on Friday night. He just gave a remarkable speech that really touched a lot of guys. Everybody was focused and ready to play the next day. You saw how we came out on fire. Everybody was ready."
(on what made the speech Bill Belichick gave the night before the playoff game against Denver special to him)
"When he said the stuff to me - I was just really impressed how he went to each guy and gave the reason why he brought them here. He went through everybody; everybody that was in that room, he called them out and told them why he brought them here. It was special, a special moment."
(on Bill Belichick's coaching style)
"To me, he's a great coach. He's a motivator, but you respect him so much you don't want to let him down. You know how much hard work he put into it, and you just don't want to let him down. You want to go out, do your job and you want to make sure you do everything you can to prepare just as well as he did. You just kind of want to match his intensity. He's a great coach, one of the best coaches I have ever played for."
(on what kind of relationship he has with some of the University of Alabama players that are entering the 2012 NFL Draft)
"Those guys are kind of young. I haven't really been back in a minute-probably since my second year in the league, but I plan on going back soon. All I know is what I've seen on film. They look like some great athletes, great talent out there. I can really see them doing a great job at the next level."
(on if he still follows the Alabama football program closely and if there is a potential NFL prospect who jumps out at him)
"I still follow it closely. (S Mark) *Barron, he jumps out at me. I like the way he comes up and hits you. I like the way he plays - that fire and intensity he plays with. Also, *(RB Trent) Richardson, I like the way he runs the ball. He runs hard-nosed, gets after it. He pounds it for every yard he gets. Those two really stand out to me. *(LB Courtney) *Upshaw, he's a good linebacker as well. But, those two guys really stick out in my mind when I think about Alabama."
(on how much of a difference it is to go to a Super Bowl versus an AFC Championship game)
"You're preparing for a world championship. It's a different level of football. When you win an AFC Championship, you have an opportunity to be great among all of your peers, all of the nation, all of the world. I can't even imagine what that feeling is going to be like, but I know we're going to be prepared with everything that we have to make that happen."
(on whether the veterans talk about what it's like to win a Super Bowl)
"I've talked to [Tom] Brady a little bit about it and he says you just have to enjoy it, because each team is different, each experience is different. That's why he has such a hunger to get back here and the hunger as a team to get to this point. When you look across the league, there are 32 teams that have a goal to get to this point, that's what their season is based on, and now there are two standing. After Sunday, there will just be one and that's what our goal is."
(on what has made this young secondary so successful)
"Bill does a great job of game plans and putting us in position to make plays. We're opportunistic. We always say, 'Do your job and good things will happen'. If you have the opportunity to make a play, you have to make it. We all count on each other to do that and it's brought us some success. Hopefully it brings us more success on Sunday. With that being said, we're facing a very good passing attack. We're facing a quarterback that's hot right now, that's playing the best football of his career and the receivers are following his lead. They're getting open and making big runs after the catch and getting in the end zone. Our hands are full and our preparation is going to be everything."
(on the Giants three wide receivers)
"It's just a different dynamic when you have Hakeem Nicks, who can take a skinny post and take it 60 yards. You have Victor Cruz who can take an out pass 80 yards. All of the different facets for them to catch the ball and then you have [Ahmad] Bradshaw who's a great running back and can also catch the ball out of the backfield and get yards after the catch. There are a lot of different dynamics and we understand that."
(on whether he feels he is a leader on the secondary)
"I definitely have taken on a leadership role. I've played in a lot of big games in my young career in the NFL and those guys understand that. We all understand what it takes to win and what's asked of each other. The bar is set high for all of us, because the way we play determines whether we win or lose. We play well, we win. If we don't play well, it's not going to be a good game."
(on whether he's dreamed about what it will be like on the field)
"Every morning and every night, I take some time and just think about it and think about what's going to be asked of me, things I'll have to do during the game, and just the game itself, the atmosphere. It may be similar to my dream, it may be completely different, but you're just trying to mentally prepare yourself for something that you really can't prepare for."
(on what the Patriots have to do to slow down the Giants offense)
"We're looking at a team that is so explosive. They have the ability make plays and the guys can run after the catch like no other. Our hands are full and we understand that. We have to prepare and our preparation is going to be everything for us to be successful."
DEFENSIVE LINEMAN KYLE LOVE
(on what this week has been like for him)
"It's been crazy. Being here has been overwhelming, but it's been great though. I love this moment. This is definitely a moment to remember and I'll never forget it."
(on if they'll get to see the Incredible Hulk come out on Sunday)
"Definitely, definitely. You'll be able to see the Incredible Hulk come out."
(on if he brought any posters of the Hulk to motivate him for Sunday)
"I actually do have motivation on my phone. A fan drew this for me the other day (photo of him screaming after a big play)."
(on what's been his favorite part about Indianapolis so far)
"Just being up here. As soon as we touched down from the flight it's been great. We got these Super Bowl scarfs when we landed and it's been great since we got here."
(on how it's been different in preparing for the game)
"It's different because you're used to playing home games, being in your own facility and now you're not. They've brought photos we have around our facility to make it more like home for us. They've done a pretty good job."
(on what he's expecting out of Sunday)
"I'm expecting a lot. I'm expecting for us to go out there, play hard, fight for each other, and come out with something positive after the game."
(on if it's been hard avoiding distractions)
"Not for me. Nothing really gets to me. (Bill)
Belichick preaches, 'Keep your blinders.' Kind of like how the horses are. We just need to stay focused on the game and the task at hand."
(on if Vince Wilfork has helped him improve as a player)
"Definitely, definitely. We've had a lot of talks. We still have talks and I would like to thank him for all the things he's done for me because he's really been there for me. Hard times, hard practices, games, or whatever, he's always been there for me. He's like my big brother out there."
(on if he has a reaction to Giants DT Chris Canty's victory predictions)
"Honestly, not at all. That's not the way we do things. We're focused on the game. We're not into predictions. It's good that he's confident. A good team will lose on Sunday. Hopefully it's not us."
(on if he's excited not to see the media again until Sunday)
"Very excited. We're ready to play some football."
(on if the media attention has been more annoying or overwhelming)
"It hasn't been annoying. It's been a great experience and the guys are really taking it all in, but at the same time, we're out here to play a football game and we're preparing like that."
(on if the questions about TE Rob Gronkowski's ankle have taken the pressure off of other guys)
"To be honest with you, I haven't really been asked that many times about Gronk's ankle. We've just been talking about the Giants. I think that's the way it needs to be."
(on if Head Coach Bill Belichick has said anything inspirational to the team to get them ready for the game)
"Not too much, to be honest with you. If you're not ready for the Super Bowl, you won't be ready for any game."
(on if there is anything different about the Giants since the last time they met)
"Obviously, they're getting healthy. (RB Ahmad) Bradshaw didn't play in that game, (WR Hakeem) Nicks didn't play in that game, and they still beat us. They have a lot of weapons, they're very dangerous, and they have a lot of good players."
(on Giants QB Eli Manning)
"He's a great quarterback, and like you said, in the postseason he's making a lot more plays with his feet. He's running, making first downs, he's making all the right throws. I think he has one interception in the postseason. Any time you're not turning the ball over you're going to win games."
(on Belichick calling him the quarterback of the defense)
"I just try to lead these guys to victory. We're finally getting guys back healthy; (LB) Brandon Spikes, *(S) *Patrick Chung. It's good to have those guys back on the field as well."
(on what gets people excited about a rematch)
"I'm not sure. I guess the losing team has something to prove pretty much. At the same time, it's the Super Bowl. If it wasn't a rematch, it still would be that feeling that it's time to get up and go. That's the feeling we have."
(on being described as selfless on the field)
"To be honest with you, I just try to lead by example. It's not like I try to go out here and be like, 'These are the qualities that I need to have to go out and lead these guys.' I just try to go out there and work hard each and every day and do my job and the guys just follow that."
(on if there is a mentality on the team that there has to be a degree of selflessness)
"Yeah. We always talk about team. We don't do individual introductions or anything like that. We run out as a team and we feel like we're a family. I think that's what leads to our success."
(on if he senses a cohesiveness in the locker room)
"Definitely. The locker room is great. It's not like you have guys late for things or anything like that. Guys are always here to work. We have a young team – a young, hungry team – and hopefully it shows on Sunday."
(on what the focus will be in practice the rest of the week)
"Just tacking down the game plan pretty much. We have the nuts and bolts in. We just have to tighten up a few loose ends and get it together and get ready for Sunday."
(on how the lockout affected different teams' ability to mesh)
"To be honest with you, we all were affected the same. If you can't get gelled in 16 weeks, then when will it happen? This locker room has been great all year. We put the extra hours in. We knew a lockout was going to happen, so guys were willing to work extra, work overtime, and put that work in so we could gel."
(on if scoring defense is key)
"At the end of the day, it's all about scoring defense. It's all about wins and losses. A big thing for us is turnovers as well. Any time you win that turnover battle, that's a direct correlation between wins and losses. We focus on that."
(on his biggest concern about the Giants passing game)
"Just the different threats that they have. You can't forget the tight ends, as well. Those guys are vertical players and make a lot of plays for them. Then you have (WR Victor) Cruz in the slot who's a quick guy, and then you have (WR Hakeem) Nicks who will break the game wide open. He could take a 10-yard end cut to the house, as you've seen these last couple weeks. You can't forget about (WR Mario) Manningham, who is a great player as well. (QB) Eli (Manning)
is doing a great job getting the ball to those guys when they're open, so they're very dangerous."
(on how impressed he is with what WR Julian Edelman does)
"It's very difficult. Everyone talks about how he plays in the slot and how he plays offense and defense, but don't forget he plays special teams as well. He's playing in all three phases of the game. Not only does that take physical conditioning, but it also takes mental conditioning. He's always in his playbooks, his multiple playbooks, and gets the job done."
(on the Giants saying Edelman isn't a real defensive back)
"If you can touch him, he's real. He's real to me, and he's a good player for us."
(on what his routine will be like from Saturday night until kickoff)
"I've heard stories from (DT) Vince (Wilfork) and (RB) Kevin Faulk and they keep reminding us, 'Don't get too hyped. Don't get too overexcited for this game.' At the same time, you want to make sure you're prepared, go over your last minute notes and approach it like any other game. I'm sure that first kickoff will be very exciting, but as soon as guys settle in, it will be a regular game."
(on what he's heard it's like to run out of the tunnel)
"They say it's very exciting. It's a feeling you can't even describe."
CORNERBACK DEVIN MCCOURTY
(on how key it will be to get the Giants off of the field on third down)
"That's key in every game, especially with the type of offense they have. They're so explosive. We don't want to give them any extra drives, or anything like that. A lot of times when you can't get off the field on third down, then it results in some sort of push, like three points for a field goal or a touchdown. It's going to be key for us to take care of third down, but it all starts for us on first down. We're going to have to play to stay ahead of the downs. If you fall behind, they get in a lot of third-and-shorts. They've had pretty good success with that, so we have to try stay ahead and create some third-and-long opportunities."
(on whether the Patriots can get physical with the Giants receivers to force turnovers)
"Defensively, we definitely have to try to create some type of takeaways. It gets the offense on the field more, gets them opportunities to score. They have a pretty good defense too, so we have to set our offense up with some good field position and take some stress off of them so they don't have to drive the whole length of the field."
(on the creativity of Head Coach Bill Belichick)
"Coach Belichick does whatever he thinks. It all starts with what he does in the film room, comparing what he sees, and once he's confident, he'll do it. As players, we go out and execute whatever he wants us to do."
(on whether he is ever surprised with the moves Belichick makes)
"Yeah I do, because my football mind isn't there yet. I can't think how he thinks, but it usually works pretty well."
(on what it means to be in the Super Bowl)
"It's great just to be here with all of my teammates. I think what we've gone through this season has really made it special with the ups and downs – Mr. [Robert] Kraft's wife, Myra. To come out and play the way we played this season, trying to get better each week and make it to this game I think just shows how resilient this team has been."
(on what makes the Giants three wide receivers so explosive)
"They're all explosive. They all can make plays and with Eli [Manning] back there playing quarterback, you have a guy that can get them all the ball. The toughest part is just them as a whole and having to go in and contend against three really No. 1 receivers on one team. We're going to come and play hard."
(on whether there is any one philosophy to stop the Giants wide receivers)
"We have to just go out there and stop them. That's the game plan. We have to go out and play well defensively."
(on what it's like to have four teammates from Rutgers)
"It's pretty cool to talk about old times with me, [Tiquan Underwood] and Alex [Silvestro]. We all played together, but Nate [Jones] was a little before us. We can compare when he was there and we were there. It's kind of cool."
(on how important it will be to stop yards after catch)
"Tackling is going to be a focus. Once they catch the ball, we know they're going to make some catches, we have to come out and not give them a lot of yards after the catch. That's when they really get dangerous, when they can make catches and make guys miss and turn a 10-yard gain into a 20- or 30-yard gain."
(on what has changed with the defense in the playoffs)
"We just executed better. We made a couple more plays. We watched the film from the season. There were always a couple of plays each game that changed the game around, so we just tried to fix some of those things and improve each week in practice."
(on what it is like going to the Super Bowl in his second year)
"It's been incredible, just being here with the guys, going to nice restaurants, hanging out. When you're here in the hotel, you hang out way more than when you have to go home and do different things with your family. We've been able to just bond and have fun with each other."
(on whether he is nervous)
"A little bit nervous, but more so excited to go out there and play."
(on who is the leader in the secondary)
"Pat [Chung] and myself – Pat, having a lot of praise in this league, and then me playing a lot in two years. I think what's really helped us is what James Ihedigbo has brought. Being on the Jets, he went to two AFC Championship games, then coming here he's been able to jump in and have success. Being an older guy, he's been able to show us the way and be a leader in the secondary as well."
(on his former experience working in construction)
"It was awesome. My dad's been doing iron working like that for 30 years now. It just kind of gave me a really good view on how he's been working his whole life. It's tough. It's not an easy life. It taught me a good lesson to make sure I continue my education and do something not as everyday-grind and tough on your body for the rest of your life."
(on his beard)
"You like the beard, huh? The last loss we had, I said, 'I'm not going to shave. If we're winning, I'm not going to shave until we lose again,' and we haven't lost. This is a win-streak beard. The last time I shaved was when we played the Giants."
(on if he will keep the beard after this Sunday)
"I don't think so. I've got to take it down a little bit. It's getting long."
(on wide receiver Wes Welker's facial hair)
"Welker, I think he just started that a couple weeks ago. This has been going three months now. I've definitely got more time invested in the beard."
(on switching from defensive end to linebacker in the Patriots' different defensive fronts)
"Playing defensive end my whole career basically, it's pretty easy to just put my hand down and rush. The more difficult things are learning the 4-3 scheme as a true linebacker, a SAM linebacker off the ball. That's a little bit different, but I enjoyed learning every different aspect of the defense. It gives you a lot more knowledge of the game. Before, as strictly a defensive end, you don't know all the ins and outs of defensive coverages, the things that defensive football is all about. I really enjoyed learning this year the different schemes we've run."
(on the process of switching positions)
"In training camp, they said, 'Hey, we're going to ask you to learn some new things.' I was open to everything. It was pretty cool being able to play all the different fronts that we play. I was excited for it."
(on the team seeming to be loose and relaxed)
"It's just we're enjoying the Super Bowl. You've got to just be relaxed. Come Sunday, you've just got to go play. During this whole week, I'm soaking it all in. Everybody is just taking it all in and enjoying the moment."
(on Giants' defensive tackle Chris Canty's claim that there will be a parade in New York)
"We're just going to go play Sunday and see what happens. We're working hard this week to prepare well for their team, and we're going to go play them tough. We're not going to say anything. We're going to just go play."
(on how practices have gone this week)
"We've had some really good practices. Obviously, this is the biggest game. There's a ton of energy out there. Everybody's flying around and trying to do their best to prepare themselves for Sunday."
(on trying to enter the NFL originally as a long snapper)
"I was really never a long snapper because I didn't do it in a game. I don't really see myself as a true long snapper. I was in that position just to make a team. It was kind of my only option, to make the team as a long snapper. That wasn't my first choice, but it was my only option. Being released and coming here was a blessing. This was my path. It was supposed to happen this way, and I'm really happy that I'm a linebacker and not a long snapper. I'm happy that I have the skills. I love that I have the skills and can do that. It's always great to have that in your back pocket. The more you can do, it's going to help you stay on a roster."
(on how well Giants quarterback Eli Manning is currently playing)
"If you look at the last five or six games he's played, they're really playing at a high level. He's obviously a great quarterback, and he can extend plays. You see some plays where the pocket broke down on him, and he looks like he's going to get sacked. He finds a way to get out and finds an open receiver down the field. He's going to be a challenge for us. He's a great quarterback, and I put him up there as one of the top quarterbacks in the league right now."
(on his construction experience after high school working on a bridge)
"That story has been a little bit stretched a few times. I was going to work for two weeks before I went to junior college. I was working on a bridge on I-57. It's got stretched a little bit to say I was like 19 stories high. No, I was on a bridge. It was tall. It was over some water, but it wasn't super all. I was tied off, and it was still a dangerous job. It was something that I learned from. In Chicago, you know how cold it can get and how hot it can get. My dad's been doing that for 30 years now. You don't get any paid vacation. If you want to make more money, you have to work overtime. It's hard to do. My dad always told me, 'It's a young man's job.' When you're young, it's great because you can go out there and provide for your family. But once your 55, 60 years old, and you're still doing that, it's tough."
(on what his father tried to teach him at the job)
"I think that he wanted something better for me. There's nothing wrong with being an iron worker, being outside, and doing physical labor. It's an honorable job. You build something. You help the community. Every time you go over a bridge that you put up, it's cool to say, 'I helped build this.' He was just trying to teach me, 'I want you to go to school. I want you to get an education. I don't want you outside in negative-10 degrees sitting on iron.' "
(on keeping from being distracted this week)
"You do your best to really focus in on not letting anything else distract you and preparing for this game. Obviously, in the Super Bowl, there's a lot of things that you have to do during the week, media being one of them. But for everybody on this team, it's a great experience. I'm excited to be able to do this with everybody. It's a little bit different, but it's not going to affect us."
(on the defense's low ranking this season)
"At the end of the day, it's about how many points the other team scores. Sometimes we were letting up too much yardage, but once we got into the red zone, we tightened up and stopped them from scoring. They'd only get three points or nothing out of it. Obviously, during the year you don't want to have that stat of second-to-most yards let up on the defense. But being a top-five team in turnovers, it kind of balances that whole thing out. The more times you get the ball, it's going to increase your chances of scoring and winning the game."
(on the ability to change defensive schemes and personnel during the season)
"During the year, you have to do that. You have to change things up. You can't stay in the same thing throughout the year because teams are preparing for you just like you're preparing for them. That's just something you have to do during the season. We had some personnel changes. Obviously, there's always going to be that with injuries and guys getting banged up. But we did a good job of adjusting to everything we had to during the season."
(on tight ends Rob Gronkowski and Aaron Hernandez and how they compare to the Giants' tight ends)
"(Rob Gronkowski)
and (Aaron)
Hernandez are two of the best tight ends in the league right now. Going against those guys in training camp can only make me better. I could be in one-on-one coverage with Gronk, and if I can do that, I can pretty much do it with everybody. It's pretty cool. The Giants, their tight ends are pretty good. They're a little bit different in the sense that they're bigger guys. They're maybe not as explosive or fast as Hernandez and Gronk, but they're still guys that are in the offense and make big plays for them, like the last play that beat us."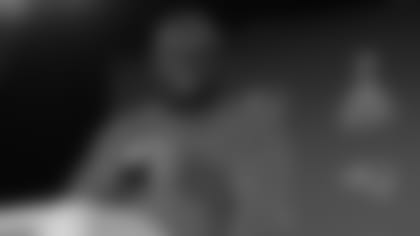 NOSE TACKLE VINCE WILFORK**
(on their week of preparation)
"I think it's been going good. I think the guys focus level is where it needs to be. There's a lot going on outside of football. With this team you really didn't know how it was going to act towards it, but they've been real professionals about it. They've been just ready to roll every day. You can't ask for anything other than that, what they've been giving us. Everything's working out so well for us right now."
(on having 20 linemen in camp and how the defense has evolved over the season)
"I think you're right, we had a lot of defensive lineman and for me, I like to see that. Throughout my career, that was one area that we always had four guys or five guys going into a game. But during camp we had a lot of bodies, so we had a lot of guys that had experience. We had a lot of guys that were young. We had a lot of fun, and it took us a while as unit to get going because of no offseason and switching our defense to a four-man front. The looks were different, the reads were different, so it actually took us a couple games for us to actually start making the plays that we knew we were capable of making. Once we got rotation and the looks and the reps and all that good stuff, I think we started playing more sound upfront. But it took those games, but normally it won't take games, it will take offseason, minicamp, it will take training camp. Coming into the season what we had to do with the lockout and everything, I think a lot of teams had to go into the season saying, 'Hey, it's going to take some games for us to get the reps that we actually need as a team.' So it happened for us also. But once we did that, I think guys started to feel comfortable about playing the defense, understanding the plays that we needed to make and being successful. I think they've done a really good job of that all year. We're a team that went from one defense to another and to do that everybody has to be on their 'Ps' and 'Qs'. You have to know exactly the situation. You have to understand what's in the game, because we will change packages quick, different looks very quick. It says a lot about our defense, especially defensive front, with Jerod (Mayo) always getting us right and with the help of me up front, actually knowing the defense a little. So we have a real good supporting cast that actually can get us in the position that we need to be in up front. "
(on if the central location of this Super Bowl has made staying focused a challenge)
"No, you know what, I don't think that's a problem. We can stay places where we're 30 miles from our destination, and we can stay in places where that in 10 feet you have a beach right next to you. This team does a real good job of actually going to work and just focusing. The level of concentration has been absolutely great for us and that's what we're going to need. The thing that we try to do is stay on a regular routine throughout this whole process and for as much as we can, we've done that. I think the more you can do that, the better it will be because you don't have guys scrambling around trying to figure out where to go, what we have to do next or what's now. That's how we've been. I think the coaches, the organization have done a real good job of trying to keep us on that schedule. And it's better for all of us. Not just players, but I think it's better for the coaches, and it's better for us because we can always get back to our regular routine and because that's something that we always do. It's been fun. Super Bowl is always an experience. No matter how you slice it, win or lose, you always remember this time of your career. I think that guys understand that. We're enjoying it. But at the same time, we have some work to do on Sunday."
(on QB Tom Brady being hard on himself after the AFC Championship game and if he worries about his ability to rebound)
"No. There is no other guy that I would want leading my team than Tom Brady. I don't care if it's the worst game of his career or the best game of his career. Each week he always puts it behind him and moves forward. I expect him to do the same thing this week. Just because he had a pretty bad outing, that he says that he had in the AFC Championship, I don't think that that will have any effect on anything he's going to do Sunday. We understand that. Players understand that. We don't really, we're not sitting back saying I wish Tom had a good game because we know the type of player that he is. We know the type of person that he is. We know how hard he works, so that is not a problem for us. Sometimes you can be your own critic. You will pick yourself apart at times, but you have to understand you have to have a level, a cutoff. Not too much, don't go too high, don't go too low, and I think Tom will do a good job of that."
(on the Giants confident talk and his reaction to that)
"No I don't care about what's been said. They feel confident and we do, too. The game is never won in the papers or through media. You always have to rely on the game on that Sunday, or whenever the game is. For us, that's Sunday. We'll do all our talking on Sunday. We don't have to go out and say what we want to do and how we feel. I know we are very confident, they are very confident. If they weren't, they wouldn't be in the position that they're in. Both teams want to win, but it's on game day. It's not now, it's on game day."
(on his temper and how he has channeled it to positive energy)
"That's something, you get it growing up. I was always a hot- head and always wore my passion on my sleeve, and I had to learn there's certain ways you can do things to get the same outcome. So I think it came with maturity. And at the same time, nobody can ever question my love of the game. Like I said, I wear it all the time on the sleeve and sometimes that's gotten me in trouble when I was younger and they cost me when I was younger. So with all that, just growing, just understanding life in general and sports. Even now, I'm a different player from when I was a rookie to now. I'm very different. A lot of times when I was younger I was still a hot head. I would get pissed off quick, I would retaliate quick. And now I kind of laugh and smile and keep it fun. At the end of the day, that's what it is. We have the luxury of playing the game that we love and grew up dreaming of doing, playing football. I'm just lucky it's my job. A lot of times my friends say I don't have a job. I say, 'What do I do then?' They go, 'Oh, you just play football.' I say, 'That's my job. It's not a regular 9-to-5, but that's my job.' We are very blessed to be where we're at today. But I had to learn through time."
(on what traits Eli Manning and Tom Brady share)
"A couple things. They are both leaders on the field. I think that position you have to be smart, you have to be intelligent. I think you have to understand what's going on around you. I think both those guys have that. Eli's come a long way and he's showing it. He's playing probably some of his best football he's ever played. So it's going to be a tough matchup for us, but at the same time, we understand that we can't give up anything cheap to him and he's hard to rattle. You look back at San Fran, San Fran hit him a lot, but it didn't faze him. He kept getting up and kept fighting. A sign of a warrior, I see that in both of those quarterbacks."
(on the difference of the offense without Rob Gronkowski)
"When I'm out there playing I really don't pay attention to offense because most of the time when offense is out, defense-we're going over some corrections or whatever that may be. By the time we finish, we're back on the field, so I really don't get a chance to really look at what offense is doing. In practice and in games, because we have so much riding on what we're doing defensively. We really don't get a chance to sit back and be like, 'That was a great ball Tom threw.' Or, 'That was a great run.' We don't get that luxury, so I haven't seen much of what our offense has been doing in practice just because we're so occupied defensively, getting ready to play one of the biggest games of our careers."
(on if people have underestimated his athleticism because of his size)
"You know what, I don't know. I think sometimes guys see big guys and assume whatever it may be. But I think over the years, see me play and understand watching film on me, what type of player I am and what type of talent I am. I don't know. I would think they know, just by seeing me over the years, but you never know. I know my teammates, they know. Just being around me every day, going out and shooting basketballs, playing catch or whatever it may be. We know the athletes in the locker room and we always joke and jab about who's the best athletes, and of course I'm saying I am. I'm always saying me. But we have fun with it. We definitely have fun with it."
(on how big of an inspiration Mrs. Myra Kraft has been to this team)
"I think our relationship was more than football. It was more personal. It was more family. Every time I saw her, we were always talking about doing something outside of football, whether it was something for the community, for the kids hospital, shelter homes or whatever it may be. I think we both enjoyed each other because our mind frames were so different when we talked. A lot of guys want to talk about football, but with her it really wasn't about football. She wanted to know how you were as a person, what type of heart you had. She had the biggest heart of us all. That was the relationship we had, and like you said, I used to give her a kiss and Mr. (Robert)
Kraft a kiss before every game, so now Mr. Kraft gets two. One for himself and one for Myra, and I told him I'd never stop doing that because of what she meant in my life and the person she made me. She was probably one of the main people that turned me into a professional and let me know that it wasn't all about what you do on the field. I think the more you do in the community is just as well as what you do on the field. People are going to remember you for your heart and that's one thing I try to do. I try to show people who I am outside of football because I think people will understand me more if you do things like that."