Foxborough, Mass. - When the New England Patriots attempt to bounce back from their first loss of the season Sunday against the St. Louis Rams, they will have to do so without starting cornerbacks Ty Law and Tyrone Poole.
Patriots head coach Bill Belichick confirmed Law's injury during his daily press conference Wednesday and said the four-time Pro Bowler will miss Sunday's game at the Edward Jones Dome. The injury, however, may hold more serious implications than just this week. According to numerous published reports, Law broke a bone in his left foot and could miss four to seven weeks.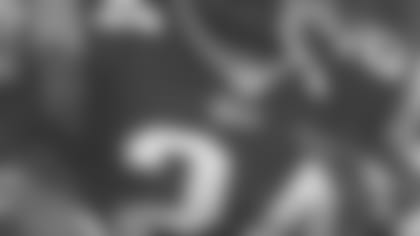 ]()"Ty [Law] will be out of the game and definitely won't play," Belichick said. "We've dealt with [injuries] before and we'll deal with it now. We have 45 active players [each week] and those guys need to be prepared to play and be ready to play and do their job. That's what you have a team for."
The Associated Press, citing Kevin Poston, the brother and business partner of Law's agent, Carl Poston, is reporting that a team doctor diagnosed the injury and that the 10-year veteran will seek a second opinion. Law was injured during the first quarter of Sunday's loss to Pittsburgh covering Steelers' wide receiver Hines Ward.
Law's injury is compounded by the absence of fellow starting cornerback Poole, who has missed the last two-plus games due to a knee injury and told reporters that he will not play on Sunday. Poole, who had a pair of crutches next to his locker, was wearing a black sleeve on his right leg.
"I should be returning shortly," Poole said. "It won't be this week. But anything after that, who knows? I just go along as the treatments go. I'm not trying to rush back. I'm trying to get myself healthy, so that when the time comes and I return, that I'll be the level I want to be at to help the team."
Poole started the first three games this season before sitting out Week 4 against Miami. He surfaced on the injury report the following week but started against Seattle, although he was forced to leave the game with an injury. Poole said he felt his injury was healing faster than expected despite the previous setback.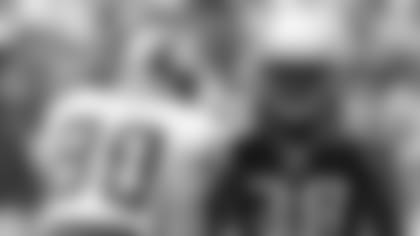 ]()"Any football player worth his salt wants to get out there and play," Poole said. "Sometimes, you try and it doesn't work out, so you have to go with the second option. My progress is better than what the trainers expected me to be at."
What's left is to see how the Patriots will continue - without Poole for at least the immediate future and without Law for what could possibly be an extended period of time. Belichick wouldn't elaborate on his plan for the secondary, but there at least appears to be some options.
"There are several things we can do," Belichick said. "We'll try to decide what we think is the best thing for this game, and that's what it will be. There are a lot of considerations. I don't think you can just isolate it to one thing. It's not about one player; it's about a group of players. There are a lot of different variables."
Second-year player Asante Samuel will likely start his third-straight game at one cornerback, but who starts opposite him appears to be undecided. Undrafted rookie Randall Gay - who has been the team's nickel back without Poole - replaced Law against Pittsburgh with mixed results. When Gay was forced to leave the game briefly during the third quarter with a leg injury, second-year safety Eugene Wilson moved to cornerback with rookie Dexter Reid filling in at safety.
Although it's ideal to only have to make changes at one position, Belichick called it "an option" to have Wilson slide to cornerback - as he did late against Pittsburgh - which would leave either Gay or Reid playing safety with Rodney Harrison. That scenario would leave Harrison as the only member of the secondary playing in his original spot.
Reid, a fourth-round draft choice out of North Carolina, has seen extensive action on special teams this season with some limited time at safety.
"There is no set formula for it," Belichick said. "I think each case has to be evaluated on it's own merits. Again, you just do what you think is best for the team. There are a number of different options and we'll try to do the ones we think are best."
If needed, Belichick said it might also be an option to sign a veteran player off the streets.
"We may take a look at that," Belichick said. "Not today. But we always need to make sure we have our bases covered, so to speak, on that."