PATRIOTS (1-1) at RAVENS (1-1)
Sunday, September 23, 2012 at 8:20 p.m. ET
*M&T Bank Stadium (71,008
The New England Patriots will travel to face the Baltimore Ravens in a Sunday Night Football matchup and a rematch of the 2011 AFC Championship Game. The Patriots, who own a perfect 6-0 record against the Ravens in the regular season, beat Baltimore 23-20 in last season's AFC Championship Game to advance to Super Bowl XLVI.
Both teams will be looking to rebound this week after losses last Sunday following big wins in the season opener. The Patriots opened the season with a 34-13 win at Tennessee, while Baltimore beat Cincinnati, 44-13. Last Sunday, the Patriots lost 20- 18 at home against Arizona, while Baltimore lost at Philadelphia, 24-23.
Since the beginning of 2003, the Patriots are 27-3 (.880) in regular season games following a loss, dropping back-to-back regular season games just three times over that span.
The Patriots have played in 90 prime-time games (beginning after 7:00 p.m. ET) and have compiled a 49-41 record in those games. The Patriots are 18-14 all-time on Sunday Night Football, including 6-5 on NBC.
TELEVISION: The game will be broadcast by NBC and can be seen in Boston on WHDH-TV Channel 7. Al Michaels will handle play-by-play duties with Cris Collinsworth providing color. Michele Tafoya will serve as the sideline reporter. RADIO: 98.5 FM, The Sports Hub, is the flagship station for the Patriots Radio Network. A complete listing of the network's 40 stations can be found in this press release. Play-by-play broadcaster Gil Santos is in his 36th season as the voice of the Patriots and will call the action. Former Patriots quarterback Scott Zolak will handle the color commentary, taking over duties for Gino Cappelletti. Cappelletti, a member of the original Boston Patriots in 1960 and the all-time leading scorer in the American Football League's history, retired from the broadcast team after 31 years as the team's iconic color analyst.
NATIONAL RADIO: This week's game will be broadcast to a national audience by Dial Global Radio Sports. Kevin Kugler and James Lofton will call the game. Hub Arkush will provide sideline analysis.
NFL'S BEST ROAD WARRIORS SINCE ROBERT KRAFT PURCHASED THE TEAM IN 1994
Since Robert Kraft purchased the Patriots in 1994, the team has the best regularseason road record at 87-58 (.600).
TEAM | RECORD | PCT.
New England, 87-58, .600
Pittsburgh, 81-64, .558
Indianapolis, 76-69, .524
N.Y. Giants, 75-68-1, .524
Philadelphia, 75-68-2, .524
Green Bay, 75-69, .521
The Patriots and Ravens have squared off six times in the regular season and two times in the postseason since the Baltimore franchise was founded following the Cleveland Browns' move to Baltimore in 1996.
New England owns a perfect 6-0 record over Baltimore in the regular season. The Patriots and Ravens played in their first postseason meeting following the 2009 season with Baltimore taking a 33- 14 win in a Wild Card matchup at Gillette Stadium on Jan. 10, 2010. The Patriots avenged that loss in the 2011 AFC Championship Game with a 23-20 victory over the Ravens at Gillette Stadium on Jan. 22, 2012 to advance to Super Bowl XLVI.
The Patriots are 2-0 in games against the Ravens in Baltimore. The Patriots won 46-38 on Oct. 6, 1996 at Memorial Stadium and 27-24 on Dec. 3, 2007 in a Monday Night Football game at M&T Bank Stadium.
The first meeting between the teams came during the Ravens' first season in Baltimore, when the Patriots prevailed 46-38 on Oct. 6, 1996. The 84 total points scored by both teams in that game rank as the second-highest total number of points in a game in Patriots history to the 86 points in a 43-43 tie with Oakland in 1964.
PATRIOTS VS. RAVENS PREDECESSORS
From 1970-83, the Patriots faced the Baltimore Colts 27 times, recording a 12-15 record in those games. The Colts moved to Indianapolis prior to the 1984 season and Baltimore was without an NFL team until the Cleveland Browns moved to Baltimore and became the Ravens in 1996. Prior to the move, the Patriots were 4-11 against the Browns, including a 2-4 record against Cleveland while Bill Belichick was the Browns' head coach from 1991-95.
PASSING PERFORMANCES
Tom Brady is slated to start against the Ravens in the regular season for just the fifth time in his career and for the seventh time overall with two postseason meetings, including last season's AFC Championship game. Brady's only game against the Ravens in Baltimore was in 2007, the 27-24 Monday Night Football win on Dec. 3, 2007.
PATRIOTS VS. AFC NORTH
The Patriots are 15-4 all-time against the AFC North in the regular-season since it was founded in 2002. The only AFC North losses for New England were to the Steelers (3) and Browns (1). New England is 2-1 against the AFC North in the postseason with a 2004 AFC Championship Game win at Pittsburgh, a 2011 AFC Championship win vs. Baltimore and a 2009 loss at home to Baltimore.
Baltimore Assistant Head Coach/Special Teams Coordinator Jerry Rosburg coached the secondary at Boston College from 1997-98.
Baltimore Defensive Line Coach Clarence Brooks attended New Bedford High School (Mass.) and went on to play guard at the University of Massachusetts from 1970-72. Brooks earned All-Conference and All-East honors while playing on the Minutemen offensive line. Brooks returned to UMASS in 1976 as the defensive ends coach and served in that role until he took a position at Syracuse University. Brooks' son Jason Brooks serves as the Ravens Offensive Quality Control Coach and has a number of ties to the New England area. Jason was born in Amherst, Mass., served as the assistant defensive backs coach at UMASS in 2007 and coached the wide receivers at Norwich University (Northfield, VT.) in 2008.
Baltimore Senior Offensive Assistant Craig Ver Steeg served as the Harvard University quarterbacks and wide receivers coach from 1994-95.
Baltimore Assistant Offensive Line Coach Todd Washington coached the offensive line for the Hartford Colonials (UFL) in 2010.
Baltimore Defensive Quality Control Coach Matt Weiss is a native of Cheshire, Conn. and attended the Hopkins Grammar School in New Haven, Conn.
Baltimore Assistant General Manager Eric DeCosta is a native of Taunton, Mass. and graduated from Colby College in Waterville, Maine. DeCosta also spent three years as a graduate assistant at Trinity College (Hartford, Conn.).
Ravens C Matt Birk graduated from Harvard University in 1998.
Baltimore S James Ihedigbo played at the University of Massachusetts from 2002-06 and for the Patriots in 2011.
Baltimore LB Ricky Brown played football at Boston College from 2002-05 and was in training camp with the Patriots in 2011.
Baltimore CB Corey Graham played for the University of New Hampshire from 2003-06.
Baltimore WR and Return Specialist David Reed is a native of New London, Conn. and played for New Britain High School until he transferred to New London High School for his senior season.
Head Coach Bill Belichick's first professional coaching job was with the Baltimore Colts in 1975. Belichick held the title of Special Assistant for one season. Ravens GM and Executive VP Ozzie Newsome served as a special assignment scout and then as assistant to the head coach – offense/pro personnel under Bill Belichick when Belichick was head coach of the Cleveland Browns.
CB Kyle Arrington is a native of Accokeek, Md. And attended Gwynn Park High School in Brandywine, Md.
TE Visanthe Shiancoe is a native of Laurel, Md. and attended Morgan State University in Baltimore. Misc.
DE Chandler Jones' older brother DE Arthur Jones is in his third season playing for the Ravens. Former Patriots
Baltimore Defensive Coordinator Dean Pees was a member of the Patriots coaching staff from 2004-09. During his time with New England Pees spent two seasons as the linebackers coach (2004-05) and four seasons as the defensive coordinator (2006-09). In Pees' first season as the Patriots defensive coordinator, his defense set a Patriots franchise record for points allowed per game (14.8) and finished fourth in the NFL in takeaways (35).
S James Ihedigbo played for the Patriots in 2011 and went to training camp with the team in 2012. Former Teammates
WR Brandon Lloyd and Ravens TE Billy Bajema were teammates with the San Francisco 49ers in 2005.
Lloyd also played with Ravens CB Corey Graham for one season in Chicago (2008).
CB Marquice Cole played with Ravens S James Ihedigbo for the New York Jets from 2009-10.
CB Devin McCourty played with Ravens RB Ray Rice at Rutgers University from 2006-07. Patriots rookie DE Justin Francis was a freshman when Rice was a senior (2007).
Ravens WR Deonte Thompson attended the University of Florida and played with DE Jermaine Cunningham, TE Aaron Hernandez and LB Brandon Spikes for three seasons (2007-09).
S Patrick Chung played with Ravens DT Haloti Ngata at the University of Oregon from 2004-05. Chung also played with Ravens TE Ed Dickson from 2005-08.
LB Jerod Mayo was teammates with Ravens LS Morgan Cox at the University of Tennessee from 2005-07.
DL Vince Wilfork played one season at the University of Miami (2001) with Ravens T Bryant McKinnie and Ravens S Ed Reed.
Rookie RB Brandon Bolden was a freshman at the University of Mississippi when Ravens T Michael Oher was a senior.
Rookie DE Chandler Jones played with his brother, Ravens DE Arthur Jones, at Syracuse University from 2008-09. Arthur also spent one season at Syracuse playing with Patriots S Steve Gregory (2005).
DL Kyle Love played with Ravens DE Pernell McPhee at Mississippi State in 2009.
LB Dont'a Hightower, DL Brandon Deaderick, Ravens NT Terrence Cody and Ravens LB Courtney Upshaw were all defensive teammates at the University of Alabama. In 2008 Deaderick was a senior, while Cody, Hightower and Upshaw were all freshmen. Hightower and Upshaw played together for the entirety of their college careers (2008-11) and Cody left for the NFL following the 2009 season.
T Nate Solder and Ravens CB Jimmy Smith were teammates for four years at Colorado (2007-10).
DL Rob Ninkovich played with Ravens S Bernard Pollard at Purdue University from 2004-05.
PATRIOTS ARE UNDEFEATED AT M&T BANK STADIUM
Baltimore's M&T Bank Stadium is one of five current NFL Stadiums where the Patriots have never lost a regular season game.
CURRENT NFL STADIUMS WHERE THE PATRIOTS ARE UNDEFEATED
Stadium | Record
CenturyLink Field (Seattle),  (1-0)
EverBank Field (Jacksonville), (2-0)
Ford Field (Detroit), (2-0)
Lincoln Financial Field (Philadelphia), (2-0)
M&T Bank Stadium (Baltimore), (1-0)
WHAT TO LOOK FOR THIS WEEK AT BALTIMORE
BILL BELICHICK
With a victory over Baltimore, Bill Belichick will earn his 194th career victory, moving him out of a tie with Chuck Knox into sole possession of 8th place all-time.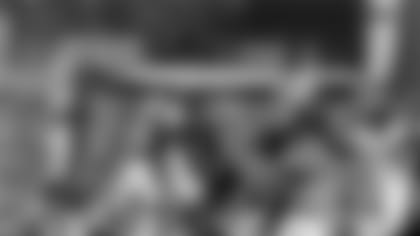 Tom Brady (40,531) needs 21 passing yards to move past Joe Montana (40,551) into 12th place all-time on the NFL's passing list.
With one touchdown pass against Baltimore, Brady will extend his streak to 35 straight games with at least one touchdown pass. His current streak is fourth all-time, behind Johnny Unitas (47), Drew Brees (45-current) and Brett Favre (36).
Brady (3,448) needs 40 completions to move past Kerry Collins (3,487) into 10th place all-time on the NFL's all-time completion list.
STEPHEN GOSTKOWSKI
Stephen Gostkowski (7-of-10) needs one more 50-yard field goal to tie Adam Vinatieri (8-of-17) for most 50-yard field goals in Patriots history.
WES WELKER
Wes Welker (6,214) needs 153 receiving yards to move past Troy Brown (6,366) into second place on the New England all-time receiving list. Stanley Morgan is in first place with 10,352 yards.
Welker needs one reception to extend his streak to 80 straight regular-season games with at least one reception as a member of the Patriots to extend his franchise record. Welker has an overall streak of 96 straight regularseason games with at least one reception, including his time with the Miami Dolphins.
2
The number of punts returned by Julian Edelman for touchdowns during his career, the fourth Patriots player with two or more punt returns for a touchdown. A third will tie Troy Brown for the franchise record.
3
The number of NFL players with four 100-reception seasons after Wes Welker (122) reached 100 receptions in 2011 to join Jerry Rice and Marvin Harrison.
4
The number of times LB Jerod Mayo has reached 100 tackles to start his career. He is the first player in New England history to register 100 tackles in his first four NFL seasons.
11.5
Since the beginning of 2010, Rob Ninkovich leads the Patriots with a total of 11.5 sacks.
18
The number of total touchdowns by TE Rob Gronkowski in 2011 (17 rec. and 1 rush), the highest number of combined touchdowns by a tight end in NFL history.
20
The number of rushing yards the Patriots defense held Tennessee to in the 2012 season, opener – tied for fifth-lowest total in team history.
29
The number of touchdown receptions by Gronkowski since he entered the NFL in 2010, the most in the NFL in that time span. The NFL record for most touchdown receptions in a player's first three NFL season is 43 by Randy Moss.
41.5
Zoltan Mesko finished the 2011 season with a franchise record 41.5-yard net average, the sixth-best net average in NFL history.
122
The number of receptions in 2011 by Wes Welker in 2011. With 122 in 2011 and 123 in 2009, Welker joins Cris Carter as the only two NFL players with at least 120-plus receptions twice in their careers.
196
The number of rushing yards by Stevan Ridley in the first two games of 2012, the most rushing yards by a Patriots back in the first two games since Corey Dillon had 244 in 2004.
1,327
The number of receiving yards by Gronkowski in 2011 to set an NFL record, surpassing Kellen Winslow in 1980 (1,290).
1
Tom Brady became the first player to follow a 500-yard performance with a 400-yard performance after Brady had backto- back games with 517 yards and 423 yards to start 2011.
2
Brady joined Drew Brees (2011) as the only players to reach 3,000 yards in the first nine games of the season. Brady (3,032) had the most yards ever through the first nine games of the year.
4
The number of seasons that Brady has reached 4,000 passing yards. His four 4,000-yard seasons are tied with Warren Moon and Philip Rivers for the fifth most in NFL history.
6
Brady became the sixth NFL quarterback in NFL history to have 30 or more touchdowns passes in at least three seasons after reaching 30 vs. Indianapolis (12/4) in 2011.
11
Tom Brady is one of 13 quarterbacks in NFL history to throw for 500 or more yards after he passed for 517 in the 2011 opener at Miami.
14
Tom Brady (40,531) is one of 14 quarterbacks in NFL history to reach at least 40,000 passing yards.
20
The number of times Tom Brady has earned AFC Offensive Player of the Week honors. He earned the award in each of the first two weeks of the 2011 season and in Week 16.
46
The number of regular season 300-yard passing games by Tom Brady, a team record.
97
The number of times that Brady has thrown two or more touchdowns in a game. The Patriots are 82-15 when he throws for two or more touchdowns.
125
The number of wins that Brady has as a starting quarterback to for fifth place. Brady reached the 100-win milestone in the fewest number of starts (131) among all quarterbacks in the modern era and the 125 career wins in the fewest starts (160).
1,327
The number of passing yards Brady had in the first three games (517, 423 and 387) of 2011. Brady's 1,327 yards set the NFL mark for the most passing yards ever in a three-game stretch.
5,235
The number of passing yards by Brady in 2011, the second most in a season in NFL history.
3
The number of Super Bowl championships the Patriots have won since Robert Kraft purchased the team in 1994. That mark is the highest total in the NFL over that span. Only Denver (2; 1997 and 1998), Pittsburgh (2; 2005 and 2008) and the NY Giants (2: 2007 and 2011) have won multiple Super Bowl titles since 1994.
6
The number of conference championships the Patriots have won since Robert Kraft purchased the team in 1994. That mark is the highest total in the NFL over that span. Pittsburgh is second with four conference titles since 1994.
11
The number of division championships won by the Patriots since Kraft purchased the team in 1994.
13
The number of playoff seasons earned by the Patriots in the 18 seasons since Robert Kraft purchased the team.
19
The number of playoff games the Patriots have won since Robert Kraft purchased the team in 1994. That mark is the highest total in the NFL over that span. Pittsburgh ranks second with 17 playoff wins over that span.
29
The number of playoff games the Patriots have appeared in since 1994, the most in the NFL. Pittsburgh has the second most with 27.
196
The number of consecutive home games that have been sold out, including playoff and postseason games dating back to the 1994 season opener.
4
Bill Belichick is one of just four coaches to win three championships since the Super Bowl era began. Belichick joins three members of the Pro Football Hall of Fame in the exclusive club (Chuck Noll 4, Joe Gibbs 3 and Bill Walsh 3). Belichick is the only coach to win three Super Bowls in the post-1993 salary cap era and the only one to ever win three in four years.
193
Bill Belichick has 193 career victories as a head coach, including playoff games to tie Chuck Knox for 8th place all-tim