Why is everyone so gung-ho on getting Jimmy G? A good QB that the Pats could win with but he's injury prone. If they could get him without giving anything up, I'd be all for that. He's an upgrade on Cam. But they'd still need a very good back-up and I don't think Jimmy G would be a long term answer. Obviously the 49ers don't think he's the long term answer either. – Troy Osgood
It's an especially weird situation for Jimmy G, as right now it appears he's going to be, at best, a lame duck quarterback in San Francisco for the 2021 season. Given his injury history maybe that's all he's really earned, but you'd think he'd be due for a string of injury luck at some point. If he takes San Fran back to the playoffs with an excellent season, the 49ers will be in for another interesting offseason in 2022, when they'd likely have the third-overall pick ready to step in while also being able to get more for Garoppolo than they could probably get right now. That uncertainty is as much a problem for other teams as it is for them.
But if Jimmy gets dinged up again, his stock bottoms out in 2022 and then he'd really appear to be an affordable flier for New England. But of course that means it could be another lost year at the position for the Pats unless Cam Newton has a dramatic turnaround. That's why it's really hard to see how Jimmy lines back up with the Patriots this offseason, unless the 49ers feel like now is the best time to sell on Garoppolo. The hope is that if they have to wait until next year the Pats will no longer need Jimmy. – Mike Dussault
Mike, you know how much respect I have for you. Here is my question for you. When will the talk on Garoppolo stop because as Miguel Benzan mentioned on my show, for a trade to happen the Patriots will have to trade significant players. Makes no sense cap wise. -@RussGoldman
I don't think it will stop any time soon, Russ. Garoppolo is the one who got away in the eyes of many Patriots fans, and that lines up well with how things have flamed out for him in San Francisco, outside of 2019. Add up the need at the position, Jimmy's inability to meet expectations and his perceived ceiling if he were to reunite with Bill Belichick and there's little mystery why he's the marked man right now as far as veteran quarterbacks. But I agree, I'm really wary about overextending to get him back, though it's the draft picks that I'd hate to part with more than any particular player.
With Stephon Gilmore entering the final year of his deal and J.C. Jackson currently tagged with a second-round tender, they're really the only two veteran pieces that might move the needle in a trade. Other former draft picks that haven't worked out could also be thrown in, but really I think it's the draft capital that will be the key ingredient and there's just something about giving up more than New England originally got for Jimmy that's a non-starter in my mind. But I expect many will want him back in New England for the rest of his career, no matter how it goes or where he ends up. –Mike Dussault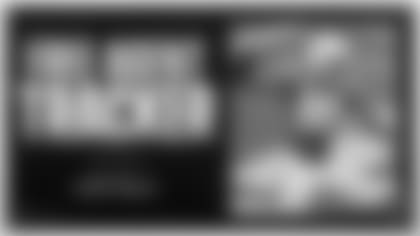 2021 Patriots Free Agent Tracker
Tracking all of the Patriots transactions during the free agent signing period.
I really like both Sony Michel and Damien Harris but both have been very injury prone throughout their careers. My concern is that while we have two talented backs, half the time neither is healthy. Hard to incorporate a good play action game plan with these two new TE's and Asiasi when we have no healthy consistency in the backfield. Do you think Bill may trade back and draft an Etienne or Najee Harris at the end of the first because we just can't keep our two studs healthy? – Johnny Keough
It's a great observation, especially when you add in James White being back on just a one-year deal. I think the Patriots often seem to overstock the running back position and that doesn't seem the case right now. As you said, Michel and Harris need to prove they can stay on the field and that's why I think any option is really on the table for the Patriots at running back. Harris and Etienne are both great fits that bring a balanced element. That's something the offense could use more of even with everyone currently on the roster being healthy. Will those two fall in the void between the Patriots first and second picks? That's the hard part and why I think they'll wait. – Mike Dussault
Not a lot of noise about the running back position this offseason, do you think we might see a 3rd or 4th round pick for one and if so, who is the best fit? - @KevinFarrellIE_
I think we could see a repeat of 2011 where the Pats took Shane Vereen in the second and Stevan Ridley in the third. Day two should be the place to strike and if I had to pick two favorites it would be the running backs out of UNC – Michael Carter and Javonte Williams. Both are likely second day picks and while Williams is a little more early-down and Carter is a little more third-down, they are pretty balanced backs who run hard. Khalil Herbert of Virginia Tech and Rhamondre Stevenson of Oklahoma are another similar duo, balancing out some receiving ability with some hard finishing.
Still wouldn't rule out a Rex Burkhead return, though he'd likely start the season on PUP, sitting out the first six weeks. After cornerback and offensive tackle, I think drafting a running back is a must. ­– Mike Dussault
If the Pats trade up to take a top QB, will that mean competition for the starting role, or is Cam still the clear favorite to start week 1? – David Roy
I'd say it's a competition between Cam and Stidham and that it unlikely any of the top quarterbacks that the Patriots could get would be slated to step right in and start. Based on Cam's contract it's hard to say he's is assured of anything. It's a compete contract and that's what he'll have to do, and based on what we've seen from Cam, I'd expect that he'll pour everything he's got into that competition. With a full offseason and some better sense of normalcy, maybe that will be enough to really get Cam on track.
But it also felt like Stidham got derailed about a week into camp last year and never got back on track. He still has some promising traits. One thing that's for sure is that there are no excuses for neither Cam nor Jarrett. Right now I feel like we're probably getting Cam for the majority of the 2021 season barring something major and unexpected, which you can never fully rule out. – Mike Dussault
Interested to hear your thoughts on adding a 17th competitive game and losing one preseason game. Considering the number of major injuries last season, coming off no pre-season. Does this schedule expansion just increase the risk of more games, without the superstar attractions available? – Kevin F
Personally I can't say I'm going to miss that fourth preseason game that really was just a junior varsity game with little impact on what the final roster was going to be. And having seen plenty of injuries occur in preseason, I'm glad that there will be one less chance to lose a player in a game that doesn't count.
Of course there's added wear and tear from that extra game, pushing the Super Bowl out another week, extending the length of what is most often a battle of attrition as much as anything. Hopefully, with some of the alterations from the 2020 season, some practice work can also be streamlined to help manage the players a bit. But it's hard to complain about an extra game from purely a fan/analyst position, especially trading off a meaningless game for another chance to see an out-of-conference opponent. ­– Mike Dussault
In 2023 the Patriots will only have about 17 players under contract and an abundance of cap space. Do you think BB will "mortgage the future" and trade future 1st round picks to move high in this year's draft or stay put. It seems to me that he is going all in now but even if we land a QB, going all in with a rookie QB is risky. – Mike Spillane
Things looked even bleaker before the free agency spending spree but now we have a bit of a clearer picture as to the future of this team and it's really dependent on some of these free agents panning out. While I think the Patriots should be aggressive, they've always shied away from reaching into future draft capital to make immediate moves. Being able to go nuts in free agency because things all lined up, between cap space, needs and availability, was nice but I don't see such a dramatic departure in the draft. – Mike Dussault
With roughly 10 roster spots left and 10 draft picks. Do you see them trading a bunch of picks? They need spots for undrafted free agents right? No way they draft 10 guys. - @mmurph71
Now this is a good way to look at it. In 2017 the Pats draft four guys, since then it's been nine (2018), 10 (2019) and 10 (2020). Add in what is usually a robust undrafted rookie class and there just isn't the usual 20 roster spots we're used to around this time of year.
Because of this I'd love to see the Patriots be extremely targeted, drafting closer to the four guys of 2017 that the usual nine or 10. While the jury is still out on last year's class, and it remains the most promising group of recent memory, there are a ton of questions about the 2018 and 2019 classes and those questions need to be answered by letting guys play rather than by continuing to add at those positions.
So my ideal is to move up and down the board but without heavily leveraging future picks. If you get four players from this draft that can make the roster you're probably pretty well set to let it all play out while adding some undrafted players for camp as well. – Mike Dussault 2023 Patriots Mock Draft Tracker
Find out what the top 'experts' are predicting the Patriots will do in the first round of the 2023 NFL Draft.
Name a player on each side of the ball with the potential to make a year 2 leap? - Kenneth Scigulinsky
On defense, I'm going with Kyle Dugger, who I expect will be an every-down player for the Patriots this season. It's easy to combine him with Adrian Phillips to reproduce what Patrick Chung and Duron Harmon did for so long with Devin McCourty. Jalen Mills could fit into that equation as well, but I think Dugger has more potential than just being a hybrid linebacker/safety, he can really do it all and I would love to see the Patriots take advantage of his range and physicality from the back end as much as in the box. He could be a really dynamic piece.
On offense, give me big Mike Onwenu. Most are anticipating he'll slide inside to guard, though an injury to Isaiah Wynn or Trent Brown could quickly alter that. But if he does go to left guard we might really get a sense of what his ceiling is at his most natural position. If the starting five stays in place they're a great mix of size and athleticism. It will be fascinating to see how the offense evolves with Onewnu at guard and Brown at tackle. – Mike Dussault
Do you think the pats will draft a kicker this year? Unless they make plenty of cuts the spots for undrafted could be kind of tight? Do you foresee a new kicker in camp? - @clazzyclare
Great question and something to consider since Nick Folk is in his late-30's and Roberto Aguayo has never lived up to his promising draft status. But if they got enough of a look at Aguayo at the end of last season to let their fifth-round pick from 2020 go, they must think Aguayo has some kind of potential. I'm going to say they'll roll with their current duo and let them compete, though I wouldn't totally rule out kicking the tires on an undrafted kicker. Just not a lot of roster spots left and they need to add impact players not fliers on special teamers. – Mike Dussault
Mike if the Pats can't trade up for a QB in the 1st 7 or so picks, who is the 2nd round talent you think could be the guy to take the helm in 2022? - @AnthonyCurtis68
Gotta be honest, I don't really love any of the quarterbacks after the top five. If I had to order them I'd go Kellen Mond, Davis Mills then Jamie Newman. All of those guys have issues that could prevent them from ever being NFL quarterbacks, but they also show flashes and have traits that make you believe that they could someday put it all together.
That said, I think they must draft somebody in the first two days of the draft. Despite the concerns they might have about each, you never truly know on a player until you give them a chance. Given the size of the long-term at the most important position I don't think they can pass on taking a chance on at least one of them. Mond would fit in pretty well and any rookie will bring a needed dynamic to the QB room. – Mike Dussault
Should we temper our expectations on Trent Brown? Seems like he's had motivational issues in the past and I'm not sure if he can recapture how good he was when he was a Patriot in the past. - @TuckerRossCon
Plenty of the free agents were ecstatic to join the Patriots, but Brown was unique because he'd been here before and knows exactly what he's getting back into. His love for playing in New England seemed genuine, so that goes a long way as far as I'm concerned. Maybe more than his playing fire is just the injury issues that have strangely haunted him since he left. He's played 16 games just twice in six years, and given the Patriots' depth at tackle, it's hard not to be a little concerned that Brown and Wynn can make it through a full year protecting the edges of the offense.
Playing on a one-year deal could also help keep Brown motivated. If he really loves New England as much as it seems, he'll want to play to prove he can earn a long-term deal. He's still young and it would be great to lock the monstrous tackle into a long-term deal. – Mike Dussault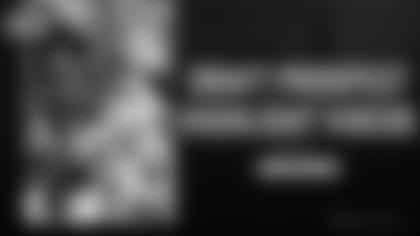 2021 Draft Prospect Highlights
Put your scouting cap on and watch collect highlights of the top prospects entering the 2021 NFL Draft.