Who can New England take in the draft to develop into half the player [Julian] Edelman was, or could Jakobi Meyers be given the chance to keep developing into a player to help fill the monumental gap left behind? Marc Saez
With JE11 retired, should the Patriots go after someone like Elijah Moore from Ole Miss or another slot receiver in the draft? Matthew Burns
The Patriots almost certainly will target at least one receiver in this draft, and would have anyway, regardless of Edelman's situation. Now that he's retired, that likelihood has increased, in my estimation.
Any number of players could be viewed as "Edelman-type receivers," but it's difficult to say with any reliability who New England likes or doesn't like. Remember, Edelman wasn't on anyone's draft radar when the Patriots took him in 2009's seventh round. So, it's a good bet that they're looking at players whose names you recognize and others you probably don't. Which ones end up on the roster is a question that'll be answered by the end of next weekend. I'm anxious to see who these young men might be.
At the same time, I would also advise you not to forget about someone already on the roster, namely Gunner Olszewski. Entering his third season, he's coming off an All-Pro punt return campaign, but has yet to have an extended opportunity to showcase his receiving skills.
Like Edelman, Olszewski played another position in college (defensive back) and is still learning the nuances of wide receiver. However, he's a tremendous athlete and could still have his best football ahead of him, much like Edelman did at this stage of his career. Meyers is another developing talent, although I see him less as an Edelman clone than Olszewski. Erik Scalavino
Is [quarterback] Trey Lance a possibility for the Patriots [in the upcoming NFL Draft]? It seems like the 49ers will take Justin Fields. Do you think that trading up to 4 and taking Lance is a real possibility? Billy Schmidt
At this point, almost anything is possible. The question is, what's more likely: trading up to the fourth overall spot (or somewhere else in the top 10) or remaining where the Patriots are at 15? My sense is the latter, although, the way this offseason has taken us all by surprise, I'm not ruling anything out until we get to draft night next Thursday. If I were you, I wouldn't hold my breath waiting for New England to move up, but keep a glimmer of that hope alive in the back of your mind. Erik Scalavino
If the Patriots stay put at 15, I like either [cornerback Jaycee] Horn or [linebacker Micah] Parsons. They need to look in the future to replace [Stephon] Gilmore and [Dont'a] Hightower. If they trade down and get maybe a second and future draft pick in 2022, three players have my interest: Amari Rodgers, Trey Sermon, and Chazz Surratt. Could they get all three and what do you think of these players? John LaFond
It's difficult enough to predict who's going to be selected in Round 1 each year, let alone later rounds. As I've already stated, almost anything is possible at this point. So, yeah, in theory, New England could wind up with your three preferred players, but just as likely, all three could be gone by the time the Patriots pick in the second round or later. Where you should focus more of your attention is at the top. The first two names you submitted are far more likely to be within New England's grasp right off the bat and would be welcome additions to this roster. I particularly like Parsons as perhaps the best overall defender in this year's draft. If the Patriots manage to get him, it will be a successful draft in my mind, no matter who they select thereafter. Erik Scalavino
Is Stephon Gilmore worth a first-round pick in the upcoming draft? Specifically the top 10? [Some] mock drafts have us getting to 10. I know nothing's concrete, but how confident are you that we get a QB like Justin Fields in a few weeks? Aaron Harper
It's impossible for anyone who's not an NFL general manager to say with any amount of certainty what a player's trade value might be (Did anyone foresee how rich the Jared Goff-Matthew Stafford trade would be, for example?). I have no idea what other teams think of Gilmore's potential value to them, but I'd certainly be starting with that as an asking price, if I were making the decisions and looking to move the former NFL Defensive Player of the Year.
What matters is how other teams view him. Some might place more of an emphasis on the cornerback position if that's a perceived weakness for them. Other clubs might be less willing to invest that much to acquire a corner of Gilmore's stature if they're more settled at that spot.
Meanwhile, the closer we get to the draft, though, the more inclined I am to think the Patriots will stay put at 15, meaning someone like Fields would likely be long gone. Erik Scalavino 2023 Patriots Mock Draft Tracker
Find out what the top 'experts' are predicting the Patriots will do in the first round of the 2023 NFL Draft.
I would like the Patriots to trade up with Atlanta for the No. 4 pick to draft Kyle Pitts – not as a TE, but as the draft's best WR. He clearly becomes the No. 1 receiver for the Patriots and he can score from anywhere on the field. Pitts is a generational player and worth the price. Thoughts? Frank Bean
I agree with you about Pitts' athletic potential. He's preternaturally gifted as a pass catcher and would be a tremendous fit in any offense, particularly one so desperate for playmakers. That seems to be the consensus among draft observers, so, it would likely take a bold move like the one you describe for New England to have a chance at selecting him next week.
While I'd be all in favor of such a trade, I'm managing my expectations and not getting my hopes up. As I keep stipulating, though, the way this offseason has unfolded for the Patriots, you can't rule out the possibility, which makes for some intriguing television come next Thursday night. _Erik Scalavino _
How do you think the Patriots' draft philosophy and approach has evolved over the years, and what do you think Coach Belichick's primary objectives are in this draft? Geoff Moore
The object always remains the same: improve the team. How we outsiders might view that is almost always different than what the football staff thinks, but that's the goal year in and year out. What's changed, perhaps, is the thought process now that Tom Brady is no longer here.
When the greatest-ever quarterback was on the roster, New England might've been able to take more risks in the draft, in terms of selecting players who aren't necessarily regarded universally as known commodities – more "developmental" type players, if you will. Coming off the club's first losing season in decades, though, there's an apparent urgency to infuse this roster with talent.
My suspicion is we'll see the Patriots taking more so-called "sure-fire" talent in this and future drafts, until the team gets back to its consistently winning ways. That's my hope, at least, Geoff. Erik Scalavino
Do you see Bill [Belichick] picking up another veteran QB before camp to motivate Cam [Newton] and to work with someone he picks later in the draft? Ron Long
Unless that QB is named Jimmy Garoppolo, then no. Erik Scalavino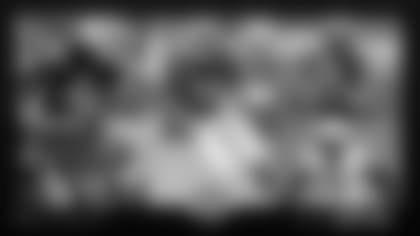 Patriots Top 50 Big Board
Breaking down this year's 50 best player fits for the Patriots in the 2021 NFL entry draft.
Do you think the Patriots may look at going against the grain of the rest of the NFL and build a great defense and win games with a very good running game and an efficient short passing game? Johnny Keough
No. This is a pass-first league. The teams that win, more often than not, are the ones with the best quarterbacks. Will the Patriots continue to try building a stout defense? Sure. Will they also attempt to create offensive balance with a solid rushing attack? Absolutely. But until they find a bona fide successor to TB12, it's going to be tough sledding. Erik Scalavino
Julian Edelman was a great Patriot and by all accounts fully appreciated by Coach Belichick and Robert Kraft. Edelman was due a salary of $2.8 million for 2021 and he was not excessively paid over his 12 years with the Patriots. If they were so inclined, could the Kraft family give him a position with the franchise and pay him, say $2.8 million, as a way of saying thanks for everything you did for us? Dave Wilson
Well, it's the Kraft family's money, so, I'm sure they can do with it whatever they please. And if Jules wanted to remain with the organization, they could probably find a spot for him somewhere. Edelman, though, has done very well for himself financially over the 12 years he played for New England, so, I wouldn't worry about him in that regard. Erik Scalavino
I'm a fan of the Patriots because I have emotional ties to this football club. To me the differences between watching paid mercenaries (like Darrelle Revis for example) who simply come and go/follow the highest bidder/biggest money and fan favorites who share a special relationship with their team are vast. What made me enjoy this dynasty so much – much more than the championships – was the fact that we had these kinds of players in Brady, Gronk, Jules, [Jerod] Mayo, [James] Develin, [Tedy] Bruschi, etc. I like to think that they didn't chase every last dollar for being able to play for this special franchise in return. After all these players left, I ask myself who's still here I can identify with?
Devin McCourty and Matthew Slater come to mind. Coach Belichick of course. Who else is left? I'd really like to know what you think about this. Have a great day and thank you for keeping the Patriots faithful updated year after year. Servus from Munich, Germany
Hate to burst your obvious bubble, Servus, but in today's world, players play because they get paid enormous sums. It doesn't really matter to most of them where they do so or who signs their checks. In fact, some players stay here in New England because the Patriots are willing to pay them more than other clubs.
Furthermore, the so-called "hometown discount" we hear about so frequently is more myth than reality. Granted, once they've made their fortunes, the players who've yet to win a championship might be more inclined to sign somewhere that gives them a better chance of winning a ring, and maybe they'll accept a bit less to do so. Otherwise, they're looking to cash in, literally.
For 20 years, for example, Brady never earned less than he deserved. He often restructured his contracts to give New England breathing room beneath the salary cap, but he always wound up getting a boost in pay, in one form or another. And when his time in Foxborough came to an end, it was ultimately due to a contract dispute. If other teams had offered those other players you listed more money, they'd more than likely be former Patriots today, too. Sorry, but that's just the business of professional sports in this day and age.
By and large, fans like yourself are far more invested emotionally than the players themselves. I'm not suggesting that players' prides aren't hurt when they lose, or that they don't enjoy playing for certain clubs more than others, but in the final analysis, it's a job for them. And they say as much every year at the start of free agency – "It's a business…" or "I need to do what's best for my family…" et cetera. "Loyalty" to a team is a wonderful notion, but in the end, they all want to get paid as much as possible. Who can blame them?
I'm in no position to tell you who you should identify with or not, but I will reveal that one of my all-time favorite Patriots is Slater, because I've gotten a chance to know him a little bit as a person off the field. He's a genuinely good, authentic guy and someone who's easy to root for on the field. So, I wholeheartedly endorse your choice of him.
In addition, recently re-signed center/co-captain David Andrews is one of the rare players who might have allowed sentimentality about staying in Foxborough to play into his decision more than others have. He could be a consideration for your list. I would only recommend that when it comes to all players, you keep in mind what I mentioned at the beginning. _Erik Scalavino _