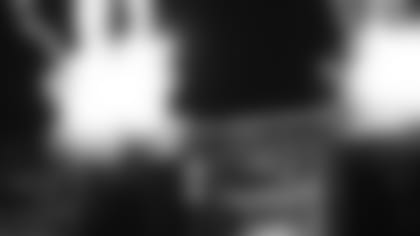 ]()It was no masterpiece but in the end New England cruised to a 30-20 win over the Oakland Raiders in the Patriots and NFL's season opener.
Tom Brady had a fine game for a first night out, throwing for 306 yards on 24 of 38 passing and two touchdowns. His main target was Deion Branch who had 7 catches for 99 yards and a touchdown. Close behind was Troy Brown with his 6 catches and 51 yards.
Although Oakland did a good job stopping the run, Dillon managed two touchdowns along with his 63 yards on 23 carries.
Oakland's main threat, Randy Moss, did his part for the Raider cause with 5 catches, 130 yards and a score but it wasn't nearly enough as the Patriots defense, after a shakey start, clamped down on its opponent in the second half.
Aside from the Patriots defensive 11, the Raiders killed themselves with a whopping 16 penalties for 149 yards.
After all the pregame hoopla and the smoke had cleared, the Raiders wasted no time marching down the field for six points and they did it in chunks. A pass to Moss for 29 yards and another to Jordan for 28 put the ball on the Patriots 4. Collins then hit Courtney Anderson with McGinest in coverage as he rolled right for the score.
]()New England got three right back on a 26-yard Vinatieri field goal. The drive started with a nice 26-yard kickoff return by Faulk. Benjamin Watson showed up big with two catches for 20 and 35, both coming on third down. His second was on third and 6 from the Raiders 44. After the catch, Watson picked up some hard-earned yards fending off would-be tacklers down to the 9. From there, Oakland's run defense stiffened and Vinatieri was brought on.
The Patriots defense fared better in its second chance against the high-powered Raiders offense. Tim Dwight returned the punt 27 yards to the 32. Brady then went to work, first to Branch for 29 and then Brown for 20. The rest of the way it was Branch, 10 yards to the Oakland 14. After Dillon was locked up for a loss of 4, it was Branch again on a pass from Brady from 18 yards out for the touchdown.
The first quarter ended with the Patriots up 10-7 and Oakland with the ball first and 10 at their own 45. While Brady was looking sharp, Dillon was being held to 4 carries for -3 yards while Oakland's Jordan had 7 carries for 30.
Collins escaped a third and 12 in his series that opened the second quarter with a pass over the middle to Jerry Porter for 27 yards but that was it as Sebastian Janikowski missed from 43 yards out. Other than a 7-yard run by Jordan to open the drive, the Patriots run defense showed signs of coming together, holding Jordan to a net 2 yards on four other attempts.
That defensive ground success was quickly overshadowed by a Collins to Moss air strike for 73 yards and a touchdown later in the quarter. It was a one play scoring drive that gave Oakland the lead, 14-10.
Defense was in short supply up to this point as New England found themselves on the Oakland 5 in only five plays. Givens caught two passes, for 5 and 26 yards. Graham was sure on a 17-yard catch and then Dwight held on to the 5-yard touchdown pass, making the catch a yard out at the left sideline and slipping into the end zone past his defender.
As the first half's two minute warning sounded, Oakland was lined up in punt formation as the Patriots defense managed to stop Oakland. Key to the defense was a 4-yard tackle for loss by Mike Vrabel on Jordan.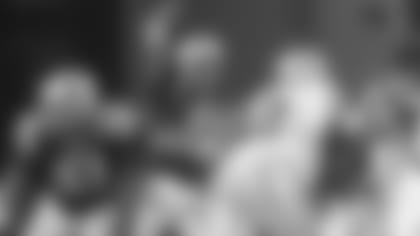 ]()Brady and the offense could not take advantage although a third and 4 incomplete to Watson should have been challenged by the upstairs NFL officials as the replay showed it possibly being a catch.
Oakland was content to watch the clock run out without a shot downfield and the half ended at 17-14, Patriots.
Some superb punting highlighted early second half action. Two Josh Miller punts were downed inside the 5 as both teams' offense cooled off after the halftime break.
After the stalemate was continued by a Raider stuff of Dillon on fourth and 1, Collins dropped back on first down from his 30. Richard Seymour bull rushed his man up the middle into the Oakland quarterback and the ball popped into the air. Big Vince Wilfork got his paws on it for the interception and New England took over.
Two plays later, Brady hit Branch for 12 yards. From 8 yards out, Dillon finally broke free for the score. New England only picked up six points as Vinatieri's point-after attempt was blocked.
On the other side of the ball, the Patriots defense was completely shutting down Oakland. When Collins had time, he couldn't find a receiver. On other attempts, New England brought pressure from all over the field, moving Collins off his spot and forcing him to throw the ball away.
New England essentially put the game away in the fourth quarter on a 2-yard Dillon run, his second score of the night. A beautiful double fake by Brady midway through the drive opened up the right side of the field for a little pass to Dillon behind a wall of blockers. That play went for 25 yards. Oakland's Stanford Routt was then called for pass interference on Troy Brown at the 2-yard line. Dillon's score came on the next play.
At 4:00 remaining in the game, Miller had a punt blocked by Randal Williams. Oakland recovered on the Patriots 21 and moved to the 5 where Collins hit a wide open Anderson for the touchdown. Down by 10 at 30-20, Oakland went for the two-point conversion but were unsuccessful.
Next up was an onside kick by Oakland but it, like the two-point play, failed. And like so many games last season, this one ended on Tom Brady's knee.
Notes: Announced before the game was P.K. Sam being signed to the practice squad. Guard Ryan Krug was released to make room. ... Pre-game scratches for the Patriots: Matt Cassel (3rd QB); Andre Davis; Duane Starks; James Sanders; Tully Banta-Cain; Brandon Gorin; Bethel Johnson; Marquise Hill. For the Raiders: Carlos Francis; Andrew Walter (3rd QB); Johnnie Morant; Justin Fargas; Denard Walker; Chad Slaughter; Doug Gabriel; Terdell Sands.