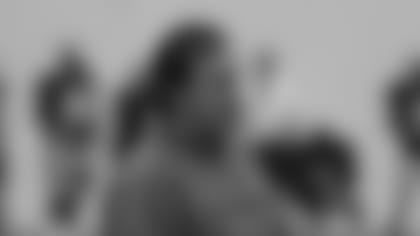 ]()Bill Belichick** had a message for his team, and it was apparent for all to see on the opening practice of training camp. The specifics may not have been relayed for public consumption, but the physical nature of the first workout – coupled with a schedule heavy on double sessions early – seem to communicate the coach's feelings quite nicely:
Last year is history, boys, time to move on.
With heavy rains pelting Foxborough throughout the morning, Belichick was forced to move the practice inside the Dana-Farber Field House. But that didn't prevent him from putting the players to work. The contact was apparent almost from the start, as an emphasis on the running game in 9-on-7 drills highlighted the first workout.
"I think the biggest thing I can say is how you move on from a season is that after we've won, we've never dwelled on it either. So we're not going to dwell on it when we lost," linebacker Tedy Bruschisaid. "So it's going to be the same. We never strutted our stuff around here after we've won Super Bowls, because we've forgotten about them, instantaneously, once we came in for training camp because we know there was work to be done. It's the same thing."
"Obviously the key word for us is 'finishing' this year – finishing plays, finishing practices, finishing drills," defensive lineman Richard Seymouradded. "That's our motivation so far."
Belichick opened his first press conference of the summer complimenting his squad on its preparation work from the spring, saying the players responded well to the teaching that took place during the offseason program. Now it's time for the contact – footwork, hand placement and other drills – on the field to see how they apply those lessons in a live setting.
The long process is just getting started but the coach believes the team is ready for it.
"One step at a time – that's the mode we're in right now," he concluded.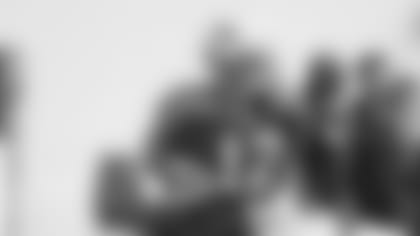 ]()With the emphasis on the ground game, Tom Bradyfound himself observing much of the morning action. Matt Casseland Matt Gutierrezhandled the majority of the snaps and each looked good when given the opportunity to throw. But it was Laurence Maroney who shined on offense, darting through holes and hitting the line quickly and decisively.
When asked if he was looking for a breakout year for himself, the always-smiling running back turned the tables on his questioner by asking the same thing. After the reporter replied "yes" he simply responded "me too."
Just prior to the start of practice the Patriots annouced that 12 players would start camp on the physically unable to perform list. That list included cornerbackEllis Hobbs(labrum, groin), safety Rodney Harrison, linebackers Mike Vrabeland Bo Ruud, wide receiver Wes Welker, guard Stephen Neal(shoulder, knee), defensive linemen Mike Wright(foot) and Jarvis Green(shoulder), tackles Nick Kaczurand Oliver Ross(triceps), center Ryan Wendelland running back BenJarvus Green-Ellis.
Harrison and Vrabel were the lone surprises on the list since neither missed any time during minicamps. Many of the others were dealing with pre-existing injuries that likely put them on PUP. Kaczur, who is fresh off a court appearance stemming from his recent arrest, was absent but his lawyer was quoted earlier in the week as saying "Nick's ready to move and happy to get it over with and start camp." Belichick wouldn't elaborate on when that might take place.
"Well, it is a legal matter that we don't have any control over," Belichick said. "Whatever it is, that is a matter between a player and whatever part of the legal procedure that player is involved with at that time. Sometimes it changes. If it affects us then we will deal with it and if it doesn't then the player deals with it. If there is any discipline then all that is handled internally between the player and the club like it always is."
Tight end Benjamin Watsonalso did not suit up for the practice but Belichick said he was not on PUP. No explanation was given for his absence.
First-round pick Jerod Mayoofficially signed between sessions so he obviously missed the morning work. Belichick indicated his signing appeared close but wouldn't commit on his availability for the evening practice. Shortly after the coach's press conference, the team announced Mayo's signing. Assuming he's in Foxborough, and passes the conditioning run, the former Tennessee Vol could be on the field for his first official professional practice tonight.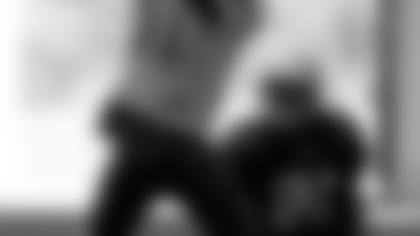 ]()Who's hot – Jason Webster**
With Hobbs on the mend and Asante Samueloff to Philadelphia, the Patriots opened camp with neither of their starting corners from a year ago. Webster, a free agent addition from Buffalo, occupied one spot opposite fellow free agent addition Fernando Bryantand looked good. He made a nice breakup of a pass intended for Randy Mosson a deep out early in practice and generally was tight to his man when the ball came his way.
Who's not – Anthony Clement
The veteran tackle signed just before camp and looked a bit rusty. He drew the ire of offensive line coachDante Scarnecchiaa couple of times and later lost track of the snap count as the rest of the linemen broke off the first sound. It was only one practice but his first impression was not a good one.
During one-on-one drills between receivers and defensive backs, corner Antwain Spannread an out route perfectly and jumped in front ofSam Aiken. He appeared poised to pick off Cassel's pass, but Aiken somehow maneuvered himself into position, outfought Spann for the ball and ripped it away – all while keeping his feet in bounds for the catch.
Seymour's height and weight on the roster are 6-6, 310 pounds – the same totals he was listed at last year – but the big defensive end appeared much thinner after the first practice. He spoke extensively about his strong offseason, which included a better diet and simply more activity due to his improve health.
"I wasn't able to train the last two years because of my knee," he said. "It was painful to train. I was able to put the work in this offseason, and just feel good at this point. I'm excited about the things you might take for granted as a player." …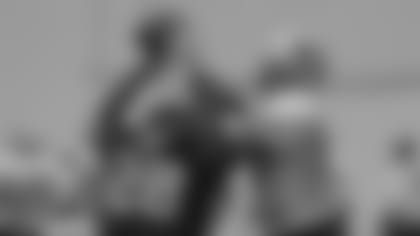 ]()Tank Williams** continues to see plenty of reps as a linebacker. The former Tennessee and Minnesota safety worked at the position during minicamp, but it appeared at the time to be more of a pass coverage role in subpackages.
However, when the team lined up for 9-on-7 drills, Williams manned the inside spot next to Bruschi and took on guards as any "true" linebacker would do. He said he was comfortable in the role because of his extensive work around the line of scrimmage in the past. Belichick agreed with Williams' assessment.
"Tank is a very versatile player," the coach said. "He has played in the secondary, he has played close to the line of scrimmage, he's been productive in the kicking game, he can blitz and he can cover. How that will all work out, we will just have to see, but he can do a number of different things and we will work with him in those different roles." …
Chad Jackson and C.J. Jonestook several reps as kick returners during some kickoff team work for Brad Seely's special teams. … The Patriots signed defensive tackle Titus Adamsjust before practice and the former Jets seventh-round pick was in uniform and on the field. … To make room for Mayo on the 80-man roster, the team released offensive lineman Lavdrim Bauta, who had signed only two days earlier. … With Neal and Kaczur not present, the right side of the offensive line consisted of Russ Hochsteinat guard and Wesley Brittat tackle.