The NFL Europe season is approaching its final week, but thanks to a 45-7 win last weekend over the Barcelona Dragons the five Patriots allocates on the Scottish Claymores roster still have championship hopes. With just one week of games to be played the Frankfurt Galaxy have clinched a spot in World Bowl XI at Hampden Park, Glasgow on June 14 while the Claymores, Dragons and Rhein Fire are still alive for the final spot in the NFLEL championship game. The Claymores can grab the final berth in the game with a win over the Amsterdam Admirals this Sunday and either a Frankfurt win at Berlin or a Barcelona win at Rhein on Saturday.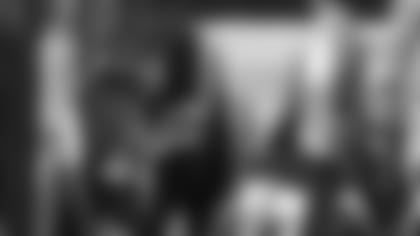 ]()
            As for last weekend's action, the Claymores dominated Barcelona in nearly every aspect of the game to improve to 5-4. Scotland marched down the field on the game's opening possession and never looked back, putting up a 35-0 halftime lead en route to the impressive win. Quarterback **Shane Stafford** had the most impressive statistical output of the Patriots in action, although fullback **Michael Malan** continued to be a key part of the Scottish offensive attack. Stafford completed 7-of-15 passes for 97 yards and two touchdowns in reserve action. He led the Claymores on second-quarter scoring drives of 95 and 46 yards, culminating the first with a five-yard score to receiver Scott Couper and the second with a 29-yard toss to wide out John Minardi. Stafford also added three rushes for 15 yards in his limited action.  

Malan followed up his most productive game of the season that saw him score two touchdowns, with a more subtle effort. The fullback caught just one pass, a 17-yard gain that set up a Maurice Hicks second-quarter touchdown run, but remained a consistent part of the Claymore offense. Scotland continued to put up impressive rushing numbers behind the fullback from Brown University, averaging 5.6 yards per carry as a unit with a total of 162 yards on the ground and two scores. Both Hicks and Buffalo Bills running Ken Simonton continue to be among the most impressive running backs across the pond as each player statistically remains among the top backs in the league.
After the resounding victory the Claymores need to keep the winning streak alive this Sunday to grab a World Bowl spot. While Scotland will take on Amsterdam at home on Sunday at 10 a.m., the team and its fans will have to watch the other weekend games with interest. Saturday at 1 p.m. Frankfurt will travel to Berlin on Fox Sports NET and Barcelona makes the road trip to Rhein. The Barcelona game, as well as Sunday's key Claymores affair, can be seen on Direct TV.
Despite another slow week with just one catch for two yards, wide receiver Scott McCready is having a solid season in Europe. Through nine games he has 22 receptions for 329 yards and three touchdowns. McCready added his fifth special teams tackle of the year over the weekend, an area that will be key for him in terms of his hopes of making any NFL roster. … Dyshod Carter started the game at cornerback for the Claymores but did not record any statistics for a Scotland defense that held the Dragons to just 191 net yards of offense. … Rodney Trafford played in his ninth game for Scotland, earning his eighth start. The tight end caught one pass for seven yards in the win, bringing his season total to 14 receptions for 161 yards and one touchdown. … After nine weeks the Frankfurt Galaxy have clinched a spot in the World Bowl and sit in first place in the standings with a 6-3 record. The Claymores, Dragons and Fire are all tied for second place with 5-4 marks. The Admirals (4-5) and last-place Berlin Thunder (2-7) have been eliminated from World Bowl contention