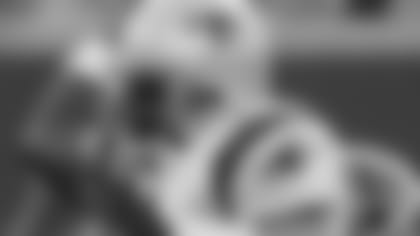 ]()The two-time defending Super Bowl champions moved a step closer to the 53-man roster that will open the season against the Oakland Raiders by releasing a trio of former fourth-round draft picks on Monday. One day before all NFL teams will have to be down to 65 players (plus exemptions), New England released quarterback Rohan Davey, running back Cedric Cobbs and safety Dexter Reid.
Patriots Head Coach Bill Belichick opened his morning press conference discussing how difficult this time of year can be for any coach. Belichick was especially moved by the decision to say goodbye to Davey, who'd spent the last three seasons in New England.
"As always, the hardest part of this job is having to release players," Belichick said. "I have a lot of respect for what those guys have done, especially Rohan who has been here for three years, [and has won] a couple of championships, has been a great leader and has done really everything that we've asked him to do."
But in the end that respect was not enough to keep Davey in a Patriots uniform. The team's fourth-round pick in 2002 (117th overall), the former LSU star played in seven games in three seasons and completed 8-of-19 passes for 88 yards. After serving as Tom Brady's backup last season, Davey spent the summer battling veteran Doug Flutie and 2005 seventh-round pick Matt Cassel for playing time behind the two-time Super Bowl MVP.
"It's been a long time since he hasn't been out there," Brady said of the quarterback he's spent the most time with over the last three-plus seasons. "Rohan was a great worker, leader and competitor. I think he went over [to Europe] and showed what he's capable of in NFL Europe two years ago. The times he played for us, he went out there and did a great job. It's very difficult on him. I saw him this morning and he took it very hard. As you would as an athlete, your pride really takes a hit. One day it's going to happen to all of us. I know he has a bright future and hopefully finds a place that is happy to have him."
While Belichick said the team always considers trade possibilities, in the end a straight release was decided as the best option for all parties involved. As a player with less than four years of experience, and one year remaining on his rookie contract, Davey now enters the NFL waiver process and could be claimed by another team with the order of that claim process set by the records of teams last season. That means the 49ers would have the first shot at Davey, followed by Miami and Cleveland and continuing down the line to the Eagles.
"I think, in the end, the way it worked out, and I talked to Ro at length this morning, I think the way this worked out is best for everybody," Belichick said. "He certainly deserves, and I'm sure he'll get, a good opportunity. He's going to be in the league, there's no question about that. Where that is, I think at this point, it probably needs to be a little bit more of his selection or somebody that claims him obviously will want him for the reasons when they claim him. So we really didn't pursue [a trade] that heavily because he hasn't had any playing time. It's limited in what you can do. For some minimal type of trade, I think really what he needs is the opportunity to get to a place and get a start somewhere there's a little more opportunity then maybe what there will be here. As he and I talked, that was a situation that was going to come up next year anyway."
The situation seems to have been less emotional and more a simple product of depth chart standing for the two guys selected in the fourth round a year ago in Cobbs (128th overall) and Reid (113th overall). Cobbs played in just four games as a rookie (22 carries, 50 yards) after starting the year on PUP and once again battle injuries this summer. The backfield stable of Corey Dillon, Kevin Faulk, Kory Chapman, Patrick Pass and Kyle Eckel made the former 1,000-yard rusher at Arkansas expendable.
"There were other people ahead of him," Belichick said. "We have to cut our numbers down and the guys that are ahead are here and the guys that were further down aren't. Although, in Davey's case it was a little bit more of a special situation. There were a lot of circumstances involved in that one. There are other players ahead of Cedric."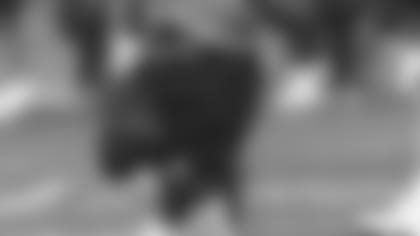 ]()Not being able to stay healthy or prove his value clearly played a big part in Cobbs not being able to win a job in New England.
"It certainly didn't help any," Belichick said. "We drafted him at a point where a lot of players at that level do contribute. He never really got on the field for a consistent amount of time, so that didn't help him. Whether he had, whether that would've made any difference or not, who knows. Maybe that will happen somewhere else for him and then if it does then that team will get a better evaluation. We just ran out of time."
Reid played in 13 games as a rookie in 2004 and all three postseason contests with most of the action coming on special teams. With the addition of rookie James Sanders and the return of second-year player Guss Scott to add depth behind Rodney Harrison and Eugene Wilson, left little room for the former North Carolina player. And Belichick admitted that the extended playing time as a rookie can sometimes lull a player into a false sense of security.
"It's possible," Belichick answered to a question directly referencing Reid. "It would be hard for me to say what's inside of each player's mind, what he thinks of himself or his role or the team or anything else. But, yes, I think that's possible. Sometimes you hear about guys who do better in their first year than in their second year. There could be a lot of reasons for that, but it's not like he was here for a full year. So we're just basing the evaluation on what we saw last year and what we've seen this year in camp, from not only him, but from the other players that he is competing with, not only at his position, but also other players on the roster that would compete for playing time in the kicking game."
And in the end Belichick was quick to point out that getting cut doesn't necessarily mean that a player is off the New England radar. Guys like Patrick Pass and Je'Rod Cherry have been cut in recent year only to return later in the season and provide significant contributions.
"Things can change and, again, I can site plenty of examples of players who were released here and came back and have been very productive and substantial players for us." Belichick said. "Whether that's the last time [Reid] will play for us or not, I don't really know. I think it's just more of where we feel we are at this particular time. I don't think [this] really is a comparison to any other year or any other situation. It's just what we feel like we have to do right now and I'm sure that's going to change somewhere along the line as we go forward. Maybe not in that position, maybe not with that player, but it's going to change somewhere."
After releasing the three players on Monday the team will need to make eight more moves prior to Tuesday's 4 p.m. deadline to get down to 65 players on the roster. Beyond straight cuts, those moves could also include trades, placing players on injured reserve (meaning they would be lost for the year) or moving currently active PUP players Tedy Bruschi, Chad Morton or Bethel Johnson to reserve/physically unable to perform (meaning they'd be lost for at least the first six weeks of the regular season). New England will maintain its six NFL Europe roster exemptions until the 53-man cut down on Sept. 4. The Patriots have exemptions on 2005 NFLEL alums Chapman, Joel Jacobs, Cedric James and Grant Steen, as well as two bonus exemptions thanks to the quality of player the team sent to Europe that can be assigned to any rookie.
Team keeps eye on Katrina
With a number of players on the roster hailing from Louisiana, the Patriots joined the rest of the world over the last day or two keeping an eye on the status of Hurricane Katrina as it passes through the Gulf region. Kevin Faulk, Randall Gay, Jarvis Green and Marquise Hill all went to high school in Louisiana, while Hill hails from New Orleans, the city expected to be hardest hit by the storm.
Belichick said the team was mindful on the situation the players' families are facing and the team would support the players in any way it could as the storm ran its course.
"I know it's difficult when they don't know really what the situation is down there with their families," Belichick said. "We'll deal with it on a case-by-case basis. Whatever we need to do, we'll be supportive in any way we can depending on what the situation is. We're certainly keeping an eye on that. We hope it's as minimal as it can be. We don't have much control over it."
Green, who hails from Donaldsonville, a city 30 miles west of New Orleans, said Katrina's approach made for a rough Sunday evening.
"I can tell you last night we didn't sleep at all," Green said. "The TV was on all night. We're calling people at 3 in the morning, 5 in the morning, making sure everyone was OK. Some of my family did stay in New Orleans, some went to the Superdome but then the lights went out there. It's tough to see what goes on and you can't do anything about it."
Green's family has been doubly hit. While his side is dealing with the situation in Louisiana, his wife's family in Miami is recovering from the storm passing over Florida late last week. Most of Green's family was able to evacuate, though, and is sitting out the storm in Houston, Shreveport or Baton Rouge. Green said he believed Hill's family had evacuated to Alabama.
"I've talked to them and everybody is OK," Green said. "Pretty much every year they get floods. They left three or four days before it came. They knew from past experiences. And my wife and kids are up here with me."
NotesPatriots starting left tackle Matt Light returned to the locker room and practice field on Monday. Light missed action after reportedly spending time in a walking boot early last week. "I feel good," Light said. "I am going to go out there and practice today. That's my plan, go out there and get better." Light also downplayed the idea that the injury was in some way related to his recent fundraiser, the Matt Light Celebrity Shoot-Out to benefit the Light Foundation, that took place on Aug. 20 in Rhode Island. "I didn't shoot myself in the foot, I can tell you that much. That would have been a lot better story." … Bruschi made his first appearance in the New England locker room during open media time on Monday. While Bruschi has been working out regularly and virtually a daily presence at Gillette, Belichick said last week that any role the linebacker might have with the team in 2005 has yet to be determined.