When he awoke this morning, he knew.
Time to say goodbye to New England. To the NFL. To the life that football has afforded him, so generously, for most of his adult life.
It was just his time, and he accepted it.
Normally in these situations, it's the mind that believes it can hold on, but the body resists and wins the argument. In David Patten's case, the opposite is true. Insisting that he can still perform the physical tasks, the Patriots wide receiver came to the realization that, mentally, he wasn't strong enough to withstand the rigors of the NFL anymore.
On Friday, the second day of Patriots training camp, the hit that would knock Patten out of the league finally arrived. It came not from a defensive teammate, but from reality itself.
"When you lose it mentally, you can't play at this level," Patten explained. "When I got to the point where I couldn't go out there day in and day out consistently at a high level, it was time to walk away."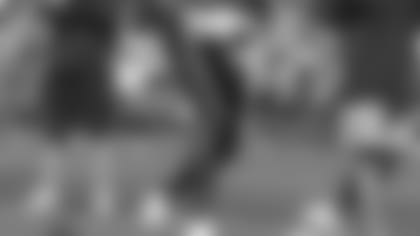 ]()So, with that, Patten, who is just three weeks shy of his 36th birthday, informed head coach Bill Belichick of his decision. At a hastily rearranged press conference, Belichick introduced the player who helped New England win three Super Bowls over a four-year span from 2001-04.
""David came here and has been an outstanding player for this organization," Belichick began. "We have a lot of players that work hard … I think David sets the pace. He's always out in front, he's always the one other players are trying to keep up with, and he's got a great attitude, a very professional attitude.
"His speed and receiving ability … those are the things that kept him in the league and made him the outstanding player that he was. He made so many big plays for us. He can still run. He made a lot of big plays in the spring, and even in training camp. But we went through this last year with Tedy [Bruschi]. I know there's a time when … it all ends for them. It's a sad moment, but also a very happy one to celebrate a truly great career."
That Patten ever made a career for himself in the NFL is a remarkable story in and of itself. After earning four letters at Western Carolina, a Division I-AA program, the Columbia, South Carolina native worked as a landscaper, an electrician, and hauling 75-pound bags in a coffee bean factory. In 1996, he returned to football as a member of the Albany Firebirds in the Arena League. A year later, he got his first NFL opportunity with the New York Giants.
Patten spent three seasons in New York and one with Cleveland before joining the Patriots in 2001 for the start of the franchise's historic championship run. His touchdown catches in the AFC Championship Game versus Pittsburgh that season and an almost identical one in Super Bowl XXXVI one week later cemented his legacy as a Patriot.
What's more, Patten will long be remembered in NFL annals for his individual performance earlier that year against the Indianapolis Colts. On October 21 at the old RCA Dome, Patten became the sixth player since 1960 (and the first since Walter Payton on exactly the same day in 1979) to run for, catch, and throw for a touchdown in the same game.
When the Super Bowl runs ended, so did Patten's first go-round with New England. He signed as a free agent with Washington in 2005 and spent two seasons there, then another two in New Orleans. He tried for a second chance in Cleveland last season, but a turf-toe injury led to his eventual release during training camp.
At that point, Patten, an ordained minister, said he first pondered the idea of retirement. But once he healed, he felt his body hold up for another season, so he reached out to the Patriots again and they accepted him, as he put it, "with welcoming arms." Which is a main reason why he said he decided to walk away now. He felt he owed it to the organization and the region that have been so good to him.
So, when he woke up today, his mind was made up. He didn't discuss it with anyone – not even his family, who didn't even know while Patten was delivering the news to the media. When he informed his teammates, like quarterback Tom Brady, the reaction was one Patten said he expected.
"Well, naturally, he tried to talk me out of it," Patten revealed with a smile, "because he's a big reason why I decided to come back and give it a shot here. He still had the confidence in me. That's one reason why I didn't talk to him prior to making this decision [to retire] … I felt like he would try to talk me out of it."
Other Patriots teammate who shared Super Bowl glory with Patten spoke about him after Saturday morning's practice.
"It's a tough deal. Although it seems to happen each season, somebody retires," said tackle Matt Light. "I can remember going all the way back to my rookie year, we had a couple of linemen retire. It seems to happen. I was actually looking forward to playing with DP. A good guy. A great leader. A good guy to have in the locker room."
"I'll remember David being on the field, but I don't think it will be on the field [that I remember him most]," observed running back Kevin Faulk.
"I think it's off the field, personally, that David Patten really touched a lot of people's lives in this locker room when he was here the first time and this time."
"I just think his work ethic," added Light. "He's a humble guy. He goes about his business the right way. A true professional that other guys look up to, and he's a good role model for the younger cats to come in and maybe have an idea as to what the league is all about. He sets them on the right path. And he's a good who guys out there and makes plays. He always did when he was here, and I always respected him about that."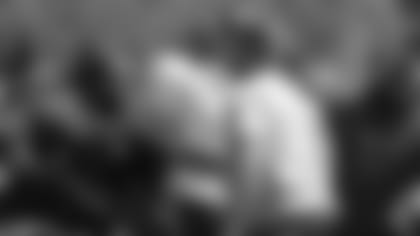 ]()Saturday Morning Notebook *
The first session on Day 3 of training camp was a truncated one, the usual hour-and-45-minute workout cut short by about 20 minutes as the Patriots took the field for a walkthrough practice.
After four straight practices in full pads, the team went outside for a practice session that places more emphasis on mental reps than physical ones. Players take part in shorts and t-shirts, no helmets or pads of any kind.
On such days, the second practice is typically a padded one, meaning the 3:45 session later today should be a more active one. Check the PFW Blog for updates and observations on that practice, which will be the sixth of this camp.