Soon enough the crowds at Gillette Stadium will be flocking to see the likes of Patrick Chung, Darius Butler, Ron Brace and other members of the Patriots 2009 rookie class.
But on this Saturday the crowds inside Gillette were to see the Dalai Lama (wearing a red Patriots hat for a period time) put forth his own double-session as he presented his message of hope and compassion to large crowds during both the morning and afternoon. His morning session was entitled "The Four Noble Truths," while the afternoon's was "The Path to Peace and Happiness."
Ironically the 30 players (including draft picks, rookie free agents, tryout players and a trio of first-year veterans) on the practice fields just outside the stadium were hoping to continue the initial step on their own path to peace and happiness, one that would of course be most pleasant if it included a roster spot and playing time with the Patriots later this fall.
But before they can walk and eventually run onto the game field that on this day was occupied by the Dalai Lama's stage the rookies must crawl, and that process continued Saturday on the still-damp practice fields with a pair of hour-plus sessions. In between the players had meeting and film time with their respective coaches. According to Patriots Head Coach Bill Belichickthe development process has already moved forward from the work done in camp's first day on Friday.
"Oh yeah. I can see a change from practice one to practice two," Belichick said. "Yeah, I think that was probably, hopefully, the biggest jump. Well not hopefully, but it is probably the biggest jump we'll make. Just everybody having a better idea after they saw the film [and] after they got corrected. Then, they went out yesterday afternoon; we made a lot of improvement and then we've added some new things. We'll correct those. These guys are working hard. They get a lot better from practice one to practice two."
Belichick often reminds us that rookie mini-camp is about instruction and not evaluation. At the same time, the players are indeed evaluated each and every minute they're at Gillette Stadium. When they break from Foxborough this weekend they'll be sent away with individually specific things to work on, progress they are expected to make leading up to the full-team veteran mini-camp that takes place each June.
"Each guy has his own strengths and weaknesses, and his own particular situation. So we try to guide them [on] where to be in two weeks," Belichick said.
After this weekend the rookies are not allowed, by NFL rules, to return to their team again until either May 15 or after their college's graduation, whichever comes later. Between now and then the players will focus on exactly the things Belichick and his assistants have given them to work on.
"It depends on each individual player," Belichick said of the homework. "But generally speaking, they need to get into good condition, learn the material we've given them and take care of any bumps and bruises or any physical or personal issues that are outstanding, get ready to go when they come back in here in the middle of May."
His Holiness
With the Dalai Lama holding court on the game field during both the Patriots practices of the day, Belichick opened his on-field meeting with the media following the morning workout with a few comments aimed in that direction.
"That would be a motivational speech like one we haven't heard," Belichick said.
A reporter then joked that Belichick had Celtics legend Bill Russell talk to his team in the past.
"That's right," Belichick replied with a laugh. "That was pretty special. [Dalai Lama] might be coming from a little different direction on it."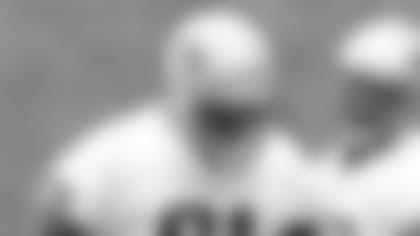 Hey, things worked out so well with Stephen Neal why not give Dante Scarnecchiaanother shot at turning a former wrestler into a productive offensive lineman?
That seems to be the theory the Patriots are taking with Kent State product Jermail Porter (6-5, 310) at this point. Porter has never played football before and spent his recent athletic years on the mat. He finished sixth at the 2009 NCAA Wrestling Championships on March 19 and the heavyweight earned All-American status.
His singlet now packed away, Porter admitted he needed "a little bit" of help getting pointed in the right direction for his chance to make it on the gridiron.
"I'm learning. This is a different world for me," said Porter, who is sporting a white No. 91 jersey and working with the offensive linemen in rookie mini-camp. "This is a heck of an opportunity."
"He's still got a long way to go," Belichick said. "He's an athletic guy, but he's got a long way to go [in] football a lot of things we do are very specific. And he's learning those and getting better at them, but he's got a long way to go."
And like Neal, who actually started out working with the defensive linemen, Porter could be moved around at any point.
"It's only been a couple days. We'll just have to see how it goes. We started Stephen on defense, started Porter on offense. That doesn't mean that's where they're going to end up. We'll just see how it goes," Belichick said.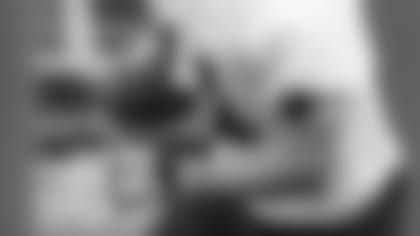 ]()The Wildcat?** Seventh-round pickJulian Edelman seems to be going out of his way to avoid any talk of the Wildcat offense. The Kent State quarterback has been taking the bulk of his reps at wide receiver in mini-camp, the position he's listed at on the team's roster at this point.
"I really wasn't focused on it last year," Edelman said when asked about the Wildcat taking the NFL by storm last season. "I don't even know what we're doing with that. I'm just doing what they are telling me to do."
Edelman also took some post-practice reps at running back Saturday morning and a few more with the backs during the day's second session. He took handoffs from Brian Hoyer and some individual coaching from running backs coach Ivan Fears. Edelman says he hasn't played running back since Pop Warner, pretty much the last time he played wide receiver as well. He's athletic, fast and though a bit undersized (the 6-0, 198 on the roster seems rather generous) could be at least auditioned in a variety of roles including Wildcat quarterback.
"All I can do is come out here, work hard, take the coaching they are giving me and go and execute the plays they are teaching me," Edelman said. "I have a long way to go."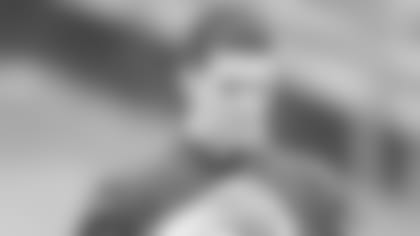 ]()Caserio's cannon** As is so often the case in these rookie and mini-camp settings, Patriots Director of Player PersonnelNick Caserio took a few reps throwing the football to the running backs and receivers. New England only has one quarterback in camp and Caserio is a former quarterback at John Carroll where he threw to Josh McDaniels. He has a pretty strong arm and doesn't look a bit out of place on the NFL practice field.
Asked about Caserio's arm strength after practice, Belichick smiled and said, "Good, yeah. He could be in a competition there for third quarterback.
Coaching changes
The weekend's mini-camp is the first chance for a new-look Patriots coaching staff to take the field as a group and work with players as such. The changes include the addition of veteran special teams coach Scott O'Brien and new wide receivers coach Chad O'Shea.
A pair of coaches also got bumped up the depth chart with former low-level coaching assistants Shane Waldron and Josh Boyer taking positional jobs at tight end and with the defensive backs respectively. Bill O'Brien also made the jump from receivers coach to work with the quarterbacks.
And of course with McDaniels now in Denver the team is currently without an offensive coordinator in a titular sense. It does appear that, at least in this camp, Bill O'Brien is taking on a pretty vocal leadership role with the offense as a whole.
"Most of these coaches have been in the system, so I think they have a pretty good understanding of how we do things, and we've talked about that," Belichick said of the staff coming together. "We've had meetings in the offseason and so forth about practice schedule and drills. So I think that's pretty well established, but working with somebody new is working with somebody new. You get to know them and I know everyone is a little bit different. We have a couple of new coaches on our staff as well that haven't been with us before. So it will be a little bit of an adjustment there, but we try to spend time in the offseason in preparation for these camps and practices of getting everyone on the same page."
Having a history with Belichick from their days together in Cleveland should make things easier in that regard for Scott O'Brien. The well-respected, veteran coach already seems to be putting his own stamp on the special teams units with some new practice drills and a more vocal, hands-on and even more energetic style than the one that his predecessor Brad Seely had.
"Scott has been in the game a long time," Belichick said. "He came into Cleveland in 1991 and has done a great job with the different organizations he's been with. He's a very good fundamental teacher, very good scheme coach and he loves special teams. He puts his heart and soul into it and I think you see that when he coaches it with a passion and great deal of knowledge and background."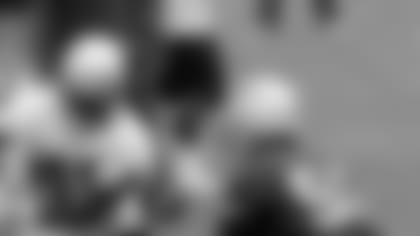 ]()McKenzie limps off LinebackerTyrone McKenzie** limped to the sidelines after seeming to injure his right knee in one-on-one coverage work during the morning session on Saturday.
McKenzie, a third-round pick out of South Florida, initially remained on the turf for a few minutes after the play he got hurt on, the final rep in that particular segment of practice. He was looked over by the New England training staff before getting to his feet and limping to the sideline.
McKenzie remained on the sidelines for the remainder of the morning workout.
Belichick did not offer an update on McKenzie's status when asked about the rookie as he met with the media on the field just after practice.
"I don't know. We just finished practice, so we'll have to wait and see."
McKenzie was not on the field for the afternoon practice.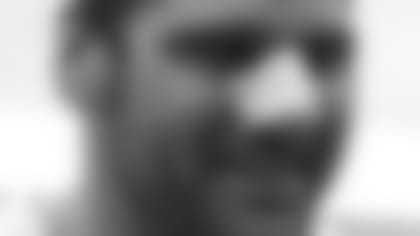 ]()Quick hits* Second-round pickDarius Butler *made a nice break on the ball for an interception in a one-on-one coverage drill in the morning. Later, though, he was in position to break up a deep ball but jumped too early and allowed the completion. He also gave up a couple completions during the afternoon session. …Patrick Chungcontinues to impress with his energy, enthusiasm and athletic ability. … Edelman seems like he's first in line for every drill he does. … Ball security was a focus of some group work with the skill players early in the morning session as the players worked on keeping the ball high and tight while doing various drills. … Third-round pickBrandon Tate was on the field in his No. 19 jersey, once again watching the workouts. He did jog a little bit between drills as he followed the rest of the receivers through their practice work. … Before he was injured McKenzie was showing his physical style of pass coverage, although he may have been flagged for a couple penalties for the work in a real game setting. … No. 32 tryout running back was hurt on the same play that McKenzie was, although No. 32 limped back into action for a few more reps later in practice. He took part fully in the afternoon work. … No. 9 tryout wide receiver also spent some time on the sidelines with the trainers in the morning. … It's only rookie mini-camp and the observation comes from a long ways away, but long snapperJake Ingramseems to fire pretty consistently straight fastballs back to the punter. … Second-round pickSebastian "Sea Bass" Vollmer is sporting black eyes and a large piece of tape on his nose. … A few players were missing from the afternoon workout including McKenzie and tryout players No. 43, 9, 10 and 76. Tryout No. 15, a wide receiver, was on the field in helmet and jersey but did not participate. … Following the conclusion of the second practice all the rookies remained on the field as a group to meet with strength and conditioning coachMike Woicik**.