In terms of raw athleticism, there aren't many players in football that can match Julius Peppers. The Panthers gifted defensive end stands 6-6 and checks in at 283 pounds, but his style screams more basketball power forward than football wide body.
That's mostly because he was a basketball power forward. He played two years at North Carolina for the storied Tar Heels' program before making the full-time switch to football. It's a decision Peppers certainly hasn't regretted since he's morphed into one of the game's most dominant defensive players after being selected with the second overall pick in 2002.
"He's 6-6 and 280 pounds. That's kind of a rare combination of height, weight and speed," Patriots left tackle Matt Light said. "He's definitely a force."
That seems to be the perception in Patriots camp this week. Head Coach Bill Belichick spoke of Peppers the same way he did Randy Moss last week when his team was preparing for the opener against the Oakland Raiders. Like Moss, Peppers is capable of changing the game with his athleticism, except his impact comes on the other side of the ball.
"He's a hard guy to deal with," Belichick said. "He's a hard guy to run at. He's a hard guy to throw at. A lot of right-handed quarterbacks have to throw into that side. You have to know where he is on every play."
The Panthers make the literal part of that final statement easy in that they don't move Peppers around the defensive line much. He normally mans the left end position and goes against right tackles, who many times are better suited to run block rather than pass block.
What makes Peppers unique in playing the left side is his combination of size, strength and speed. Oftentimes, players who make their living rushing the passer line up on the right side and attack the quarterback's blindside against left tackles. They can occasionally be undersized – like Miami's Jason Taylor – but make up for it with incredible athleticism and quickness. Left defensive ends need to be big enough to stand up against the run because most offenses prefer to run in that direction.
Peppers offers the best of both worlds. He had 85 tackles last year while adding 11 sacks, six passes defensed, four forced fumbles and even a pair of interceptions.
"He's a big, fast, strong guy and if you don't put a hat on him he can disrupt the whole offense by himself," said tight end Daniel Graham, who will likely be asked to help right tackle Tom Ashworth periodically as he did in the Super Bowl two years ago.
"He's a good player and he's real active so you have to know where he is at all times. If you don't [account for him every play], he's going to be making plays in the backfield on every play. You definitely have to know where he is at all times and make sure you don't let him disrupt everything you're trying to do."
While the Panthers don't generally move him around on defense, they have used him in a variety of ways in the past. He's been used as a receiver on offense where coach John Fox has called pass plays directed toward him hoping to utilize his leaping ability. Belichick believes the possibilities for Peppers, in terms of positioning, are endless.
"The guy can certainly play outside linebacker," Belichick said. "We know he can play defensive end. I imagine he could probably play defensive tackle. I mean, he's 290 pounds. You're talking about a guy who could probably play six or seven positions on the field. He can ruin a game. We've seen it plenty of times."
The Patriots didn't see it in Houston during the Super Bowl when Peppers was largely held in check by Ashworth and Graham. He finished with just two tackles but put plenty of pressure on quarterback Tom Brady.
"That's a long time ago. I forgot about it," Ashworth said. "We won, so that helps. But you can always do better."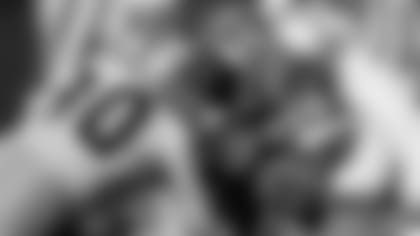 ]()Patriots rushing to get going**
While everyone was happy to come away with the win on opening night against the Raiders, it's clear there are plenty of things the two-time defending Super Bowl champs hope to improve on in the coming weeks. And after gaining just 73 yards on 31 carries for a 2.4-yard average as a team, one of those areas that needs work is the running game.
Lead back Corey Dillon, coming off a first season in New England in which he set a franchise record with 1,635 rushing yards, had his worst game as a Patriot in the opener. The ninth-year veteran put up career lows for his short time in a New England uniform with just 63 yards and just a 2.7-yard average. Dillon never rushed for less than 79 yards in any regular season game in 2004 and only averaged less than four yards per carry in two contests a year ago.
That means the offense has high expectations for the ground game and hopes to move toward those this weekend.
"We definitely have to improve on it," tackle Matt Light said of the state of the ground game heading into Sunday's matchup with a strong Carolina front seven. "We have to use this week to get better and go out there and have a better showing. We really want to get Corey going. Good things always happen to us when he's out there running the ball well and that's what we are going to try to get done this week. We definitely have to improve on what happened last week."
Notes
Thursday's rainy weather pushed Patriots practice inside to the Dana-Farber Field House behind Gillette Stadium. … While Panthers wide receivers Steve Smith and Keary Colbert will get most of the attention this season, veteran No. 3 wideout Ricky Proehl quietly plugs along in his 16th season in the league, his third in Carolina. Proehl has come up big in his last two meetings against the Patriots, scoring fourth quarter touchdowns as both a Ram and a Panther in Super Bowls XXXVI and XXXVIII respectively. Belichick called Proehl "our nemesis" and said he's "still a thorn in everybody's side." … According to various published reports citing comments from agent Peter Schaffer, the Patriots will soon be working out former New York Giants backup quarterback Jesse Palmer. Palmer was cut by the Giants on Sept. 3 and is best known for his role on the reality TV series "The Bachelor." In three seasons in New York the 6-2, 225-pound Palmer started three of eight games played, completing 63-of-120 passes for 562 yards with three touchdowns and four interceptions. … Defensive end Jarvis Green, listed on the injury report as questionable with a shoulder injury, was in the locker room on Thursday with a large wrap on his left shoulder. … New England made no changes to the injury report on Thursday, while the Panthers added cornerback Dante Wesley (ribs) as probable. The Patriots list linebacker Tully Banta-Cain (knee), wide receiver Andre' Davis (foot), tackle Brandon Gorin (thigh), Green (shoulder), wide receiver Bethel Johnson (thigh), cornerback Tyrone Poole (ankle), safety James Sanders (ankle), cornerback Chad Scott (shoulder), defensive lineman Richard Seymour (thigh) and cornerback Duane Starks (thigh) all as questionable for Sunday's game in Charlotte and all the players missed a portion of team practice on both Wednesday and Thursday. Tom Brady remains listed as probable with a right shoulder injury, but did not miss practice action.