Over the coming weeks leading up to training camp Patriots Today will be debating some of the more interesting individual positional battles that will be taking place in New England. After Brian Lowe and Jackie Brittain make arguments for the players who'll be competing for roles and jobs this summer, the PFW staff will analyze the debate and declare a winner. We continue the series with a look at the battle at backup defensive end!
Jake Bequette vs. Jermaine Cunningham
The arguments: Lowe characterizes Bequette's rookie year of 2012 as a "developmental" one, almost like a college red-shirt year, in which he barely saw the field at all and was inactive for nearly every game, but that he feels the Patriots have plans for this former third-round draft choice. He adds that Cunningham has had enough chances to prove himself over the past few seasons and hasn't made the most of those opportunities. Brittain counters by pointing out that when he's had a chance to start games, Cunningham has been productive. She also believes the jury is still out on Bequette because he hasn't been on the field enough. She thinks the "year off" last season has hindered, rather than helped, Bequette's development.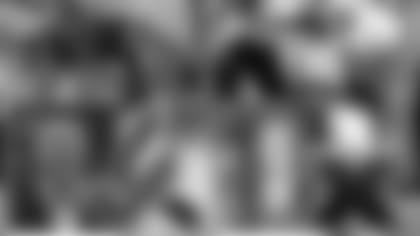 The verdict – Bequette: As Bill Belichick likes to tell us, NFL players make their biggest jumps in development from year one to year two in the league. Cunningham's transition a couple of years ago wasn't all that impressive, nor has his inconsistent play ever since. Bequette, meantime, is a player with enormous potential, as evidenced by his consistent ability to get to the quarterback in college in the talent-rich SEC. He may not have been ready to prime time a season ago, but with a year in the Patriots system – coupled with Cunningham's visits to the dog house (remember that NFL suspension he served last year?) – Bequette is poised to be a regular, productive contributor to the New England defensive line in 2013.
Now it's your turn to weigh in. Who has a better chance of making the Patriots roster at backup defensive end – Jake Bequette or Jermaine Cunningham?
http://polldaddy.com/poll/7221842/
*What do you think of the battle between Bequette and Cunningham? Let us know with a comment below!