The seats aren't really empty but simply filled by new faces. His heart isn't empty either even though it may have felt that way for a time. The wave is still a constant, but there is an addition to the pregame routine and no one can take this one from him.
Vince Wilfork is parentless, this we have known since the Patriots made him the 21st pick in the 2004 draft. We know the story about how he lost his mother and father within six months back in 2002. We know it changed his life dramatically and forever.
Almost three years have passed since Wilfork got the phone calls we all dread. He essentially said good-bye to his dad, 48, after leaving the hospital one afternoon where his father was suffering from kidney disease after a battle with diabetes. His mother's death came as more of a shock, complications from a stroke taking her life at 46.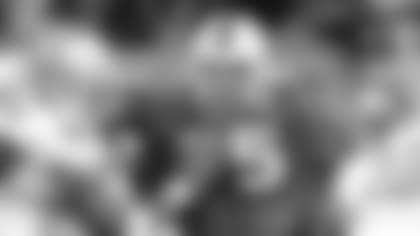 ]()That left Vince and his brother David Jr., two years Vince's senior, on their own. But the Wilfork boys were well raised in their Boynton Beach, Fla., neighborhood; they were taught about hard work and decision making, and their parents' spirit kept them on the right path.
Vince's path was paved by football, a sport his dad coached for years at the Pop Warner level even though Vince was usually too heavy to play in a league with weight requirements. He was an emerging star defensive lineman at the University of Miami when tragedy struck his family not once, but twice. With a support system of teammates in place, Wilfork internalized it all. Rather than talk to others, he simply talked to his late parents, something he still does every single day.
It is those conversations that have taken the place of the pregame wave he gave his mom and dad before every high school and college game until their death. He always knew where they sat and motioned to them when he came out for warm-ups. Now he directs that gesture at his wife, Bianca, and their two children, D'Aundre and Destiny.
"I miss that," he said of the wave to his parents. "But I talk to them now so I don't need to wave. But I don't like to talk to others. I keep my emotions inside. I grew up like that. [My dad] was like that."
If there was and is someone Wilfork could talk to, it's his football coach at Santaluces High School in Lantana, Fla., Ray Berger.
"He basically took the job as a father for me right now," Wilfork said. "We had our ups and downs in high school, but he was always there for me in high school and college. He made sure I stayed up on my grades. He always checked on me and made sure I was doing the right things. He's like a brother to me, a father to me and a friend to me. I really enjoy having someone close to me like that."
That relationship stems from Berger's relationship with Wilfork's parents, David Sr. and Barbara, who were both huge boosters of the Santaluces football program and, consequently, grew close to Berger.
"They were great people," Berger said. "They did a lot for me as far as the booster stuff and organizing the concession stand. They really went out of their way to do anything and everything that they could to help me and the kids on the team.
"They were so unselfish just like Vince is. A lot of people get involved with a booster club to keep an eye on their kid. They think, 'We're doing this or that for the team so our kid will be the starting quarterback.' His parents knew their kids were blessed with athletic ability. They took care of all the other kids — the kids that didn't have the money to get food during two-a-days. His dad would go out and get Gatorade and soda and sandwiches. At nighttime, the kids without dads would go over to Vince's and have barbecues and hang around."
Now Vince is one of those kids except he's not a kid anymore. He grew up fast between 2002 and now, probably faster than he cared to.
"It was tough for him," Berger said. "Vince gets quiet and doesn't feel like burdening anyone with his problems so he internalized everything and kept it inside. Luckily, he always had football. He was at Miami and had all those guys around him — Jonathan Vilma, D.J. Williams, Santonio Thomas. It was a family."
Football always his outlet
If Wilfork didn't have football, coping with his parents' loss might have been even tougher than it was. He always took his aggression out on the field, rarely if ever off of it, and the gridiron was the perfect place for him to let loose doing something he loved.
Wilfork fell in love with football from the first time he played on a team at 4 years old. Because Vince was a big kid, his dad tried to get him onto a peewee team that had a 6-year-old age requirement. Denied that opportunity, he played flag football for, ironically, the Hurricanes, who donned the same green and orange Wilfork would wear years later at Miami.
"I tore that up," he said proudly, fondly recalling the start of his career. "They went back to check my birth certificate. That was my only Pop Warner experience. But my father always coached and I was always doing the drills with him. I grew up with it. I used to tell him, 'When I get to high school, I'm going to show you.' He'd say, 'We'll see.' My dad always challenged me."
So did Berger. But those challenges were often two-way as Berger tried to rein in Wilfork's explosive temper, all the while knowing that his on-field demeanor separated him.
"You have a lot of big kids that are athletic, but they are just nice kids and they don't have the tenacity or meanness," Berger explained. "So many big kids I've coached are good guys but they aren't going out there to tear somebody's head off. With Vince, you could push his button and he would explode. We had a lot of sit downs and talks."
Wilfork calmed down some by his senior year, but Berger still had trouble keeping a leash on his dominant defensive lineman.
"His senior year, we were having a scrimmage and we had a sophomore quarterback named Ricky Bethel and we told everybody not to hit the quarterback. Sure enough, Vince comes through, because nobody could really block him, and just kills the quarterback. I jumped all over him. But he goes back and kills him again. I said, 'Vince, I'm telling you to cut it out. Don't do it again.' So he did it again and we were ready to come to blows. I was just hoping the other coaches would make it look good and hold me back."
Wilfork has his own version of the events. "I'm always competitive," he said laughing as he recalled that day's practice. "Berger didn't tell you that [Bethel] was talking smack. And it was his first year as our quarterback so I was just making sure he was going to be ready.
"Even now we have to stay away from the quarterback, but I won't hesitate to let a quarterback know how I feel about him. I hate quarterbacks. I like Tom Brady because he's our quarterback, but it's my job to hate quarterbacks."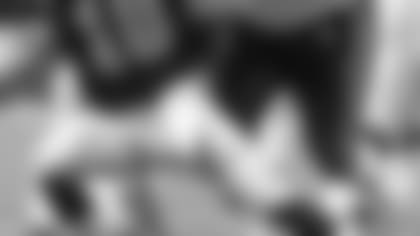 ]()Asked if he would ever pull such a stunt in New England, he quickly answered, "No, no, no. I won't even get near Tom because at this point, anything can happen. He could follow through on a ball and break his hand or finger and I could be gone. I just like to make my presence known."
His presence was obvious from the day he stepped on the field as a freshman for Berger's Santaluces High team. Berger had heard the hype about his soon-to-be-freshman player when Wilfork was an eighth grader, but he didn't buy it despite already coaching Wilfork's older brother.
"I remember David saying, 'Wait until Vince comes up here. He's huge and he's unbelievable,'" Berger said. "You hear so many parents talk about their kids coming out of middle school. So I'm picturing this big, chubby kid. So one day his dad brought him up because I kept asking about him and I was like, 'Oh my God.' He was like a man-child.
"When I got him, you knew right away he could play. He was 250 or 260 pounds and so agile, quick, nimble and light on his feet. He was one of the top three athletes on the team. He could throw and punt. He was just a fabulous athlete."
In almost Troy Brown-like fashion, Wilfork did whatever he could to help Santaluces. He punted for a couple of games when needed and was the up man on the kickoff return team. He even grabbed a kickoff and almost took it 65 yards for a touchdown. It took more than half of the opposing coverage team to take Wilfork down. But as great as he was on the field in high school, he was better off of it, according to Berger.
"He's a great kid," Berger stressed. "He was always family oriented. He wasn't out screwing around with other kids. It was school, football, home to eat and bed. His parents kept tabs on those kids. We all know that what a kid is and what he's going to be is how he was raised during his developmental years. His parents made sure he was doing the right thing, that he was staying clean, that he was humble and respected everyone. He never got in fights at school and never disrespected a teacher.
"He was always smiling and goofing around. He didn't care about hanging out with all the stud athletes. My offensive coordinator used to say that the team fed off Vince, not his play, but his attitude. If Vince came out to practice smiling, it was a great practice. If something was bothering him and he was quiet, the whole practice was quiet. He was always a leader. Those kids who got in trouble were followers. Vince was his own man."
Berger helped him become that, not as much as Wilfork's parents obviously, but in a coach-player way and later through a friendship strengthened by Wilfork's loss.
"I think being around my parents for so long and then around me, when I lost my parents, he felt he had to step in and carry that role," Wilfork said of his surrogate dad. "He calls to check up on me. He comes up here."
Here is New England where Wilfork has taken his career to the NFL. Sadly, his parents never were able to see him realize his dream, but Berger recalls the last time he saw Wilfork's dad.
"His father always kept in contact with me even when Vince was at Miami," Berger explained. "The last time I saw him, he came over to a spring practice with one of those mock drafts. It was Vince's sophomore year at Miami and it was a projection that had Vince going 17th if he came out. But his father stayed with me and didn't want to leave. He hung around, talked for a while. He passed away a few weeks later.
"We always had a bond. I believe in being close to my players, but it changed for me because I was close to his parents. His dad used to tell me 'When we're not at school, you're Vince's father. You do what you gotta do.'"
Vince doesn't need as much guidance in New England. His maturation process was hastened by the death of his parents and the birth of his own children. But his crutch remains football. While Wilfork doesn't talk about his situation with teammates, he has opened up to one, the one that experienced a devastating loss of his own recently.
Richard Seymour's father committed suicide the weekend Wilfork became a Patriot. "I probably have teammates that don't even know I lost my parents," he said. "I don't think a lot of people realize my situation. One dude who can is Richard."
Seymour's father was allegedly involved in a domestic dispute the day he died. Wilfork offered himself as a sounding board to Seymour.
"We talked and I told him that whenever he needed to talk to come to me because I'm 23 and I've been through a lot. But I don't let it affect me. You have to go through trials and tribulations to succeed in life."
Vince actually recalled a much less important tribulation from his youth that made last year's world championship even sweeter.
It was back when he was 4 and starring in flag football. Wilfork, the team's quarterback, threw an interception that cost the Hurricanes the championship game. He was crying when his dad consoled him.
"He said, 'One day you'll have bigger and better things. There will be a lot more at stake and you'll come out on top.'"
So he knew his dad and mom were watching with pride when he celebrated football's ultimate prize last year in Jacksonville.
"It's a blessing," Wilfork said. "The first thing I thought of after we won the Super Bowl was what my dad told me when I was 4. He told me I'd be on top someday. It came true."
Those little memories keep Wilfork going. Rather than justifiably wallow in his incredible misfortune, Wilfork chooses to simply live off his fond memories, of which there are plenty.
"I'm doing good," he said recently. "My parents are with me 24/7."
Berger is no longer his coach, but simply his friend. Now he is coached by future Hall of Famer Bill Belichick, who likes to say that not everybody can lead, not everybody can be in the parade. Some people have to wave as it marches by. Wilfork is in the parade in every sense.
He doesn't need to wave. He can talk to his mom and dad anytime he wants. His waves are now reserved for Bianca and the kids.