INDIANAPOLIS - The offensive linemen were among the first players to strut their stuff at Lucas Oil Stadium as the annual NFL Combine got underway on Thursday. It's an interesting group of players and one that figures to draw a fair amount of attention from the Patriots.
The situation up front for New England could very well be fine in 2012.Matt Light is coming off arguably the best season of his 11-year career and free agent addition Brian Waters turned in an All-Pro season in his 13th NFL campaign after arriving just before the start of the season. But both could be ready to hang it up, and if that happens the Patriots sense of urgency along the offensive line would raise significantly.
Waters spoke after the Super Bowl about the possibility of retiring, and recent reports has Light contemplating it as well. With veteran Dan Koppen and Dan Connolly scheduled to become free agents next month, it could leave some holes to fill for Dante Scarnecchia's bunch.
The draft would obviously be one way to fill those, and in a strange twist from recent years there are some candidates at guard that could make sense. Pittsburgh general manager Kevin Colbert discussed the depth of the offensive line class when he met the media on Thursday and indicated a slight departure with the strength moving inside from tackle.
"It's a little different [than 2011]," Colbert said. "It's a little better on the interior, specifically at guard, which is unusual than it has been in recent years. Tackles are still good. It's not as deep as it has been, and center is not very deep."
That could work to the Patriots advantage, if they are indeed interested in addressing the position early. Even if Bill Belichick desires a young center to replace Koppen and/or Connolly, he has plenty of options. Although the depth isn't great in the middle, there are a few quality players to consider, as well as a number of guards who have experience playing center - just the type of characteristics the Patriots long for come April.
The guard crop is deep and talented, headed by Stanford standout David DeCastro (6-5, 312). Scouts have called him the best guard prospect the draft has seen sinceSteve Hutchinson came out of Michigan in 2001. The problem is DeCastro is slated to go in the middle of the first round, likely well ahead of the Patriots picks at 27 and 31.
The good news is DeCastro is not alone. Georgia's Cordy Glenn (6-6, 346) is the prototypical Patriot. He started multiple games at left guard (28), right guard (4) and left tackle (17) during his career with the Dawgs and he's considered a borderline first-round pick - right in the Patriots wheelhouse should they choose to go that way.
Scouts have been impressed with his agility and athleticism despite his mammoth size. His quick feet allow him to operate well in space as well as on the interior. He also performed against a high level of competition on a weekly basis in the SEC.
Three other guards have early second-round grades, according to NFL Draft Scout. Miami's Brandon Washington (6-3, 325), Iowa State's Kelechi Osemele (6-5, 333) and Wisconsin's Kevin Zeitler (6-4, 315) could be options on Day 2. Zeitler has great pedigree coming from a program that has produced countless NFL offensive linemen, the most recent being last year's first-round pick of the Bears Gabe Carimi.
That Badger tradition is something Zeitler holds in high regard.
"It's been a tradition for a long time at Wisconsin," Zeitler said with pride. "Whatever we've been doing it's been working and you will be successful in the league. Growing up you always knew Wisconsin had a good offensive line.
"There's been a great tradition of offensive line there. We respect it. Nobody wants to be the guy that stops it. As a group, we try to work hard. It works."
Zeitler also worked out at center at the Senior Bowl and enjoyed the experience. He said he learned how to make line calls the proper way and looked forward to showing NFL teams he can add that kind of versatility to a team's roster.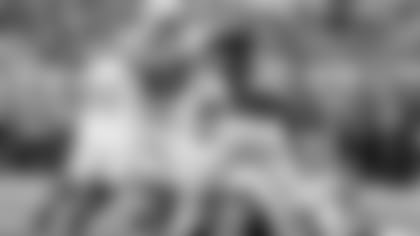 Perhaps one reason why Wisconsin coach Bret Bielema didn't use Zeitler in the pivot was the presence of Peter Konz, the top-rated center in the draft. Konz (6-5, 315) is the lone center with a first-round grade and Zeitler certainly understood why.
"Konzie is my best friend on the team," Zeitler said. "It's always a blast we could always do our combos together. It was always a good time. I think he's the best center in the draft. I don't think there's anyone who can really compete with him."
It will be interesting to see if the Patriots feel the same way. The team hasn't taken a center in the first round since 1999 when the combination of Pete Carroll and Bobby Grier tabbed Damien Woody with the first of two picks in Round 1. There were also some reports following each of the past two drafts that the Patriots were high on the Pouncey brothers, Maurkice (Pittsburgh, 2010) and Mike (Miami, 2011), both of whom went in the first round.
But if they don't break that trend in 2012, there would still be some interesting choices available. Keeping in mind that Koppen was originally a fifth-round pick back in 2003 and Connolly wasn't draft at all, it would be understandable if the Patriots didn't choose to invest such a high pick at the position.
A few interesting players spoke on Thursday and could be candidates in the middle rounds. Glenn's teammate at Georgia Ben Jones (6-2, 305) is probably the best of the group. Wearing glasses and speaking quite articulately, Jones resembled a professor patrolling the Athens campus rather than the high draft prospect he is. Boyish looks aside Jones is considered a terrific leader and potential long-term NFL starter.
"I'd say one of my strengths, I'm definitely a leader on our team," Jones said. "I can come out and get everybody on the same page on the offensive line and the offense. We have one goal, to go out and win, and I think I'm very good at doing that.
"I think that's one of the biggest factors as a center is coming out, making the calls and getting everybody on the same page. I take pride in that as a center. That's one of my most important jobs."
Jones says he tries to pattern his game after Indy's Jeff Saturday, who is similarly short at 6-2 and takes a cerebral approach to his job. Like Saturday, he doesn't see size as a problem.
"I think I'm pretty normal size for a center. I'm 6-2½, 305," Jones said. "I have lower body strength and the game of football is about leverage, getting under guys and standing them up. I've played against a lot of different defenses. We play a 3-4 so I'm going against 360-pound guys every day. In the SEC, you see a lot of over and under fronts. I've seen all different kinds of fronts and I'm able to adjust to either one."
Baylor center Philip Blake has an interesting story similar to his former teammate and 2011 first-round pick Danny Watkins. Both are Canadian, got late starts in football and Blake will be 26 when he's drafted, just as was the case with Watkins a year ago.
Blake didn't start playing football until his senior year in high school and then spent two years at Champlain Regional College before moving to Tyler Junior College in Texas. He played some tackle early in his Bears career but settled in at center in 2010. (He also played guard at the Senior Bowl).
"Obviously I never imagined being here growing up in Canada, but I've been blessed by people who helped me and s supported me during my journey," Blake said. "Making my decision to play college football. I was recruited by Canadian universities and stuff like that, but I wanted to play in the NFL. So going to college in the United States gave me my best chances."
"Basically, it was my coaches telling me I have a great opportunity to play at the next level, the NFL, and we'd like you to come back and play another year," Blake added when asked what convinced he could make it in the NFL. "So I talked to my mom, talked to my family and stayed back another year and played college [at Baylor]."
One late-round prospect to keep an eye on is Mississippi State's Quentin Saulsberry (6-2, 304). He's another well-spoken center with leadership ability that could be attractive to the Patriots.
"My mindset is to just go out and have fun," Saulsberry said. "Embrace every moment. My main goal is to just show coaches what I bring to the table. Whatever they see in me, I hope they see it and talk about it amongst themselves. And I'll continue to grow and continue to improve.
"My biggest strength is coming out with leadership. Being vocal to guys. When things need to be said and when things need to be done, I step up and say it. But at the same time, as being a leader you have to take the same responsibility of checking yourself also. So you have to self-check yourself before you talk to everybody else."
Saulsberry said he's comfortable in zone blocking systems and that he's worked inside and outside zones during his career with the Bulldogs. He also feels he's quite coachable and would be able to adapt to whatever scheme a team desires.
While he appeared to be soft-spoken and respectful when addressing the media, Saulsberry took a different tone when asked if he could be mean.
"I can be very mean. I don't want to say how mean, but I can be real mean," he stated rather sheepishly. When asked why he wouldn't say, Saulsberry broke out in laughter.