Offensive line (13)
Nate Solder (4th year)
Logan Mankins (10th year)
Ryan Wendell (5th year)
Dan Connolly (9th year)
Sebastian Vollmer (6th year)
Marcus Cannon (4th year)
Will Svitek (9th year)
Josh Kline (2nd year)
Chris Barker (2nd year)
Markus Zusevics (3rd year)
Braxston Cave (1st year)
Jordan Devey (1st year)
R.J. Mattes (1st year)
There will be significant change along the offensive line in 2014, and that will be the case even if the Patriots decide to bring back the same personnel they had up front last season.
For the first time in 30 years Dante Scarnecchia, the team's highly respected offensive line coach, will not be part of the NFL after retiring last month. Dave DeGuglielmo replaced Scarnecchia and might have to make some immediate changes depending on the outcome of some contractual situations.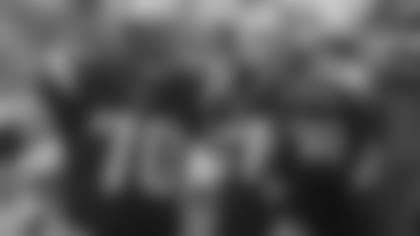 The Patriots offensive line remained relatively healthy and intact for the majority of the season a year ago. Starters Logan Mankins (left guard), Ryan Wendell (center) and Dan Connolly (right guard) started all 16 games and left tackle Nate Solder started 15, missing just one with a concussion. Right tackle Sebastian Vollmer broke his leg and missed the last half of the season, but otherwise the group was relatively stable throughout the year.
Wendell, the starting center for the past two seasons, is a free agent and may not return. Connolly's cap number is set to top the $4 million mark and he could be asked to rework that deal. Assuming he returns he also could be asked to move to replace Wendell at center, a position he's played capably in the past, while presumably Marcus Cannon could hold down the fort at right guard. All of this assumes that Vollmer will be back in good health. Otherwise the movement up front could be even more drastic next season.
Even if none of these potential changes happen DeGuglielmo will have his hands full trying to replace a legend. But assuming the starters remain healthy he will have a competent group to work with. Cannon has the flexibility to step in at guard or tackle and has started at both spots, giving the unit some depth if it stays intact.
Will Svitek, another top backup from a year ago, will be a free agent and not likely to return. Markus Zusevics, who spent last season on injured reserve, could replace him as a backup tackle depending on his development. Josh Kline stepped in nicely at guard when Mankins replaced Solder in Baltimore during  key late-season victory. Chris Baker spent the entire season on the active roster but didn't see much action and was listed as an inactive 10 times.
Braxston Cave, Jordan Devey and R.J. Mattes spent time on the practice squad last year and will likely return to compete for job this summer.