FOXBOROUGH, Mass. - In Willie McGinest, Mike Vrabel and Rosevelt Colvin, the New England Patriots have a trio of outside linebackers who each found success in 2004. While injuries changed game plans, shortened seasons and depleted several other positions on the Patriots roster, outside linebacker remained a healthy - and productive - group this season.
The strength of the outside linebackers is based on their unique fit in the Patriots 3-4 defense. In McGinest and Vrabel, the Patriots have two veteran outside linebackers suited perfectly for the part. They have the size to play on the outside in a 3-4 scheme - McGinest is 6-5, 270, while Vrabel is listed at 6-4, 261 - while occasionally playing as rush ends in passing situations. While their size allows them to play the run and rush from the edge effectively, they both also possess the speed and agility to play pass defense in zone coverages and occasionally match up in man-to-man as well. In essence, much of what the Patriots do in the 3-4 defense is based on the ability and versatility of McGinest, Vrabel and Colvin to perform a number of different defenses.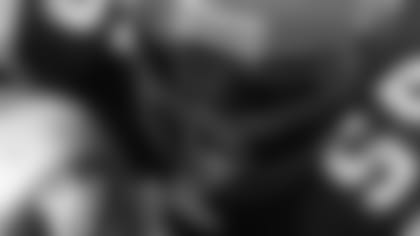 ]()McGinest, 33, followed a Pro Bowl season in 2003 with another strong showing in 2004. He started all 16 games this season for the first time since 1999, collecting 61 total tackles while finishing tied for seventh in the AFC with a team-leading 9.5 sacks. In his 11th NFL season - all with the Patriots - a healthy McGinest showed he also still has the big-play ability that made him the fourth overall pick in the 1994 NFL Draft. In the season-opener against Indianapolis, his sack of Peyton Manning late in the fourth quarter helped preserve the win. The following week he registered a season-high two sacks in Arizona. In Week 6 against Seattle, he registered a sack on the first play from scrimmage and later intercepted Matt Hasselback to set up a touchdown. In the Week 9 win over St. Louis, McGinest filled the stat line with four tackles, a sack, a fumble recovery and a pass defensed. McGinest's size and versatility are central to the Patriots ability to play numerous schemes and give myriad defensive looks within any given game.
Like McGinest, Vrabel presents the Patriots coaching staff with a number of options as how to best utilize his talents. As quick and athletic as any of the Patriots linebackers, Vrabel is a good edge rusher and also solid in coverage, allowing him to play as an outside linebacker and down rusher in passing situations. While he didn't match his career-high 9.5 sacks from 2003, Vrabel was probably a better all-around player in 2004. He started 15 of his 16 games, ranking second on the team with 5.5 sacks and fourth in solo (59) and total tackles (79), setting career-highs in both categories. In addition to serving as a reserve tight end in some offensive sets (he caught two passes for two touchdowns), Vrabel was at his best in the playoffs, registering 18 tackles, two sacks and a forced fumble in the Patriots three games. The 29-year-old Vrabel, who fits well into the Patriots system in that he rarely makes mistakes and is versatile, is signed through 2007.
Success for Colvin in 2004 was found in a return to the field after a major hip injury limited him to two games in 2003. While his eventual return was never in doubt, it remained to be seen heading into the season what level of his previous form he would be able to attain in 2004. After a slow and gradual progression during training camp, Colvin returned to the field in time for the season opener and stayed there, playing in all 16 regular season games and all three playoff contests for the Patriots.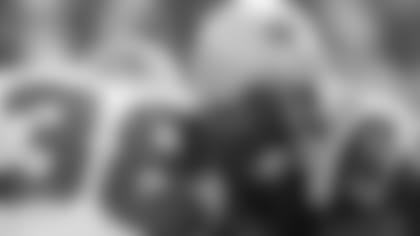 ]()Like his health, Colvin's production steadily increased towards his previous form by the end of the season. Although he made only one start, Colvin spent much of the season in a three-way rotation with McGinest and Vrabel, registering 38 total tackles and finishing third on the Patriots with 5.0 sacks. Colvin's pass rushing ability - a large part of what made him the Patriots biggest free agent signing of the 2003 offseason - also returned as he became more secure with the hip. At 6-3 and 250 pounds, Colvin spent much of the season in a role as a pass rusher from the edge, but was clearly a better player at the end of the season than where he began.
Second-year linebacker Tully Banta-Cain played a career-high 16 games this season as a reserve and special-teams player. A seventh-round pick in the 2003 draft, Banta-Cain was one of the Patriots strongest special teams players, finishing second on the team with 23 tackles, while also contributing 11 total tackles, 1.5 sacks and an interception on defense. He saw considerable action at linebacker and rush end against the Buffalo Bills in Week 11, collecting three tackles, 1.5 sacks and his first career interception in the fourth quarter of the Patriots 29-6 win. Banta-Cain, a defensive end at the University of California, often displayed his pass rush ability when given the opportunity in 2004 and appears to have given the coaching staff some confidence in his abilities.
Veteran Matt Chatham was sidelined with a leg injury for much of the 2004 season, appearing in eight games after he was activated off the physically unable to perform list prior to Week 7. Used almost exclusively on special teams, Chatham registered six special teams tackles during the regular season and five more in the playoffs. Chatham has spent all five of his NFL seasons with the Patriots. Rookie Eric Alexander, a 22-year-old who went undrafted in 2004 out of Louisiana State University, represents the youngest of the Patriots linebackers. The 6-2, 240-pound Alexander was signed to the practice squad out of training camp and played in three games this season before landing on the injured reserve on Dec. 20 with an ankle injury.
Position Analysis: The Patriots essentially have three starting-caliber players at outside linebacker, a good problem to have. Even at 33, McGinest was outstanding in 2004 and continues to show excellent athleticism in role that is ideal for his skills. Nearly the exact same can also be said for Vrabel, who continues to find ways to contribute. The unknown for the group last season was Colvin. While he may have disappointed some - including himself - that his return from injury was more gradual than instantaneous, it nonetheless remains impressive. If Colvin is able to return to his previous form in his second season after the injury, he may force the Patriots to invent ways to get all three players on the field together. Behind McGinest, Vrabel and Colvin, Banta-Cain proved to be a solid special teams guy and is a player many expect to continue developing. With the glut of players at the position, it doesn't appear to be an area of need in either free agency or the draft heading into 2005.