FOXBOROUGH, Mass. - The 2004 edition of the New England Patriots reaped the benefits of its best rushing performance in nearly 20 years. By no small coincidence, it was also Corey Dillon's first season in a Patriots uniform.
The most critical move of a season in which New England took home its third Super Bowl title in four years may have indeed transpired months before its official start, when the Patriots sent a second-round pick in the 2004 NFL Draft to the Cincinnati Bengals to acquire Dillon. The seven-year veteran arrived in Foxborough amid fanfare and expectations, and had nothing short of a career-season, as the team produced its best rushing numbers since 1985.
The Patriots finished the regular season with their highest yards-per-carry average (4.07) in 19 seasons, rushing for 2,134 yards on 524 attempts. It marked the first time a New England team had reached 4.0 yards per carry in 19 seasons, when they averaged 4.13 yards per carry by rushing for 2,331 yards on 565 attempts.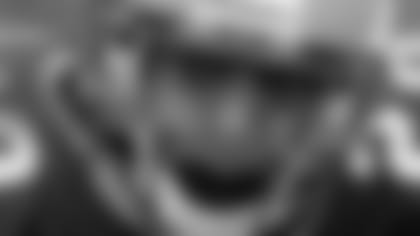 ]()Dillon quietly answered every critic and exceeded nearly all expectations this season, recording a career-high and franchise record 1,635 yards rushing, while also setting career-bests in carries (345), rushing touchdowns (12) and 100-yard games (9) despite missing one game due to injury. In addition to the most balanced offense of recent Patriots teams, the running game was remarkably consistent with Dillon, who topped 100 yards in eight of the final 11 regular season games en route to becoming the first 1,600-yard back in the 45-year history of the franchise.
Dillon's season ended as strongly as it began. He rushed for 292 yards and two touchdowns in three playoff contests - the first postseason appearance of his career - and finished with 106 total yards and a touchdown in Super Bowl XXXIX. Although he battled a leg injury during much of the season - which ultimately kept him from appearing in the Pro Bowl as an alternate - he didn't miss any significant stretches of the season.
Beyond leading the Patriots to one of the most prolific rushing seasons in franchise history, Dillon fit the New England system - on the field and off - in every way imaginable. He dispelled any pre-existing or misguided character concerns by making a seamless transition into the lockerroom. He fit nicely into the Patriots featured one-back offense under Charlie Weis, proving adept at pass protection and also a capable receiver out of the backfield. And the best news for both sides may be that the 30-year-old Dillon - who restructured the final two years of his contract in order to consumate the trade to New England - has said he wants to end his career with the Patriots. Dillon is under contract for one more season (with a $3.85 million base salary, acording to NFLPA figures), leading many to believe the two sides will meet during the offseason to talk about an extension that will lower his cap number in 2005, reported to be in the $6 million range.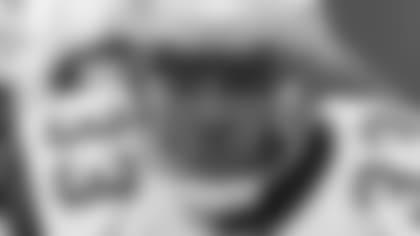 ]()Kevin Faulkbattled injuries in 2004 that limited him to 11 games, but was an effective change-of-pace back and showed his value to the team when health wasn't a concern. The sixth-year veteran rushed for 255 yards and two touchdowns on 54 carries, added 248 yards receiving and another touchdown on 26 receptions and also saw midseason duty on punt returns, returning 20 kicks for a team-leading 133 yards. With the addition of Dillon, Faulk was again a third down and change-of-pace back, a role he played in 2001 and 2002 behindAntowain Smith.** He also proved valuable in the two-minute offense and as a feature back during drives when Dillon was rested.
Faulk was inactive for the first three games of the season due to a preseason knee injury, returning to play the middle portion of the season - including one start against Pittsburgh in Week 8 - before missing the final two regular season games with another knee ailment. He rushed 13 times for 87 yards, both season highs, and a touchdown against Cleveland in Week 13, and two weeks later had 70 total yards and a touchdown reception against Miami.
Patriots fans didn't see much of rookie Cedric Cobbs in 2004. Cobbs, the team's fourth-round draft pick out of Arkansas, was limited by a leg injury during training camp and began the season on the Physically Unable to Perform list before being activated on Oct. 30. He saw spot duty in four games over the second half of the season, rushing 22 times for 50 yards and registering two special teams tackles. Cobbs, who has intriguing size (6-foot, 225 pounds) and was named All-SEC as a senior, is a player who will benefit from experiencing the team's offseason conditioning program, mini-camp and training camp a second time.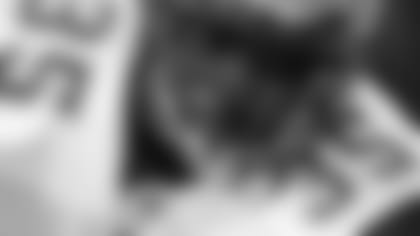 ]()One storyline that was cut short this season was the transformation of defensive tackle Dan Klecko. While making the transition from defensive tackle to linebacker during training camp, the second-year player also took over the role of short-yardage fullback for the Patriots before sufering a season-ending knee injury in Week 7 against the New York Jets. The 5-foot-11, 275-pound Klecko proved to be an effective lead blocker and made two starts at fullback, catching three passes for 18 yards in limited duty. Klecko is the latest of the Patriots two-way players, making his return from injury and development at fullback noteworthy heading into spring mini-camps.
Veteran reserves Patrick Pass and Rabih Abdullah are both unrestricted free agents. Pass, a seventh-round pick in 2000, turned in his best all-around season in 2004. He set career-highs in receptions (28), receiving yards (215) and rushing yards (141) while serving as a fullback, reserve halfback and member of the Patriots special teams units. Playing in a larger role after the injury to Klecko, Pass caught three passes for 32 yards and rushed three times for 25 yards in the 40-22 win over St. Louis in Week 9 and played a key role with a career-high five receptions for 32 yards in the Patriots 23-7 win over the New York Jets Dec. 26. Abdullah, who was signed as a free agent on Sept. 11 and then released on Nov. 22 before being re-signed a month later, collected 11 tackles in nine games on special teams.
Position Analysis: The Patriots group of running backs already looks to be in solid shape heading into the offseason. With veterans Dillon, Faulk, and the 24-year-old Cobbs all expected back, the top of the depth chart at halfback is already set. While the team may again elect not to carry a true fullback on the roster, Pass remains a definite possibility to get an invitation to training camp, while the versatile Klecko could return to fill a number of roles for the Patriots. With the group set for the immediate future, it doesn't appear to be a position that will need to be addressed in free agency or the draft.
Frank Tadych is a reporter for Patriots.com and a contributing writer for Patriots Football Weekly. He can be reached at **FrankT@patriots.com*.*