FOXBOROUGH, Mass. - Although not always a featured element in the balanced New England passing attack this season, the Patriots tight ends remained a productive unit despite the loss of promising rookie Benjamin Watson.
Collectively, Patriots tight ends combined for 66 receptions, 668 yards and eight touchdown receptions in 2004 while playing a key role as blockers in one of the best rushing seasons in franchise history. Those numbers turned out to be very similar to those put up by the tight ends in the Patriots offense (66 receptions, 694 yards, six touchdowns) last season.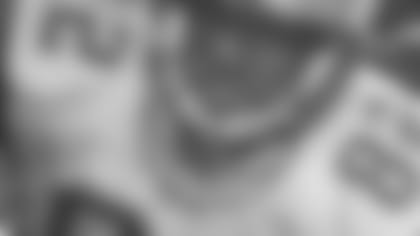 ]()Although his overall numbers slipped slightly in 2004, Daniel Graham further entrenched himself as the Patriots top tight end in his third pro season. He started all 14 games in which he appeared, finishing with 30 receptions for 364 yards to go with a career-best 12.1 yards-per-reception and tied for the team lead with seven touchdown receptions.
Whether by design or circumstance, Graham was his most productive early in the season. He accumulated 18 receptions over the first six weeks, with five of his seven touchdowns coming in the first four games alone. He was a favorite of quarterback Tom Brady near the goal line early in the season and looked to be developing more balance in his game before a rib injury sidelined him for late-season games against Cincinnati and San Fransisco. Graham was less of a factor in the passing the game over the second half, save for a three-catch, 83-yard performance against Kansas City in Week 11.
Still, much of Graham's contributions go unnoticed. A devastating run blocker at 6-foot-3 and 257 pounds, Graham helped pave the way for the most productive running season since 1985. He was a stabilizing force for an offensive line that featured first-year starter Stephen Neal at right guard and lost starter Tom Ashworth and top reserve Adrian Klemm at right tackle. Although he faded from the passing game during the season and still needs refinement in his pass catching, Graham appears to have taken another step forward in 2004.
The Patriots first overall pick (21st overall) in the 2002 Draft, Graham is signed through 2006.
Veteran Christian Fauria, 33, proved once again to be a solid contributor in his 10th NFL season. Fauria played in all 16 games for the third consecutive season, making 10 starts, including two in the absence of Graham and eight when the Patriots opened games in a two tight end set. The 6-foot-4, 250-pound Fauria finished the regular season with 16 receptions for 195 yards and two touchdowns.
Although his receiving totals dropped to roughly half of what they were last season (28 receptions, 285 yards, two touchdowns), Fauria wasn't depended on to be a main receiving threat in the Patriots offense. He was a much bigger factor as the season wore on, catching 13 of his 16 receptions and both touchdowns over the second half of the schedule. He was also a favorite of Brady in key situations, as nine of his 16 receptions went for first downs. Like Graham, much of Fauria's impact on the offense can be measured in the Patriots running game.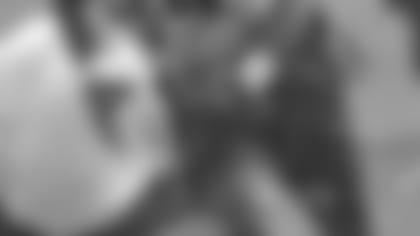 ]()Watson had a tumultuous start to his pro career, suiting up for just six weeks of action before landing on injured reserve due to a knee injury. Watson, the team's second choice in the first round of the 2004 Draft (32 overall), was expected to add a speed dimension to the tight end group and provide a big-play threat from the position. Unfortunately for Watson and the Patriots, the 23-year-old was absent for the first 18 days of training camp in a contract dispute before signing a reported six-year contract on Aug. 16.
Once in uniform, the 6-foot-3, 253-pound Watson almost immediately displayed the speed and athleticism that made him a preseason All-American before his senior season at the University of Georgia. Watson led the Patriots with 10 receptions for 114 yards and a touchdown during the preseason, and started his only game of the season in the opener against the Colts, hauling in two passes for 16 yards and a touchdown. It would end up being the only action of the season for Watson, who was inactive against Arizona the following week and was placed on injured reserve Sept. 29 with an undisclosed knee injury.
When Watson was placed on injured reserve, the Patriots moved quickly to sign free agent Jed Weaver to fill the No. 3 tight end duties. The sixth-year veteran played in 10 games with one start (against Buffalo in Week 10), finishing with eight receptions for 93 yards in a reserve role behind Graham and Fauria. Weaver, who had a breakout season in 2003 with 35 receptions for 437 yards for the 49ers, led the Patriots with 62 receiving yards on four receptions in the season finale against San Francisco.
Although terms of his contract were not disclosed when he signed on Sept. 29, Weaver is scheduled to make a $540,000 base salary in the second year of a two-year contract with the Patriots in 2005, according to NFLPA figures.
The Patriots have two other tight ends under contract: Zeron Flemister and Joel Jacobs. Flemister, 28, was signed as an unrestricted free agent in late July after four seasons with the Washington Redskins but spent the entire regular season on injured reserve. Jacobs, 24, spent part of training camp with the Patriots this season and was re-signed to a future contract Jan. 6. He will play for the Amsterdam Admirals in the upcoming NFL Europe season.
Position Analysis: The Patriots have a solid blend of skills, versatility and experience at the tight end position. Graham, Fauria, Watson and Weaver are all signed through next season and would return to form a solid unit unless the team decides to go for younger players at the position. There's also reason for optimism here, as the Patriots invested recent first-round picks in both Graham and Watson, who will be 25 years old or younger at the start of next season. Although the Patriots have a penchant for drafting tight ends - they've drafted five players at the position in five drafts under Bill Belichick since 2000 - it isn't considered an area of need this offseason.