FOXBOROUGH, Mass. - The New England Patriots entered the 2004 season with depth, versatility, experience and potential at wide receiver. While questions regarding their durability and potential lack of a true top receiver lingered heading into the season, the Patriots core receivers - Troy Brown, Deion Branch, David Givens and David Patten - appeared poised to answer those questions in 2004.
For the most part, many of those questions were answered this season. It is true that for the second consecutive season, the Patriots did not have a receiver with more than 60 receptions, 900 receiving yards or seven touchdowns. Yet while the Patriots may lack what many consider a prototypical star player at the position - in the mold of Terrell Owens, Randy Moss or Chad Johnson - it's equally accurate that each of the wideouts was productive when on the field in 2004.
In their third pro seasons, Branch and Givens took another step toward establishing themselves. Patten made a successful return from injury. Brown was arguably the most valuable player on the team, while Bethel Johnson continued to work his way into the rotation. The most glaring issue for the Patriots wide receivers again this season was staying healthy and in the lineup.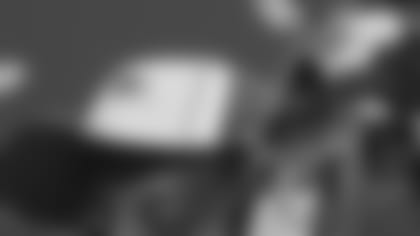 ]()Branch displayed again in 2004 that when he is on the field, he is the Patriots top big-play threat. The problem for the 5-foot-9, 193-pound Branch is staying on the field. Branch started all nine games in which he appeared, finishing third on the Patriots with 35 receptions for 454 yards and a career-high four touchdowns. After leading the team with seven receptions for 86 yards and a score in the season opener, Branch sustained a knee injury in Week 2 that kept him out of the lineup the next seven weeks. He returned to post six receptions for 105 yards and a touchdown in his first game back from injury against Kansas City in Week 11 and was the Patriots leading receiver the remainder of the season. A second-round pick in 2002, Branch is under contract through the 2006 season.
For the second consecutive post season, Branch made himself a huge factor in the playoffs. He had four receptions for 116 yards in the AFC Championship game against Pittsburgh, including a 60-yard touchdown to break the game open. He followed that with an MVP performance in Super Bowl XXXIX, hauling in 11 receptions for 133 yards. Given his rapport with Brady and how his statistics project over a full season, it's conceivable that Branch could post a season with 70 receptions for 1,000 yards and eight touchdowns if he is able to stay in the lineup over 16 weeks.
In his third pro season, Givens also had a breakout year in 2004. A seventh-round pick in the 2002 draft who showed definite signs of potential last season, Givens continued his ascension by leading the Patriots in both receptions (56) and receiving yards (874), establishing career-highs in both. He played in a career-high 15 games with 12 starts and helped carry the group with four 100-yard receiving games early in the season when injuries forced Brown and Branch out of the lineup. Through the first nine weeks of the regular season, Givens was among the league-leaders with 42 receptions for 710 yards and three touchdowns.
Givens, a tremendous blocker in the running game, once again proved to be productive in the big games, finishing with 12 receptions for 104 yards and scoring in all three playoff contests. The 24-year-old Givens is a restricted free agent this offseason.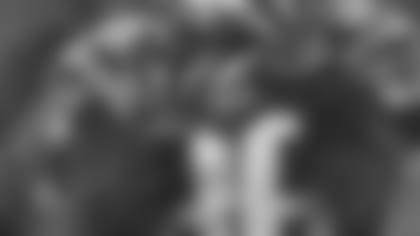 ]()Patten returned from a major knee injury to play in all 16 games this season (starting 11), again proving his value when injuries depleted the unit. The most established deep threat in the group, the 30-year-old Patten ranked second in both receptions (44) and receiving yards (800) and tied for the team lead with seven touchdown receptions. Those numbers are very similar to his first two seasons in New England, when he averaged 56 receptions for 786 yards and 4.5 touchdowns. Patten, who is an unrestricted free agent, had two 100-yard games this season, including five receptions for a season-high 113 yards and a touchdown against Buffalo in Week 4.
There isn't much left to write about Brown that hasn't already been written. The consummate veteran and teammate, Brown saw triple duty this season at wide receiver, slot cornerback and on punt returns. His duty on defense and special teams cut into his offensive production, as Brown finished with 17 receptions for 184 yards and one touchdown in 2004, his lowest totals since the mid-1990s. Brown was slowed by an ankle injury in the preseason that caused him to miss the majority of the first three games, and then suffered a knee injury that caused him to miss the next three games. Upon his return, Brown was forced into action on defense and played a reserve role as the third or fourth receiver. In his 12th NFL season, Brown, who was voted an offensive captain for the 2004 season, ranks third on the Patriots all-time list in both receptions (475) and yardage (5,516).
The anticipated emergence of Johnson, a second-year player, into the Patriots offense didn't take place this season, but Johnson still proved valuable on special teams. Johnson, who played in 13 games with one start, continued in his reserve role at receiver and also tied for fourth in the AFC with a 24.8-yard kickoff return average as the Patriots primary return specialist. He notched his second career kickoff return for a touchdown with a 93-yard dash against Cleveland in Week 13 and provided one of the season's most memorable plays with a key 48-yard reception from Tom Brady against Seattle in Week 6. Johnson, who was inactive for three games, finished with 10 receptions for 174 yards and a touchdown.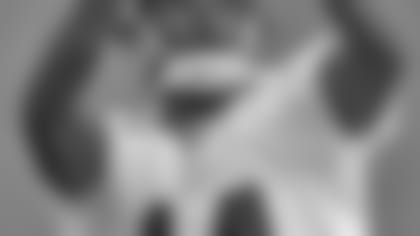 ]()The Patriots used a fifth-round draft pick on P.K. Sam, but the former Florida State standout didn't see much of the field in 2004. Sam made the roster out of training camp as the team's sixth receiver, but was hindered by a leg injury that kept him inactive for the first two games. After brief appearances the next three weeks when Brown and Branch were out with injuries, Sam was placed on injured reserve Oct. 20 with a groin injury. While the 21-year-old presents intriguing size (6-foot-3, 210 pounds), he ended his rookie season in a cloak of mystery when he was suspended from the active roster during Super Bowl week for violating team rules. The question as to how Sam fits into the team's plans might have to wait until training camp.
Fourth-year pro Kevin Kasper was signed as an unrestricted free agent before Week 5 and appeared in eight games for the Patriots. He was later waived and then re-signed during the course of the season, and contributed mainly on special teams. Cedric James, a former fourth-round pick by Minnesota in 2001, was signed in September and spent the entire season on the practice squad. The same held true for Rickey Bryant, who spent training camp with the Patriots and played in all four preseason games and was signed to the practice squad in December. The Patriots added another young receiver to the mix on Feb. 15 when they signed free agent Mark Bartosic, who spent 2004 training camp with Philadelphia. James (Rhein Fire), Bryant (Hamburg Sea Devils) and Bartosic (Rhein) will all play in the upcoming NFL Europe season.
Position Analysis: What the Patriots may lack in a true No. 1 receiver, at least by league-wide standards, they have made up for in depth and versatility. The core of the group - Givens, Branch, Brown and Patten - often get lumped together when comparisons are drawn, but each brings evident skills to the unit. As was the case with recent seasons, though, the main concern in 2004 was health: the Patriots played only six full games with their top four receivers together. While the group was collectively productive last season, it could bring an entirely different look moving ahead. Even as a restricted free agent, Givens should attract attention. It's also not a stretch to believe that Patten, who is unrestricted, could have priced himself out of the Patriots plans and might draw interest as a No. 2 receiver elsewhere. Brown, who will be 34 at the start of next season, will be in the final year of his contract. If the Patriots lose a receiver in free agency they may be looking to bring in a player from the free agent market or via the NFL Draft.