On the surface, this traditionally strong position on the Patriots roster had yet another solid season.
For the most part, the starting unit remained intact, with rookie tackle Sebastian Vollmer inserting himself into the lineup on either side at various times. As a group, the o-line surrendered just 18 sacks, besting the previous franchise low of 21, set in 2007. And left [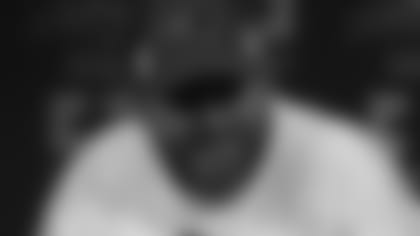 ]()guard Logan Mankins (pictured) earned his second trip to the Pro Bowl.
One gets the sense, however, that change is coming to an area that has remained unusually consistent over the past several years.
Depending on what happens with the upcoming labor negotiations between the NFL and the players' union, Mankins could become an unrestricted free agent. The possibility of an uncapped year, though, leaves his status in limbo at the moment. His counterpart on the right side, Stephen Neal, openly discussed the idea of retirement following the loss to the Ravens. And Vollmer's emergence raises questions about the future of both Matt Light and Nick Kaczur.
Vollmer isn't the only young player on New England's offensive line who appears to have a bright future either. Dan Connolly, Ryan Wendell, and Rich Ohrnberger all appear to have found their niches with the Patriots. But this is clearly a position that the team could target for an upgrade or two once the current uncertainty surrounding free agency is settled.
THE OFFENSIVE LINE ROSTER
(Players listed alphabetically, as of January 2010, with individual analysis below)
66 - George Bussey - OL
A 2009 draft pick who spent the entire season on injured reserve, Bussey is a virtual unknown commodity.
63 - Dan Connolly - G/CEmerged as the new Russ Hochstein. Connolly proved to be a reliable backup at both guard and center, a regular contributor on special teams, and quite a capable fullback on goal-line and short-yardage situations.
77 - Nick Kaczur - T
Started 13 of the 14 games in which he appeared in '09, and reportedly signed a three-year extension with the team in mid-season. Whether or not he can retain his starting job remains to be seen.
67 - Dan Koppen - C
Once again, Koppen was a stalwart, starting all 16 games.
64 - Mark LeVoir - TActivated off the PUP list on October 25, LeVoir was used predominantly as an extra blocker on obvious running plays.
72 - Matt Light - T
Missed five games after injuring a knee in Denver. The stellar play of his replacement, Vollmer, plus his multi-million-dollar salary, could mean Light might have played his last game as a Patriot.
70 - Logan Mankins - G
Earned his second Pro Bowl nod in three seasons after starting all 16 games at left guard. If 2010 is an uncapped year, as most expect, he'll be a restricted free agent, making his return to New England more likely than if he were unrestricted.
61 - Stephen Neal - GHad one of his healthier seasons, starting all 12 games in which he was active, but Neal seems to be leaning toward retirement.
60 - Rich Ohrnberger - G/C
Another 2009 draft pick, the former Penn State Nittany Lion earned a spot on the 53-man roster at the end of the preseason, but was only active for three games. Regardless, it looks like he'll be around for a while.
76 - Sebastian Vollmer - T
A second-round pick in '09, the native German looks like the left tackle of the future, perhaps even the very near future. Chances are, he'll be starting on one side or the other come next season. Started eight of 14 games, missing just two with a head injury.
69 - Ryan Wendell - G
A practice squad veteran for most of the year, Wendell was activated late in the year and appeared in two games.
*Up next in the Position Snapshot series: defensive line, coming Thursday.
*