In some respects, this past season may have been Laurence Maroney's best as a pro.
The former first-round pick finally appeared to be more decisive, to read and react to his blocks better, and to be a more punishing runner. But a problem that never plagued him before suddenly emerged: he couldn't hold onto the football, particularly near or at his [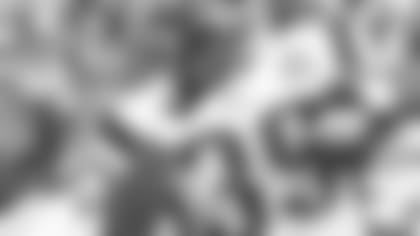 ]()opponents' goal line. Maroney fumbled four times in the second half of 2009 and lost them all. He only turned the ball over once in his previous three NFL seasons.
Those costly mistakes landed Maroney in Bill Belichick's doghouse late in the season. Overall, however, New England's rushing attack was a potent one. Maroney's 3.9 yards-per-carry average was the lowest of the team's five regular ball carriers. Kevin Faulk, Sammy Morris, Fred Taylor, and BenJarvus Green-Ellis all averaged more than four yards a clip. As a team, the Patriots rushed for just shy of 2,000 yards in '09.
Going forward, however, there may need to be an influx of youth at the position, mainly because of age and injury concerns. Faulk, Morris, and Taylor are all in their 30s, and the latter two missed significant time with lower body injuries – something they've battled throughout their careers.
When healthy, this group has proven effective, but to be safe, the Patriots may decide to explore other options on the free agent market.
THE RUNNING BACK ROSTER
(Players listed alphabetically, as of January 2010, with individual analysis below)
33 – Kevin FaulkStill a go-to guy, as evidenced in the playoff loss to Baltimore. But Faulk will be an unrestricted free agent this offseason and could look elsewhere. Retirement is a remote possibility as well.
42 – BenJarvus Green-EllisIn two seasons with the Patriots, the guy has done nothing but produce, both as a lead back and at fullback. Problem is, he's not active often enough. But Green-Ellis is young and under contract through the 2010 season. Look for him to have a bigger role in New England's offense this year.
44 – Eric Kettani
The Navy Midshipman was placed on the reserve/military list last summer and is a long-shot to be a factor in '10.
39 – Laurence Maroney
With a year left on his original rookie deal, he'll likely be back. He's in much the same position as TE Benjamin Watson was this season – a former first-rounder who has underachieved, yet is still just good enough to keep around.
34 – Sammy Morris
A solid backup who's made a lengthy NFL career by being just that. Morris has a year left on his current contract and should be back to play it out.
35 – Chris TaylorA training camp addition who quickly wound up on injured reserve. Taylor's going to be an exclusive rights free agent and may get another shot in New England this year.
21 – Fred TaylorThe old pro can still carry the mail, as Belichick described it. Taylor is signed through 2010 and may give it one more go.
Up next in the Position Snapshot series: linebacker, coming Wednesday, Jan. 27.