Remember back in 2006 when the tight end was the Patriots primary source of production in the passing game? Tom Bradywas working with a patchwork group of receivers that was led by Reche Caldwell, and more often than not when he needed a play he looked to either an aging Troy Brownor Benjamin Watson.
My how times have changed in New England.
The third-year tight end came up with his best season in '06 with 49 catches for 643 yards and three touchdowns, and many believed it was the start of what would become a Pro Bowl career. But two years later Watson has regressed to the point where he turned in the least productive season of his five with the Patriots in 2007.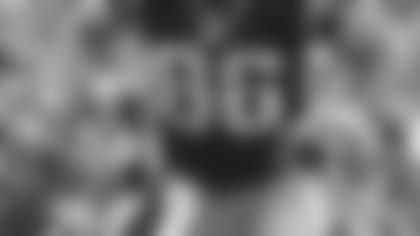 In 14 games he managed just 22 catches, the fewest he's had in any season except for his rookie year when he caught two passes in his only game before going on IR with a knee injury. He also averaged a career-low 9.5 yards per catch and scored just two touchdowns, also a career low. In fact, it could be argued that he did more harm than good in the receiving game since at least two of Matt Cassel's interceptions came on passes that deflected off his hands. Overall, it was not Watson's finest hour.
In Watson's defense, his blocking has improved greatly and much of the Patriots rushing success came behind him and Matt Lighton the left side of the line. And the infusion of talent at receiver with the likes of Randy Mossand Wes Welkerhas diminished the role of the tight end greatly over the past couple of years, so it's not surprising that the production has dropped accordingly.
But in just two seasons the Patriots tight end has gone from an integral cog in the offense to a little-used afterthought. Need more proof? How about No. 2 tight end David Thomas, who finished with a mere nine catches for 93 yards and was even a healthy scratch for a key late-season matchup in Seattle? His biggest "contribution" was a similarly negative play when his unnecessary roughness penalty at Indianapolis turned a third-and-one into a third-and-16 on the final drive. He failed to record a single catch thereafter.
The Patriots had two other tight ends on the roster at various times but neither saw significant action nor caught a pass. Tyson DeVreesuited up in three games and was around for a total of six. He replaced the previous third tight end Stephen Spach, who opened the year with the team but was released after Week 2. So to say that the position had little impact in the offense is like saying the country's experiencing a bit of a economic downturn.
With Moss, Welker and, presumably, a healthy Brady returning in 2009, that trend should continue. Brady has used Watson as an occasional red-zone target but other than out of desperation (read: 2006) he hasn't looked in his direction often.
Still, Watson will be back as he enters the final year of his rookie contract. His cap number is real affordable at less than $1.5 million and despite his afterthought status in the passing game he has contributed as a blocker.
Thomas, who enters his fourth year and will be a free agent at season's end, also should return. He appears to have the tools to become more of a factor in the passing game but suddenly dropped out of sight after his *faux pas *in Indy and never was a factor. Perhaps the foot injuries he dealt with in 2007 have sapped some of his speed, but that didn't appear to be the case in training camp when he looked like a potential contributor.
Beyond those two, Bill Belichick has usually preferred to have a third tight end on the roster and most of those have been blockers. He used reserve offensive lineman Russ Hochsteinin that role often, and linebacker Mike Vrabelstill gets called upon frequently in the red zone, although he did not record a catch in 2008. DeVree will get the opportunity to win a job once again in camp. The team could also look to free agency to find a blocker, something it has done frequently in the past.
With the top of the depth chart pretty much set, there doesn't appear to be much drama at tight end as the Patriots prepare for free agency. But keep in mind Belichick's propensity for drafting players at that position, and with both Watson and Thomas headed toward free agency, it would not be a surprise to see a relatively early pick used to find a replacement.
The TE roster
(players listed alphabetically, as of Feb. 4, 2009)
85 – Tyson DeVree
86 – David Thomas
84 – Benjamin Watson
Up next in the position snapshot series: specialists, coming Thursday, Feb. 5.