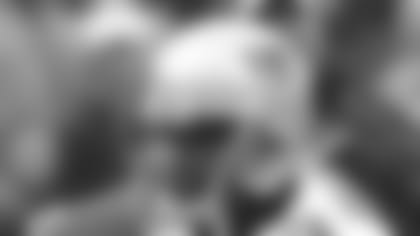 Deion Branch– Now we just sit back and wait. After missing mini-camp, Patriots fans can only hope Branch shows up for training camp in July. My guess is he will be here ready to go. I know this is a business but I have to say that Branch is one of the nicest – if not the nicest – people I talked to in my first year on the job. I just don't think he has it in him to holdout for a long period of time and hurt the team. It's just not in his personality. If Branch and the Patriots can't come to an agreement, I think Branch will play out the season and test the free agent waters next year. And let's be honest, the Patriots need him on the field. With all the new faces at receiver, Branch andTroy Brownare the two playersTom Brady** is most comfortable with. Branch does struggle to beat double-teams sometimes but he's coming off the best season of his pro career and he's the Patriots most dangerous option in the passing game right now. If he comes back and stays healthy, Branch should have a stellar season, setting himself up for a nice payday in 2007.
Reche Caldwell – I really like the Caldwell signing because it was classic Patriots. Caldwell looked as if he was going to have a breakout season for the Chargers in 2003 before rupturing his Achilles tendon. He struggled a little bit last year while coming back from the injury and slipped down the depth chart in San Diego. Now, fully healthy, Caldwell is starting to show the potential he flashed two years ago. He had a really good mini-camp, catching a lot of deep balls from Brady. Caldwell and Brady have been working together a lot this offseason and it shows, as the two appear to have built a nice chemistry with each other. Caldwell has always had the speed to get deep and he displayed a lot of that big-play ability at mini-camp. He was also impressive catching the ball. Caldwell made a lot of nice grabs and I don't remember seeing him put the ball on the ground once. The former Charger will try and replace David Givens and while Givens played his best in big games, he never really put up huge numbers during the regular season. In his four years with the Patriots, Givens averaged 39 receptions for 553 yards and three scores and never caught over 59 passes in a season. Again, Givens was money in big games but as far as the regular season goes, I wouldn't be surprised at all if Caldwell comes in, and at the very least, puts up the same kind of numbers that Givens did. I actually think he will surpass them if he stays healthy and at the end of the year, Caldwell could end being one of the more significant offseason signings in the NFL.
Chad Jackson – Watching this guy at mini-camp, all I kept asking myself was, "How in the heck did Jackson last until the second round?" I predict by season's end, Chad Jackson jerseys will be flying out of the Patriots pro shop. Jackson sucked in every ball thrown his way. They weren't all easy catches either. He made a lot of plays were he had to fully extend himself and come down with the ball, while at the same time keeping his feet in bounds. Jackson showed a real knack for running the baseline in the end zone and coming back to the ball when his quarterback was in trouble. That's something you don't see very often from a rookie. You try to not get overly excited about a player just from seeing him perform in mini-camp but that is difficult when it comes to Jackson because he was that impressive. Sure, he's a rookie and he'll probably struggle in some games and take his lumps while he's learning the system but talent wise, the sky is the limit for this kid. Jackson has the physical ability to be a No. 1 receiver in the future and if he can develop quickly like I think he will, it won't take the rest of the NFL long to realize they let the Patriots outsmart them once again buy nabbing a top-flight receiver with the 36th pick in the draft. After watching Jackson in mini-camp, if there were 35 better players than him in this draft, the NFL is about to get a huge talent boost over the next few years. Jackson will most likely start the year off as the team's third receiver but expect to see him; Caldwell and Branch on the field at the same time a lot to cause headaches for opposing defenses.
Troy Brown – Brown is the Patriots version of a comfortable old shoe. He's not flashy and he isn't going to wow you with his physical skills but he's as dependable as they come and does whatever the team needs him to do in order to help them win. Brown looked like he was 23-years old at mini-camp. He's in tremendous shape and showed that he still has some tread left on the tires by making a couple of acrobatic catches. Brown isn't going to go out and catch 100 balls anymore. Everyone knows that. He's more likely to catch 35-40 passes but a majority of them will probably be during important moments of as game. The other thing Brown brings to the table is experience. The Patriots roster is full of young receivers. Having a guy like Brown to learn from is a tremendous advantage for them. Brown was acting almost like a coach on the field during mini-camp. He would take the young guys aside and talk to them if they did something wrong. That kind of leadership is hard to replace and luckily for the Patriots, they'll have their reliable old shoe around for one more season to help show the younger guys the right way to play the game.
Bam Childress – Childress may have the edge of all the young receivers on the roster because he has a year in the Patriots system. After being on the practice squad for most of the year, Childress was activated for the season finale against Miami and caught three passes for 32 yards. While those numbers aren't eye-popping, he did show some skills on the field, especially when you consider he was never a full-time starter in college. Childress looked good in mini-camp but one thing that stands out is his size. He is very small but as he told me, he's learning from two of the best small receivers in the NFL: Troy Brown and Deion Branch. Childress was also returning kicks so his versatility could earn him a roster spot. If the Patriots don't bring in a veteran receiver, Childress is probably the favorite to land the fifth – and most likely final – roster spot at receiver.
John Stone – If there's one player on the roster that could challenge Childress for that last spot, it may be Stone. The former Raider was the surprise of mini-camp. Being a virtual unknown heading into the camp, Stone was lining up catching passes from Brady for a good portion of the practices. Brady even singled out Stone when talking to the media as one of the receivers he's been working with this offseason. Stone has only caught three passes in his two-year career and was out of football in 2005 but he looked really good at mini-camp. He ran routes well, was quick out of his breaks and displayed good hands. Once known as the "Fastest man in the ACC" while playing at Wake Forest, Stone also took reps returning kickoffs and punts that showcased his explosive speed. Stone still has a long way to go but if he continues to progress and has a solid training camp, he will push Childress for that fifth receiver spot.
Erik Davis, Michael McGrew, Rich Musinski, Matt Shelton, Zuriel Smith – None of these young receivers has much of a chance of making the final roster but a couple could land on the practice squad. McGrew was on the Patriots practice squad last year but missed mini-camp and has a history of battling injuries. Smith also missed mini-camp and appears to be no more than a camp body. Some consider Smith a dangerous return man but in his career, he's only averaged 21.5 yards on kickoff returns and 7.1 on punt returns. Shelton struggled in both mini-camps he's taken part in so far. The undrafted free agent out of Notre Dame is not only extremely small, he let a lot of balls hit the ground in both drills and live action. Davis and Musinski probably have the best chance to stick around. Musinski played well over in NFL Europe before getting hurt and Davis showed some potential in mini-camp. Look for those two guys to possibly land on the practice squad.
Overall: There's no denying that the receiver position is one of the biggest question marks surrounding the Patriots heading into the season. Those who think it's going to be an area of concern point to the fact that the team has too many "ifs" at the position. If Reche Caldwell can play, if Chad Jackson develops quickly, if Troy Brown can still produce at his age, if one of the young, unknown receivers can make an impact. Those are the questions that need to be answered but let's say for argument sake that a couple of those "ifs" go the Patriots way. With a quarterback like Brady at the helm, they may end up being a lot better than people think.
When talking about receivers, you have to add in tight ends and a guy like Kevin Faulk. The Patriots may not have the most feared set of receivers in the NFL but they could never make that claim, even when they won the Super Bowl. You throw together a group like Branch, Caldwell, Jackson, Brown, Ben Watson, Daniel Graham, David Thomas, Faulk and Laurence Maroney and I see a lot of players with speed and big-play ability.
Branch will be Branch and Brown will provide some nice depth but Caldwell is the key. While Jackson looks like a special player, he's still a rookie. Hey, if he can have a Randy Moss/Anquan Boldin-like rookie season then great but those are few and far between. More than likely, Jackson will catch around 50 passes and provide some big plays throughout the year and that will be a very successful first year. Caldwell needs to be a threat to take pressure off of Branch. If he can come in and put up numbers similar to that of the departed Givens, the Patriots passing attack shouldn't skip a beat.
The Patriots do have a lot of "ifs" at receiver but they don't have any questions about their starting quarterback. Brady is the best in the league, so if Caldwell and Jackson can learn the system and become successful in their roles, the unflappable Brady should take care of the rest. Receiver may not be the Patriots strongest position but they have three Lombardi trophies without having great receivers. Actually, with the addition of Jackson, this may be the most talented group of receivers the Patriots have had since Brady took over at quarterback. Not too shabby for a position that's considered weak by a lot of people.