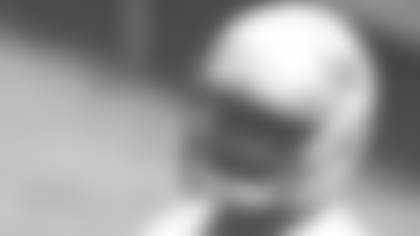 ]()Ben Watson– 2005 was basically Watson's rookie season and he had a decent year, hauling in 29 passes for 441 yards and four touchdowns. So what should we expect in 2006? If mini-camp is any indicator, Watson is getting ready to open up a can on the rest of the NFL. It felt like he caught 100 balls fromTom Bradyduring the three-day camp and the most encouraging sign was there seemed to be a lot of plays designed to get the ball in his hands, especially near the red zone. Everyone knows this guy is oozing with physical ability and once he puts it all together, Watson is going to be a flat-out nightmare for opposing defenses. Very few players in NFL history at the tight end position have been blessed with the combination of speed and power that Watson possesses.Deion Branchmay be the Patriots 1a receiver but Watson could step up this season and be the team's 1b. He should double his production from last year, so if you are playing fantasy football, pass onAntonio Gates** early and pick up Watson in the middle rounds instead.
Daniel Graham – Graham is the best blocking tight end on the team by far and an underrated receiver once he gets his hands on the ball. He's had problems with drops in his career with the Patriots but like Graham showed last season against the Falcons, he's a beast once he gets into the open field. There were rumors swirling around that Graham was going to get traded but Bill Belichick squashed them, so don't expect him to be going anywhere this year. Trading Graham doesn't make sense anyway. Sure, the Patriots drafted David Thomas and Garrett Mills but they are both pass-catching tight ends. If Graham were traded, Watson would be forced to take over some of his blocking duties and based on mini-camp, the Patriots want Watson to be a huge part of their passing game. The team needs Graham around in order for that to happen. He missed mini-camp but he was at the charity golf tournament and looked pretty good. It's not certain if Graham will be around in 2007, but he will be a big part of the Patriots offense in 2006.
David Thomas – If this guy is supposed to be a rookie, I can't wait to see him two years from now. Thomas catches every single pass thrown his way. Some people might be saying it's only mini-camp so who cares? But you can tell when a player has great hands. Both Thomas and Chad Jackson never let the ball hit their chest, they reach out and pluck it out of the air. We still need to see Thomas run routes and get off jams at the pro level but as far as catching the football goes, he's as solid as they come. Watching Thomas and Watson during mini-camp, I started thinking the Patriots could be the first team in NFL history to have two tight ends in the Pro Bowl at the same time. Obviously, that's a bit of an exaggeration but the combination of Watson and Thomas could be a scary one for many years to come. A lot of the Patriots rookies have looked good so far but if I had to single out one player, it would be Thomas. I think the Patriots have a future star on their hands and a player who is going to catch a lot of passes from Brady on third down to keep drives alive.
Garrett Mills – Mills was the most prolific tight end in college football last season but he's making a bit of a transition in the NFL. Some people call Mills a fullback but he was lining up at tight end for the majority of mini-camp. Basically, Mills is going to be the Patriots version of Chris Cooley. A guy who isn't a great blocker but because of his pass catching skills, the Patriots will have the flexibility to line him up all over the place. Expect to see Mills at tight end, in the backfield and in motion. For all intents and purposes, Mills is going to be the Patriots H-back. He struggled a little bit in the two mini-camps with route running and hanging onto the football but he just looked a little nervous to me. As the June mini-camp went on, Mills started to look more comfortable in his new role and I expect that will continue into training camp. According to his college coaches, Mills is a demon on special teams, so the Patriots will probably use him quite a bit in that capacity as well.
Overall– There may not be another team in the NFL that can brag they have the quality depth at the tight end position that the Patriots have. Watson is a star in the making and after finally getting on the field and playing a season in this offense, he looks more relaxed and confident in what he's doing. If the freakish Watson catches fewer than 50 balls this season, I'll be shocked.
Graham is in the last year of his contract but he's still an important cog in the Patriots offense. At times he acts almost like another tackle but he can also make big plays when he's catching tight end screens and short passes. Graham may never live up to the hype he had coming out of Colorado but a lot of other teams would love to have a player like him on their roster.
Thomas is the wild card because I honestly believe that he's so polished, he can come in right away as a rookie and have an impact on this team. He was praised for his route running in college and even though he doesn't even have one training camp under his belt yet, Thomas has one of the best pair of hands on the team. Expect big things from him in the years to come.
Mills will probably take a little longer to get adjusted to the pro game just because he's learning a lot of new things all at once. He should be a big contributor on special teams this season while he's learning a new position on offense. If he can turn into another Cooley two or three years down the line, the Patriots will be locked in at tight end for the future with the trio of Watson, Thomas and Mills.
Note: Ty Warren will be holding a New England Youth Football Camp from June 23-25. The camp will be held at Waterville High School in Waterville, ME. The camp will start on 4:00 pm on Friday and 9:00 am on Saturday and Sunday. Children are encouraged to show up the day of camp. Both Warren and receiver Bam Childress will be in attendance.