Spring is a time of new beginnings.
As such, it's appropriate that the NFL offseason - including free agency and the draft - occurs at about the time the flowers are blooming and grass begins growing.
Free agent additions and new draft picks bring hype and hope, much the same way that longer days and budding growth give us all a boost of that spring-time energy. Heck, the hope that spring brings is so powerful it actually urges us to clean out our garages and homes and have a yard sale. If that doesn't show the power of the spring of hope, I don't know what does.
From a football perspective people talk themselves into the idea that new members of their favorite team are just the recipe for success. Last year's failings - and last year was indeed a failing everywhere except Baltimore - turn to hope of 2013 success.
Adrian Wilson isn't the aging, slowing castoff he was in Arizona, he's an All-Pro talent with the hope of adding experience and playmaking ability.
Danny Amendola isn't the injury prone temptation that he was in St. Louis, he's a younger, more athletic version of Wes Welker who's going to pick up where their aging All-Pro left off.
Guys like Jamie Collins, Aaron Dobson and Josh Boyce aren't unproven unknown youngsters, but rather athletic, potential-filled future stars.
That's how spring makes us feel anyway, as our April hopefulness talks us into the idea of ultimate fall success on the field.
But for the Patriots, and the team's defense in particular, the hope of the future is completely miscast if it's based on the latest New England draft class or free agent signings. Sure Wilson, Tommy Kelly, Collins and Logan Ryan might end up as complementary cogs in the defensive rotation.
In reality, though, if the Patriots defense is going to make big strides in 2013 and become a competent and possibly even playmaking aspect of the team it will be thanks to guys who were here to end last season, not guys joining the squad this summer.
It will be about the 2012 draft class, a group that brought its own hope last spring and tantalized our talent taste buds last fall with glimpses of potential.
Make no mistake, if Bill Belichick's defense is going to make the strides Patriots Nation has been yearning to see for nearly a decade, it will be because of Chandler Jones and Dont'a Hightower.
Belichick has spoken often over the years about the idea that players undergo their greatest growth, their greatest improvement, between their first and second seasons. It's a theory that many analysts and even veteran players themselves have regurgitated. It is the so-called Year 2 Jump.
Last year's two first-round picks - guys who Belichick broke his draft-day-is-about-trading-down rule for - are indeed the hope. And this hope doesn't come in some if-I-win-Powerball-this-is-what-I'd-buy kind of way.
Jones was arguably New England's best defensive player early last season before slowed by an ankle injury and maybe a bit of the rookie wall. He still finished second on Matt Patricia's defense with six sacks and led the squad with 12 QB hits to go along with five pass defenses and a trio of forced fumbles in 14 games played.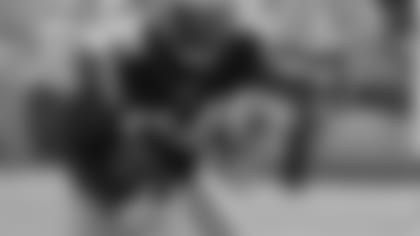 Hightower also missed time to a hamstring injury that may have affected his production and ability to be used in the crazily versatile ways he was a year earlier as a force all over the field for Nick Saban's Alabama machine. Still, in his 14 games played Hightower did enough to rank fourth on the team with 75 tackles, while adding four sacks, three pass defenses and two fumble recoveries.
Clearly the Patriots biggest need as a team this offseason - especially on defense - was playmakers. But that doesn't mean those playmakers necessarily have to come from outside the organization. If Jones and Hightower improve on their rookie seasons and make that all-so-important Year 2 Jump, it would dramatically alter the look of their unit and the New England team as a whole.
Don't buy it? Just ask the Houston Texans. As a rookie in 2011, J.J. Watt had 56 tackles, 5.5 sacks, four pass defenses and two fumble recoveries. A year later he was the most dominant defender in the game, earning Defensive Player of the Year honors with 81 tackles, 20.5 sacks, 16 pass defenses, four forced fumbles and two fumble recoveries.
Talk about a Year 2 Jump!
Or look a little down I-95 with the Giants and another disruptive edge presence in Jason Pierre-Paul. JPP was a bit player as a rookie three years ago with 4.5 sacks. In 2011 he became a DPOY candidate himself with 16.5 sacks.
It's by no means out of the realm of possibility for a pair of first-round picks to jump from intriguing rookies to impact playmakers in the course of a year. It actually happens on an annual basis in the NFL.
The only downside is that more often than not, if high draft picks are not blossoming into stars in their second seasons then they may not end up becoming impact playmakers at all.
That's the pressure that Jones and Hightower face this summer and fall. No longer is winning a starting job, making a few plays and being complementary pieces enough. Jones and Hightower should be developing into the playmaking core of the Patriots defensive front.
The honeymoon is over for Belichick's pair of former first-round picks, guys who Mr. Value actually traded up to get. Potential is now a thing of the past. Now it's all about production. It's all about the Year 2 Jump.
New England's 2013 success on defense, and to some degree as a team, is riding on it.
---
This article originally appeared in the May 7th edition of Patriots Football Weekly available now on newsstands throughout New England. Subscribe to Patriots Football Weekly now and receive 30 issues of PFW delivered right to your door. Plus, get free access to pfwonline.com and the Patriots Football Daily app for ipad.