Encouraging signs for left guard/co-captain Logan Mankins (calf/hip) and tight end Aaron Hernandez (right ankle), both of whom missed Thursday's workout. The duo was back in uniform on Friday.
Three Patriots were not seen at the start, the same three who've been absent all week: safety Steve Gregory (hip), LB Tracy White (left foot), and rookie running back Brandon Bolden (left knee).
With injuries to both of New England's starting safeties, some in the media are wondering whether we might see cornerback/co-captain Devin McCourty line up back there this Sunday against New York – a role he was asked to play at times last season. "On this team, you've got to be ready to go anywhere," McCourty replied. "That's not my call, I'll do whatever Coach [Belichick] decides. We've got some young guys that I think are doing a great job of picking up the defense since they've been here. I think they've done a great job just responding and give them opportunities to show what they know and how they can play."
Rookie DE Chandler Jones recalled today his pre-draft visit with this week's opponent, the New York Jets. "Yeah. They showed a lot of interest, they showed a lot of interest," he stressed. "I went up there and [head coach Rex Ryan] sat me down, we went over a few schemes, basically what every team does with you, and talked about my brother [UFC champ Jon "Bones" Jones] for a little bit, but that's about it."
You know it's a Friday when the topics of conversation in the locker room turn to the absurd… like running back Stevan Ridley today discussing a new fashion trend he's promoting among the team's ball carriers: onesies. Shane Vereen tweeted the accompanying photo earlier today of the entire Patriots roster of backs sporting what has become Ridley's signature civilian clothing outfit.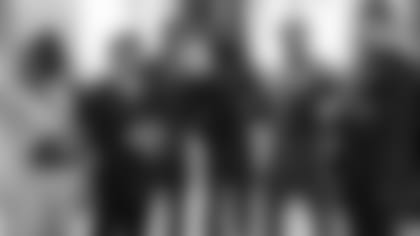 A friend, Ridley explained, from a clothing company sent him the one-piece outfit. "I had to get the running backs to try them out. It's just kind of a small joke," he added. "It's a team thing. The running backs wore them together as a unit. Like Bill said, it's all about the team… maybe one day you'll walk in here and the whole team will be in them." Apparently, position coach Ivan Fears wouldn't agree to don one, according to Ridley, who laughed at the thought.
Gregory, Bolden, and White have been declared Out for the Jets game. Meanwhile, 11 other Patriots are questionable, including Mankins and Hernandez. The rest are: DL Ron Brace (back), S Patrick Chung (shoulder), WR Julian Edelman (left hand), tight end Rob Gronkowski (hip), rookie LB Dont'a Hightower (left hamstring), OL Nick McDonald (right shoulder), CB Sterling Moore (knee), RT Sebastian Vollmer (back), and WR Wes Welker (ankle).
Defensive tackle Kyle Love (knee) is Probable (75-percent chance).
Down in Florham Park, NJ, starting nose tackle Sione Po'uha (lower back), backup nose Kenrick Ellis (knee), S Eric Smith (knee), and RB Bilal Powell (shoulder) are Doubtful (25-percent chance of playing).
Starting C Nick Mangold (ankle), RB Joe McKnight (ankle), and WR Clyde Gates (shoulder) are Questionable.
Ten other Jets are Probable: Starting WR Stephen Hill (hamstring), starting TE Dustin Keller (hamstring), starting WR Jeremy Kerley (finger), starting S LaRon Landry (heel), o-linemen Brandon Moore (hip), starting LB Calvin Pace (shoulder), starting QB Mark Sanchez (lower back), staring LBs Bart Scott (toe) and Bryan Thomas (hamstring) and starting OL Matt Slauson (knee).