Players were in helmets and shells for today's workout in frigid temperatures. Snow is predicted for this weekend in New England.
Every player on the roster was present, save CB Marquice Cole (finger), for the second day in a row.
None of the players who spoke in today's post-practice interviews would admit to watching the scoreboard Sunday for the outcome of the 1 o'clock game between Houston and Indianapolis, which could impact New England's seeding in the playoffs (a Houston loss coupled with a Patriots win would give the Patriots at least the 2-seed).
"No, no, not at all. The only thing we can control is what we do on Sunday," maintained rookie linebacker Dont'a Hightower. "Everything else is outside of our reach. So, we can only concentrate on the Dolphins."
"All we can do to help ourselves out is win, and let the chips fall where they may," cornerback Kyle Arrington offered. "Go from there."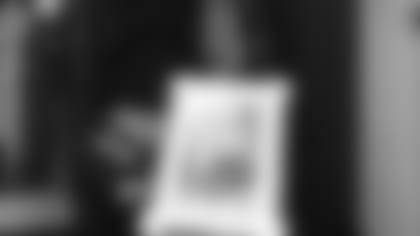 Rookie defensive end Chandler Jones shared similar sentiments to Hightower and Arrington, but compare those to what quarterback Tom Brady had to say just two days ago on this very subject.
"I'm sure we'll all be aware of that [Houston outcome], yeah. No question," Brady acknowledged. "But I don't think that changes what our goal is for the weekend. I think we're trying to win this game regardless. It could be different if some other teams win, but that's really out of our control. We're just going to go out and try to win."
New England still has one spot remaining on its 53-man active roster (assuming Jermaine Cunningham is activated this week – he currently has a roster exemption while he returns from a four-game suspension). They could activate a player from the practice squad, like they did last week with wide receiver Kamar Aiken for the Jags game.
Jones, by the way, had a large, framed poster of himself (taken straight from the pages of Patriots Football Weekly) sitting in his locker.
Cole is officially listed as DOUBTFUL for Sunday game against Miami. Twenty other New England players are listed as QUESTIONABLE with various ailments. The Dolphins have ruled out WR Davone Bess (back). Three other Miami players are QUESTIONABLE