While a total of 19 players did not suit up for this session (including tight end Rob Gronkowski), the big news of the day was who did: guard Logan Mankins. Appearing in uniform meant Mankins was removed from the physically unable to perform (PUP) list. It was also noteworthy that linebacker Brandon Spikes, who'd missed several recent practices and the preseason opener versus New Orleans, returned to action. New England's middle linebacker ranks had been thinned of late without him and the loss of Dane Fletcher to a serious knee injury Thursday night.
Here are some other highlights from Sunday's practice:
The list of non-participants included: defensive backs James Ihedigbo (rehabbed on field), Malcolm Williams, and rookie cornerback Alfonzo Dennard (leg, rehabbed on field); fullback Spencer Larsen; linebackers Fletcher and Tracy White; offensive linemen Sebastian Vollmer (back/PUP, rehabbed on field), Matt Kopa, Kyle Hix (rehabbed on field), and rookie Markus Zusevics (pectoral/NFI, rehabbed on field), tight ends Gronkowski (rehabbed on field), Visanthe Shiancoe, Daniel Fells (shoulder/PUP), and Jake Ballard (knee/PUP); wide receiver Britt Davis; running back Eric Kettani (rehabbed on field); and defensive linemen Myron Pryor (shoulder/PUP), Gerard "Big Money" Warren, and Jonathan Fanene.
In addition to Mankins and Spikes, defensive lineman Ron Brace and o-lineman Dustin Waldron returned to practice
Wide receiver Deion Branch has been dressed practices this summer, but hasn't taken part much. He was inactive versus the Saints Thursday night, as well. However, on Sunday, he was very involved in the passing game when the offense and defense clashed in 7-on-7 and team work periods. In the team work period at the end of practice, Branch even caught a nice touchdown pass from Ryan Mallett on a slant pattern in the red zone.
In a WR-vs-DB one-on-one coverage drill, Aaron Hernandez made a nifty shake move on cornerback Ras-I Dowling, giving the tight end a good 10 yards of separation to make an easy catch and run. In the same drill, receiver Julian Edelman made a couple of tough grabs, out-muscling his defenders each time, which drew loud applause from the fans in attendance.
Despite the somewhat laid-back nature of this condensed session, the tempo sped up considerably in the final hour, when situational football was emphasized. The two-minute drill livened things up quite a bit.
Cornerback Marquice Cole came up with the play of the day. In 11-on-11, he read backup QB Brian Hoyer, who threw a 20-yard out-pattern intended for rookie Jeremy Ebert. Cole stepped in front of the pass and raced some 40 yards to the end zone for the pick-six.
During 11-on-11 action, Nick McDonald, recently thrust into left tackle duty in practice, was sharing reps at both guard spots with Dan Connolly and Donald Thomas.
Tom Brady threw a sweet touchdown pass to Jabar Gaffney. The receiver was running from left to right along the end line, with cornerback Devin McCourty giving tight chase. Brady lofted the ball just high enough over McCourty's head. If he'd turned his head in time to see the trajectory of the ball, McCourty may have been able to swat it away. Instead, Gaffney reached up and high-pointed the ball before tip-toeing in the right corner of the end zone for the score.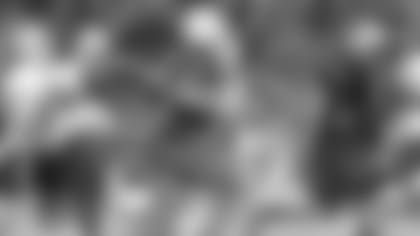 Spikes went right back to his middle linebacker spot along side Jerod Mayo and rookie Dont'a Hightower.
The aforementioned Hightower came down with a nice interception in team period. Hoyer tried to fit a pass into the seam, but apparently didn't see Hightower, who'd dropped into coverage. He easily cradled the ball and returned it about 20 yards before running out of bounds.
Two plays later, Hoyer redeemed himself somewhat, tossing a perfect fade pass to Gaffney over the head of Sterling Moore.
Kickoff returns were the focus of two special teams periods. Numerous combinations, as usual, were given opportunities, but the difference today was that the player normally taking the "up-man" spot was deliberately being allowed to return the ball.
The Patriots are back on the field Monday afternoon from 1:30-4 p.m. Practice is scheduled to be open to the public.