Very good news regarding injuries: Tight ends Aaron Hernandez (right ankle), Rob Gronkowski (hip), and Michael Hoomanawanui (concussion) returned to action. This is the first we've seen Hernandez since he was injured in the Arizona game Week 2. He ran a few warm-up pass routes and took part in opening drills today, but clearly had a hitch in his step. He's not quite at full strength, though it appears he's well enough to begin working his way back in earnest.
Safety Steve Gregory (hip) and wide receiver Julian Edelman (left hand) remain absent, and cornerback Ras-I Dowling was not there either. According to Jeff Howe of the Boston Herald, Dowling's grandmother died and he was excused from work to be with his family.
DE Chandler Jones was named the NFL's Defensive Rookie of the Month for September. His stats read as follows: four games, four starts, 17 total tackles (nine solo), three sacks, two forced fumbles.
Defensive tackle/co-captain Vince Wilfork took what has become his customary set of Thursday questions from reporters. No surprise, the first ones were about Peyton Manning. "Never easy to prepare for this guy. Never," Wilfork said about this week's opposing QB, who's now starting in Denver after sitting out all of last season with the Colts with a neck injury. "Because he does a lot of things on the run, on the move. He brings the play clock down to almost zero before snapping the ball. He's going to go down as one of the best to ever play. From what I've seen, he hasn't missed a step. He's playing very well. He doesn't take a lot of sacks, hits. It's rare you actually see people get on him. It's a different [Denver] offense than last year. He's running that ship pretty good right now.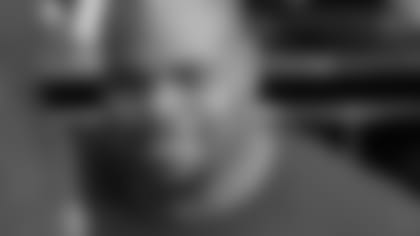 "We have to match [his] intensity this week," Wilfork continued. "We have to be able to execute very well. We're going to have to do some things on defense that we haven't done all year. We're going to have to keep him guessing, because I'm pretty sure he's going to keep us guessing. Once again, it's an old-fashioned rivalry against a Manning. It's going to be interesting."
The guy snapping to Manning is very familiar to Wilfork and the Patriots as well. He's former Patriots center Dan Koppen. "Being with him for nine years, I know Koppen a little bit. He knows me also a little bit," added Wilfork. "It's no different for either one of us – trying to win a ball game."
Rookie RB Brandon Bolden (limited in practice Wednesday with a knee problem) spoke to a huge gathering of media Thursday, just four days after rushing for 137 yards and a score in Buffalo. He insisted he has "blinder" on now for this week's Denver contest. "Last week happened; now we're getting ready for Denver. We have them coming here," he said. "Just forget about it. It was a game. You see that: 'Yeah, yay, yippee.' Everybody was happy. But it happened, it's in the past, and now, we're moving on."
Asked about his expected role this week versus the Broncos, Bolden responded, "I have no clue… We might go in one game and do something different from what we expected and we have to change it. You don't know. So, I don't know."
Kicker Stephen Gostkowski addressed reporters' questions before practice Thursday. They were eager to speak with him after he missed a pair of long field goals in Buffalo last Sunday. He described the life of an NFL kicker as being akin to a surfer riding a wave. "I've got knocked off the board a couple times this year, and I'm going to get right back up there… My confidence will always be good," he maintained. "I've done this for so long, and I've had so many ups and downs. Things have a way of working themselves out, whether good or bad. I don't worry about things I can't control. I just control how hard I work and how hard I concentrate."
Gostkowski, a former hurler on the diamond, added that the most difficult aspect of coping with missed kicks is waiting for that next field goal opportunity. "Yeah, it's the nature of the position. I go through it every week and it was the same thing when I pitched in college and have a loss or bad game, you'd have to wait a whole week to pitch again. Mentally, I've conditioned myself to be able to move on. If I keep working hard, and keep doing the same things, and keep my focus high and my concentration high, then things are going to work out."
The full injury report will be updated here on the blog during the 4 o'clock hour.
Gregory and Edelman did not practice at all, nor did Dowling. The official listing for him was "not injury-related."
Hernandez, Gronk, and Hoomanawanui were all limited in today's practice, according to the official injury report. For the second day in a row, QB Tom Brady (right shoulder) was limited, too.
The following Patriots were all limited in their practice work Thursday: rookie RB Brandon Bolden (knee), DL Brandon Deaderick (ankle), rookie DL Justin Francis (ankle), rookie LB Dont'a Hightower (left hamstring), left guard Logan Mankins (calf/hip), OL Nick McDonald (right shoulder), CB Sterling Moore (knee), RB Shane Vereen (left foot), and RT Sebastian Vollmer (back).
Defensive tackle Kyle Love (knee) was the only listed player to participation in full.
Out in Denver, still only five players listed: starting right guard Chris Kuper (forearm) and backup linebacker Nate Irving (concussion) were upgraded from limited work to full participation. Starting right corner Tracy Porter (shoulder) practiced in full, as did backup corner Chris Harris (ankle) and backup receiver Matt Willis (hamstring).