Missing from action for the second consecutive day were three key starters: left guard/co-captain Logan Mankins (left ankle, hip, calf), wide receiver Wes Welker (ankle), and right guard Dan Connolly (back).
Linebacker Tracy White (left foot), who yesterday made his first appearance in pads since October 5, was seen being treated by the team's medical staff on the sideline while his teammates stretched. He then spoke to head coach Bill Belichick before leaving the field.
Defensive end Rob Ninkovich and safety Steve Gregory have come away impressed with Colts rookie QB Andrew Luck after watching film of him this week. "He moves well in the pocket, and makes a lot of plays with his feet when he's scrambling around," Gregory observed after Wednesday's practice. "You can tell just from the film that he's a pretty smart guy. He seems to read defenses pretty well. And he makes smart decisions with the football… most of the time. You can tell the guy's a leader. He's taken on the job and he's been a true professional about it."
"I think he came from a successful program, so, I think that helped him transition into the NFL," offered Ninkovich, "and obviously he's got a lot of good skills, can make all the throws. And he's able to make a lot of good checks, so I think that he's one step ahead of all the other rookies. He does a good job of keeping his eyes down the field, avoiding the rush with just his awareness and presence of the rush. He's still able to get out of the pocket and make those throws down the field."
Colts DE/OLB Dwight Freeney commented this week on the renewal of the Indy-New England rivalry. "A lot of history between us and it never gets dull. For a few years there, it was like they were a division opponent. We would see them twice a year. It's always been a battle. I'm sure it will be another one."
Freeney also insisted he wasn't concerned about his young teammates, most of whom have never faced the Patriots in Foxborough. "No concern. You just have to prep them on the history and I'm sure there are some [Patriots fans] that will be throwing the bird up on the way to the stadium. You'll see a little bit of that. It's going to be a great atmosphere. It's going to definitely be a football atmosphere and I can't wait to be a part of it again."
After Wednesday's practice, newly-signed guard Mitch Petrus spoke briefly about coming to New England from the New York Giants, who'd recently cut him. "I'm fortunate to be going from one great team to another, that's for sure," said the third-year player, who won a Super Bowl with the Giants last season. "The locker rooms are pretty much the same. The guys are really focused on what they have to do.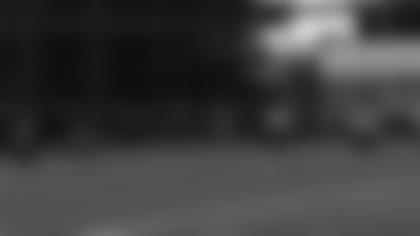 Petrus said he didn't bring his Super Bowl ring with him to show it off in front of his new teammates. "No, trying to get another one," he quipped, before noting where his attention is in the short term. "Obviously a massive amount trying to learn the calls and all that, that's kind of my main focus right now."
Player interviews in the locker room aren't happening today until the 4 o'clock hour, when the injury report is also set to be released. We're expected to speak with CB Aqib Talib for the first time then.
WR Deion Branch (hamstring) has been added to the injury report. He was limited in today's practice as a result. There were no other changes from Wednesday's report.