… Balmy December conditions and sunny skies allowed the Patriots to practice outside on the Gillette Stadium game surface Thursday, where they'll host Saturday's contest against Miami. The team was in shells, helmets, and sweats for their final workout of Dolphins Week.
… Running back BenJarvus Green-Ellis (illness) and tight end Aaron Hernandez (not injury related) where back on the field after missing Wednesday's practice.
… On the down side, linebacker Brandon Spikes (right knee) was not out there, after taking part the previous two days. Nor was right tackle Sebastian Vollmer (back/right foot), who has not been seen since the end of the first half of the Philadelphia game.
… More encouraging signals, however, regarding the possible return to action of safety Patrick Chung (right foot). He spoke to reporters for a few minutes after practice, which is generally a sign that an injured player is poised to play again. "You can think what you want of that," he responded with a knowing laugh. "But I feel good."
… Chung added that there was never a time when he thought he wouldn't be back on the field. "Sometimes it feels good, sometimes it doesn't. I'm working, working hard … It's just a day-to-day process. Keep working."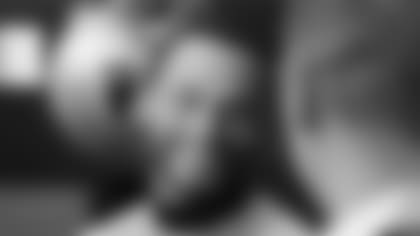 … New DB Vincent Fuller entertained a few reporters' questions as well. "I was sitting at home with my family watching the games on Sunday … man, I got a phone call and came here and signed a contract … now I have a chance to play on Sunday." Fuller said he thought he might get a call because of the rash of injuries in teams' secondaries around the league.
… Fuller was actually on the Lions' injured reserve list, but when they released him recently, he was then free to sign with any team. "Anytime you get put on injured reserve, you think you're done for the year," he added, "but it turned out that my season wasn't … I was actually working out and preparing as if I would get to play in the next couple of weeks. Hopefully that allows me the opportunity to come in and help."
… The Patriots still have one roster spot open on the 53-man roster after releasing DE Eric Moore on Tuesday. It may be too late in the week to sign another free agent, so, look for the team to call up one of its practice squad players sometime before kickoff on Saturday, if they choose to fill that spot this week.
…. As always, we should have an injury report and game status info around 4 p.m. Check back soon for updates.
… Green-Ellis was able to participate on a limited basis Thursday, while Hernandez took part in full and is no longer listed. Spikes and Vollmer did not take part at all. Center Ryan Wendell (calf) and running back Danny Woodhead (abdomen) were removed from the list.
… Fuller, meanwhile, has been added with a forearm problem. He was limited today, along with the rest of the players listed yesterday, including Chung: CB Kyle Arrington (foot), wide receiver Deion Branch (groin), C Dan Connolly (groin), WR/DB/returner Julian Edelman (back), LB Dane Fletcher (right thumb), S James Ihedigbo (shoulder), cornerback Devin McCourty (right shoulder), WR Matthew Slater (shoulder), rookie RB Shane Vereen (hamstring), RG Brian Waters (ankle), and WR Wes Welker (knee).
… Down in Davie, Florida, Dolphins TE Anthony Fasano (head) missed his second consecutive practice. WR Brandon Marshall (knee) took part on a limited basis after missing Wednesday's workout. Left tackle Jake Long (back) was limited for the second straight session.