Daytona Beach, Florida (July 3, 2008) - Randy Moss, NFL All Pro wide receiver with the New England Patriots, will make his debut as a NASCAR team owner on July 19 in the Built Ford Tough 225 at Kentucky Speedway. Moss has purchased a 50-percent stake in the NASCAR Craftsman Truck Series team owned by long-time series participant David Dollar. Dollar's team, known as Morgan-Dollar Motorsports, will be renamed Randy Moss Motorsports effective immediately.
"We looked at a lot of different options and we've decided to align with David Dollar's team rather than build an operation from scratch," Moss said. "He has an existing team with a state-of-the-art shop, all the parts and pieces it takes to do this and do it well, and some of the best people in the Craftsman Truck Series garage area. The team has contended for championships in the past and has won a lot of races. We really believe that we'll come out of the gate competitive with a chance to win."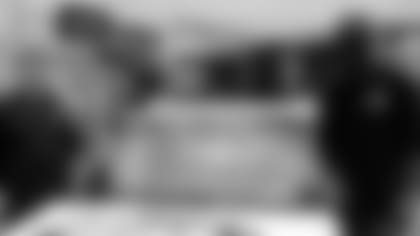 ]()As Morgan-Dollar Motorsports, the team has won 13 races with drivers Dennis Setzer, Bobby Labonte, and Clint Bowyer. With Setzer at the wheel, the team finished second in the series standings from 2003 through 2005. The team has entered each race in 2008 with drivers A.J. Allmendinger, Aric Almirola, Landon Cassill, Erin Crocker, Timothy Peters, Regan Smith and Scott Speed. The team has three top-ten finishes so far in 2008; Speed scored a tenth-place finish at Martinsville while Cassill has finishes of ninth at Charlotte and third at Milwaukee. .
Sponsorship for the new organization is pending. The new team will utilize Moss's familiar No. 81, and will retain Morgan-Dollar's relationship with Chevrolet. Eric Phillips, long time crew chief for Morgan-Dollar Motorsports will continue to fill that role with Randy Moss Motorsports.
Moss is a ten year veteran in the National Football League and was a first-round draft pick in the 1998 draft out of Marshall University. He has been a NASCAR fan for several years including sponsorship of a local dirt track program and recently made the decision to get involved with the ownership of a NASCAR team. He is also a Goodwill Ambassador for the Urban Youth Racing School and furthers his youth advocacy while holding the same honor with American Youth Football. A major component of the Randy Moss Motorsports program will be the continued involvement and support of youth programs.
Moss is looking forward to seeing his truck on the speedway in competition.
"It's been a long time coming," he said. "It's something I've wanted to do for a long time. It's going to be a lot of fun to see that truck out on the track and know I own it. We've made a pretty big commitment to be here, and we have just as big a commitment to win races too. All of us at Randy Moss Motorsports are competitive people and winning is our priority. It's not going to be easy but we're all going to work as hard as we can to make it happen."
For more information on Randy Moss Motorsports, please visit www.randymossmotorsports.com (Domain registration and hosting by GoDaddy.com®. Site created by GoDaddy.com® Custom Design Group).
Be sure to watch Randy Moss's full NASCAR press conference with David Dollar.