As the NFL shifts to a league built upon the pass, more teams are seeking explosive playmakers at wide receiver and tight end to create mismatches in space.
In the 2012 NFL Draft class, there are several intriguing options at both positions, with Oklahoma State WR Justin Blackmon and Clemson TE Dwayne Allen garnering most of the attention. Blackmon, a two-time Biletnikoff Award winner, is one of the most polished receivers the draft has seen in years. His ability to create big plays in space makes him an ideal No. 1 target.
Allen is the versatile tight end offensive coordinators covet these days, due to his impressive combination of size, speed and athleticism. He excels playing in an upright position from the slot, and his ability to do damage over the middle of the field will quickly endear him to quarterbacks.
Notre Dame's Michael Floyd, Baylor's Kendall Wright and Stanford's Coby Fleener are also regarded as potential impact players, with natural receiving skills that shine above their counterparts. Teams looking to fill out the roster with explosive perimeter players will extensively study their every move at the NFL Scouting Combine to assess their potential as difference-makers in the passing game.
Others to watch include South Carolina's Alshon Jeffery and Rutgers' Mohamed Sanu, due to their prototypical size. Both excel at coming down with contested balls in traffic and their potential to function as red zone threats will make them intriguing possibilities.
1. Justin Blackmon, Oklahoma State: Blackmon is the most dynamic playmaker in the draft. He is extraordinary with the ball in his hands and his ability to gain yards after the catch reminds some of Anquan Boldin. Blackmon's high football IQ and polished route-running skills make him an ideal No. 1 receiver, but he must answer questions about his speed and explosiveness in workouts. If he can post 40 times in the sub-4.5 range, he could come off the board within the first five picks in the draft.
Good fits: St. Louis Rams, Minnesota Vikings and Washington Redskins.
2. Michael Floyd, Notre Dame: Floyd is an exceptional talent with superb ball skills and athleticism. He displays Larry Fitzgerald-like concentration coming down with acrobatic catches. While some questions persist about his speed and burst, the biggest concerns surrounding Floyd stem from a few off-the-field transgressions. If he is able to knock out the interview portion of the NFL Scouting Combine while also putting on a spectacular display on the field, his stock could soar up draft boards across the league.
Good fits: Chicago Bears, Houston Texans and New England Patriots.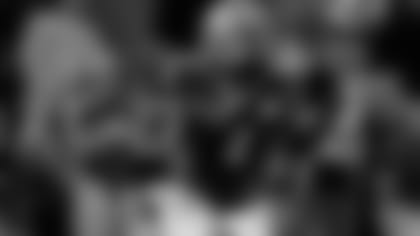 3. Kendall Wright, Baylor: Teams looking to add a legitimate deep threat have already pegged Wright as an intriguing prospect, but he is also garnering interest as a potential No. 1 receiver. He concluded a spectacular career at Baylor with a scintillating series of performances that have cemented his standing as a legitimate first-round talent. With another opportunity to impress evaluators at the NFL Scouting Combine, Wright must display the speed and explosiveness that everyone expects after studying the tape. If he records times in the sub-4.4 range and shows consistent hands, he could garner serious consideration in the middle of Round 1.
Good fits: Philadelphia Eagles, Cleveland Browns and New England Patriots.
4. Alshon Jeffery, South Carolina: Jeffery is a big-bodied pass-catcher with the size, athleticism and ball skills to create matchup problems on the perimeter. He excels at posting up smaller defenders on vertical routes and is one of the best natural pass-catchers to enter the league in some time. In spite of his remarkable traits, Jeffery is not considered one of the top prospects due to questions about his fitness level (weight) and speed. He must show up to Indianapolis in tip-top condition and post 40 times in the mid-4.5 range to retain his potential first-round status.
Good fits: Houston Texans, San Diego Chargers and San Francisco 49ers.
5. Mohamed Sanu, Rutgers: Sanu has flown under the radar for most of the season, but evaluators have started to take notice of his well-rounded game following a spectacular junior season at Rutgers. He is a fine route-runner with a great feel for finding the soft spots in coverage. Furthermore, he is a dependable pass-catcher with remarkable hand-eye coordination. If he can continue to display the polish and hands in drills that he has shown throughout the season, Sanu will make a strong push for first-round consideration.
Good fits: Houston Texans, New England Patriots and San Francisco 49ers.
Sleeper to watch: T.Y. Hilton, Florida International. Teams looking for more bang for the buck will closely study Hilton's performance at the NFL Scouting Combine. He is one of the most electrifying playmakers in college football, and his ability to generate production in multiple phases (receiver/returner) makes him a coveted commodity for several teams. If he can put together a spectacular performance in front of evaluators, Hilton could enter the discussion as a Day 2 prospect.
Good fits: Baltimore Ravens, Denver Broncos and New York Jets.
1. Dwayne Allen, Clemson: Allen is an athletic pass catcher in the mold of Antonio Gates. A combination of size, speed and quickness makes him one of college football's toughest matchups in space. To solidify his status as a top prospect, Allen must display excellent strength and explosiveness in drills, while also showcasing balance and body control running routes. If Hilton can convince evaluators his impressive receiving skills outweigh his limitations as a blocker, Allen could be the first tight end to come off the board.
Good fits: Chicago Bears, Kansas City Chiefs and Denver Broncos.
2. Coby Fleener, Stanford: Fleener is one of the few all-purpose tight ends in the 2012 draft class, so scouts are clamoring about his potential impact at the next level. At 6-foot-6, 245-plus pounds, he is an underrated athlete with superb speed and quickness. If he can surprise scouts by posting a better than anticipated 40 time while also displaying terrific hands, ball skills and route-running ability, Fleener might be a surprise selection at the bottom of Round 1.
Good fits: New York Giants, San Francisco 49ers and Indianapolis Colts.
3. Orson Charles, Georgia: The reemergence of the H-Back in pro football has certainly increased the value of guys like Charles. The Georgia star brings a unique blend of speed and athleticism to the table despite lacking prototypical dimensions for the position. Scouts will fall in love with his movement skills when they see him on display, but he must pass the eyeball test at the official weigh-in to maintain his lofty position on most draft boards.
Good fits: Atlanta Falcons, Miami Dolphins and Arizona Cardinals.
4. Ladarius Green, Louisiana-Lafayette: With more and more teams utilizing the tight end to create mismatches on the perimeter, talented athletes like Green are benefitting from the movement. The 6-6, 237-pound pass-catcher is an experienced slot receiver with the speed and athleticism to make plays in space. Scouts have questions about his size, strength and blocking ability on the edge, but he can address those concerns with a strong performance in the weight room to complement his dazzling display of athleticism on the turf at Lucas Oil Stadium. If he performs as well as advertised, Green's stock should surge in the run-up to the draft.
Good fits: San Diego Chargers, Arizona Cardinals and Denver Broncos.
5. Michael Egnew, Missouri: Egnew is regarded as one of the top prospects at the position, but his stock took a hit after underwhelming play at the Senior Bowl. He has a chance to salvage his status as a mid-round pick by performing exceptionally well during the workout portion of the event. If he can display consistent hands and show fluid movement skills, scouts will bypass some of his glaring deficiencies to keep him afloat as a possible No. 2 tight end for teams employing multiple-TE systems.
Good fits: Arizona Cardinals, San Diego Chargers and Dallas Cowboys.
Follow Bucky Brooks on Twitter @BuckyBrooks