As the head coach of their team likes to say, "For every long week, there's a short week."
The Patriots just had five straight days off, thanks to their new collective bargaining agreement with the NFL, which mandates such an extended break during a team's bye week. That means this week, they have to come in on their normal Tuesday off, giving them an extra day to prepare for their Week 8 opponent, the 5-2 Pittsburgh Steelers.
In the locker room today, there seemed to be consensus that, while it was great to have a mini-vacation in the middle of the season, it's even better to be back at work, recharged for the remaining 10 weeks of the regular season.
"You have those days off, your body feels pretty good," linebacker Rob Ninkovich observed. "Today, we getting back in and starting working again. It's good to have those few days to get your body back. You feel refreshed for this week of preparation.
"Oh, ready to go," proclaimed safety James Ihedigbo. "Just focused and ready to go for Pittsburgh. Break times' over. Ready to get back to work and get this thing rolling again."
"I don't know if 'recharged' is the word," added running back BenJarvus Green-Ellis. "Sometimes it's good to have a couple of days off, but now it's time that we get back to football. We're focused on that as a team, looking to eliminate some of the mistakes we've made."
The Steelers are a team the Patriots seem to face almost every year, so, there's a higher level of familiarity with this opponent than, say, their previous foes, the Dallas Cowboys. However, that didn't stop the Patriots from doing as much advance scouting as possible during the bye week.
"I watched a little bit of tape [on Pittsburgh]," said Ninkovich. "I watched them play the Cardinals. They're going to be a tough challenge."
"They're a good team. They're kind of like where they were a year ago, and even better," said defensive lineman Albert Haynesworth after watching the Steelers-Cards game. "They have a three-game winning streak so far, and they're a strong team. They're definitely going to be in the postseason this year.
"They're a very physical team. They don't dance around. They're not finesse whatsoever. Everybody runs hard. They don't mind hitting ... they like to hit. So it's a very physical team. More physical than we've faced this year."
Starting with quarterback Ben Roethlisberger, as Ninkovich can attest.
"He's a big guy and he can move. Anybody who's 260 pounds that can move is hard to get on the ground. He's going to be a challenge to contain and keep in the pocket."
The Steelers' skill position players are also a threat. At running back, Pittsburgh employs a potent committee led by Rashard Mendenhall, with backups Isaac Redman, Mewelde Moore, and Jonathan Dwyer doing more than their fair share. Mendenhall, with the most carries (94) and yards (351), has the lowest average per carry at 3.7.
"They have great running backs. Everyone is explosive, they've got speed. You have to respect everyone they have in the backfield because any play they have the ball, they can break a big one," Ninkovich continued.
"They have a rotation going on that, maybe, is keeping those guys a little more fresh. But they're all running hard. They have some big guys in the receiving corps. Hines Ward is always someone who can throw those blocks to get that outside running game going. You always have to be aware of where he's at on the field. They're just a good team overall."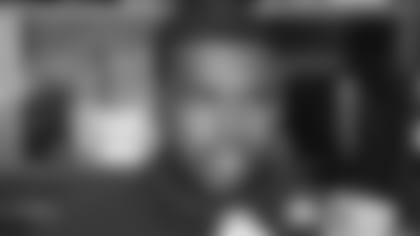 Defensive lineman Brandon Deaderick saw his first action of the season last week in practice after coming off the physically-unable-to-perform list (PUP). The Patriots have two more weeks, if they want to take that long, to decide whether or not to promote Deaderick to the active roster.
Meanwhile, the second-year man from Alabama is approaching Steelers Week as if he'll be on the field, though he hasn't been told one way or the other.
"I feel great," he told reporters prior to today's practice. "I'm ready to go now. Preparing this week for Pittsburgh. The past is in the past. I'm looking forward to the future.
"I'm just happy to come in and ready to contribute. It's exciting. It's going to be an exciting week. Got a lot of ground to make up, missed a lot of time, but I'm up for the challenge."