Thirty potential Patriots, including 7 draft picks, 10 rookie free agents and 13 tryout players, took to the practice fields behind Gillette Stadium dressed in shorts, jerseys and helmets for a pair of workouts on Friday as part of the team's four-day rookie mini camp.
For the players, the short, veteran-free work in Foxboro is chance to begin learning the Patriots system and get their feet wet in the first days of their NFL careers. For the team, the workouts are the first time Patriots Head Coach Bill Belichick and his staff get to personally interact on the field with some of the players they have spent the last year studying.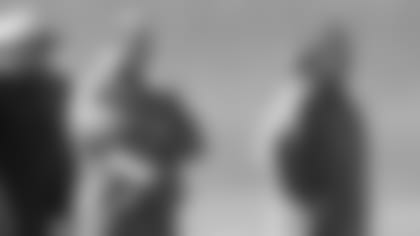 ]()"We got everybody out there on the field today and started moving around a little bit," Belichick said in his morning press conference. "Obviously it's the first step in a marathon process. We're just trying to get guys into the system a little bit and teach them a few things, get them lined up, just really starting from scratch and take this weekend to try to indoctrinate these kids into our system and talk about relocation and training camp and playbooks, just everything.
"It's really about as basic as you could possibly get and then that will lead into picking things up a little bit in the middle of May and ultimately build toward training camp. That's pretty much where we are. We're not out there climbing any mountains today. We're just trying to get one foot in front of the other without falling down."
But in taking it one step at a time there is little question that the long term goal is the same for these young players as it is for the veterans that will join them on the practice fields this summer for mini camp and training camp. They are all professionals now and their futures will be based on how they progress as football players in the coming months.
"I think the most important thing is getting the players on the right track," Belichick said of his goals for the short camp. "Most of them have been spending the majority of the spring working out for pro scouts, doing stuff like broad jumps, three cone drills and junk like that, versus our players who have been in here training to play football. They're not training for some arm length test. They are training to play football. And a lot of [the rookies] have just been waiting around, kind of waiting to see what is going to happen—who is going to draft me, where am I going to end up, what position am I going to play?
"All of that is over with. So now it is time for them to really put their foot on the gas. They know where they are. They are going to be told what they need to do. They are going to be given a program, both on and off the field from a football standpoint and also in terms of relocation and making some changes in their lifestyle. They need to act on those if they want to have any opportunity to compete against some of the players that are on our team and some of the veteran players that are good football players. This is no college program where it is a four-year scholarship where you redshirt and sit around and fool around for a couple of years and then play and just hang out. Here, you either do it or somebody else does it. So, I think that is the biggest thing for us, is to get them to understand that and start acting on it and start becoming a professional football player. There is a big jump between playing football in college and being a professional player, with their livelihood depending on the performance."
That's a message many of the rookies have already received.
"It's about a job now," cornerback Ellis Hobbs said. "I am trying to get a spot on the roster. It's not about starting or this and that, it's about earning a spot."
And earning a spot with the back-to-back Super Bowl champions, a team that arguably sports one of the deepest rosters in the league, won't be easy for any of the 2005 rookies that took their first NFL steps at Gillette Stadium on Friday.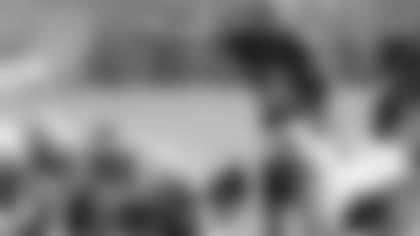 ]()Cassel's time to shine?**
By now most Patriots fans have heard the unusual story of seventh-round pick Matt Cassel, a guy who earned the draft day call despite the fact that he spent his entire tenure at USC as a backup to Heisman Trophy winners Carson Palmer and Matt Leinart. Cassel admits his story is a bit different than most quarterbacks drafted into the NFL, but he is more than confident he is worthy of the unique situation he's found himself in.
"I feel like I deserve to be here," Cassel said. "Like I said, I feel like I have the physical abilities and I think I have the mental capability to be here and play at this level. I think it was an unfortunate situation where Matt and myself were battling it out and he stepped up and took the position. But at the same time there were two Heisman Trophy winners. So who knows, I could be the third best quarterback in the nation but I never got the opportunity."
Now he has the opportunity to win a job backing up another quarterback who has taken home some impressive hardware in his playing career, two-time Super Bowl MVP Tom Brady. So is Cassel expecting to finally unseat this star starter?
"Not at all. He's Mr. Brady to me. To me it's about coming in and learning as much as I can because he's obviously the best in the game right now."
So once again Cassel could find himself playing behind a guy who is considered the best in the game, something he is used to.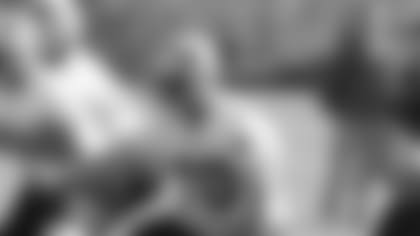 ]()While the Patriots never officially release the names of tryout players, two of the 13 names in attendance at mini camp were fullback Edgar Cervantes (6-3, 243), a 2003 graduate from Iowa who was actually born in Mexico, and Dan Lynch (6-3, 315), an offensive lineman out of Catawba. Cervantes, who spent time in camp with the Giants a year ago wore jersey number 30(white) on Thursday. The numbers of other tryout players were 13(w), 15(w), 24(w), 32(w), 41(blue), 43(w), 60(b), 62(b), 62(w), 63(b), 65(w) and 92(b). … Patriots assistant strength and conditioning coach Harold Nash, an offseason addition to the staff, helped out in a number of drills during the afternoon session wearing a No. 1 blue practice jersey. … Linebacker Ryan Claridge, the team's fifth-round pick out of UNLV, spent the practice session working with the training staff inside the Patriots indoor practice facility. Claridge is still recovering from offseason shoulder surgery. Rookie free agent running back DeCori Birmingham also spent a portion of the practice inside with the training staff. … Top draft pick Logan Mankins, a standout tackle in his career at Fresno State, worked out at left guard in team drills with the offensive line. … Third round pick Nick Kaczur, a guard/tackle out of Toledo, had to leave camp and return home to deal with a personal situation. … An interesting note on Kaczur, the Brantford, Ontario native was selected with the 9th overall pick on Thursday in the CFL draft by the Toronto Argonauts.