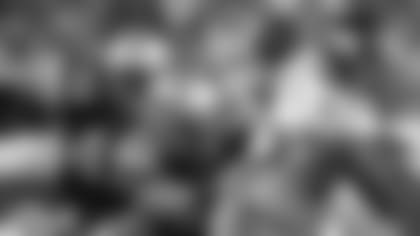 ]()Even after cut-down day came and went, Mike Wright still wasn't sure he was officially part of the team. Saturday's roster moves included 17 names, and Wright's wasn't one of them. Still, the rookie free agent out of Cincinnati was anxious to get to work Sunday morning.
"All I knew was that I was still here and nobody came up to me to talk to me and pull me in the office," Wright said. "So I had good feelings about it, but I was just waiting to see if my stuff was still in my locker today."
Such is the life of a player in Wright's position. With draft picks and financial commitments oftentimes keeping players around perhaps longer than they deserve to be, guys like Wright can sometimes be squeezed out of jobs. The Patriots signed him April 29, shortly after the NFL draft was completed and 255 other players heard there names called.
As is often the case when undrafted players defy the odds and make an NFL roster, particularly one as deep as the Patriots, Wright's injury history was a major factor in his lack of attention. After transferring to Cincinnati from Ashland University in Ohio, Wright missed the entire 2002 campaign after tearing his ACL during the preseason.
A shoulder problem that wound up needing surgery kept him out of the lineup periodically in 2003, and such pertinent facts tend to scare teams out of offering much guaranteed money. Wright admitted that Carolina expressed interest only to back out at the last minute because of the injury history. Evidently the Patriots were willing to take a chance and so far things have worked out.
"I had injuries in college that set me back," Wright said. "It definitely turned a couple of teams away. I only really played a season-and-a-half. When I didn't get drafted, my agent said that guys want to give you opportunities for a free agent deal, and that's all I really wanted. That's what everybody wants is a chance to reach your final goal and your highest level."
Wright obviously took the last part of that sentence to the extreme, opting to try his luck at the top of the NFL mountain with the Patriots.
"That's what I was thinking but I know Coach Belichick and his staff and I thought it would be the best fit for me and it turned out it was," Wright said about his decision to sign with New England. "Nobody really [told me where to sign]. I had it in the back of my mind just because everybody is unbelievable around here. There are no slouches. I made up my mind that all I could do is go in there and give it my best and whatever happens, happens. I can't control anything else. I'm just fortunate that [New England] gave me an opportunity and luckily I've stayed healthy so far."
Wright may have been given that chance but he earned the resulting roster spot based on a strong preseason. He recorded 16 tackles this summer and led the club with 3.5 sacks. And somewhat surprisingly for a man of his size (6-4, 295), he also added a pair of special teams stops to his resume.
"I think he had a good, productive preseason," Head Coach Bill Belichick said. "He did that in the practices and the games. He had some production rushing the passer and has good playing strength for the running game.
"He's a young guy who has a long way to go and has a lot to learn, but we just put them all out there and let them compete. We thought he competed well and was productive and the fact that he was durable and stayed out there every day gave him a chance to get better and improve on a day-to-day basis, and he did that."
Belichick was impressed with Wright's position flexibility, something he often looks for with potential backups. The coach pointed out that Wright worked at all three defensive line positions in addition to his roles in the kicking game. For a guy looking to carve out of role with such a talented team, those factors certainly played in his favor and likely gave him the edge over Rodney Bailey, who was among the group of 17 let go Saturday.
"You don't see very many [defensive lineman on special teams]," Belichick said. "The No. 1 thing on special teams is speed. With the distance the ball is kicked you have to have speed to cover that ground. That's why most of the special teams players are the skill players. But if a lineman can run it gives him some value and a chance to compete even thought they're not as fast. Because of their athletic ability, and if they're physical, then sometimes they can make up for a little bit of that speed differential, but not a lot."
The Wright for Bailey move stands as the lone true surprise transaction of the weekend if only based on financial considerations. But in listening to the coach speak on Friday, it was clear that the Patriots don't stick with players strictly based on and investments they've made in the past.
"Once the players walk onto the field at the start of training camp, it doesn't matter whether the guy has played in Division I or Division VI, was in 12 Pro Bowls, or was a rookie free agent," Belichick said during his Friday conference call. "A player's performance, to me, is based on what he does in your system on the football field. In some extreme situations, financial considerations could be an issue. For the most part, I would say it has zero on a roster decision."
The coach certainly backed up those words by dispatching Bailey, who cost the team a sixth-round pick plus a $1.3 million tender to acquire him from Pittsburgh as a restricted free agent in 2004. Bailey ruptured his Achilles last preseason but that didn't stop the Patriots from signing him for two more years and giving him another $325,000 in a signing bonus. While the club won't be responsible for his base salary, they will have given him $1.625 million (plus the sixth-round pick) without Bailey ever having played a snap.
There was quite a bit of enthusiasm surrounding the signing of David Terrell last April, but when the wideout was sidelined for much of camp with an undisclosed injury, it seemed the writing was on the wall for his dismissal. Terrell played in the final two preseason games, catching three passes for 21 yards, before being released on Saturday.
"It's disappointing to have to release players who have worked hard," Belichick said. "It was a very competitive situation, but in the end, you have to make decisions and you can't keep everybody. I don't think there was anybody in the last cut that we didn't feel that way about. Again, special teams play a big part in all of the decisions, except the linemen. As it gets into the skill position players, that has to be part of it and it was."
Tom Brady, who served as Terrell's quarterback while the two were at Michigan, expressed similar disappointment.
"I'm lucky I don't have to make those decisions," Brady said. "I love David as a person and as a player and we've spent a lot of great times together. It's always a tough time of year for everybody. You develop relationships with people and it's hard to see them go, especially someone you have a history with."
There were a couple of number changes evident in the Patriots locker room following cuts. Inside linebackerMonty Beisel switched from the No. 44 he wore throughout camp to Ted Johnson's No. 52. Also, Wright made the swap from 69 to 99. Hopefully he'll have better luck than the three previous players to wear that number this summer – Ethan Kelley,Mario Monds andIfo Pili – all of which were released. … The Patriots will announce their practice squad shortly after practice on Sunday, which should be around 3 p.m. Players must clear through waivers before being eligible. Candidates for inclusion, depending upon availability, include running back Kory Chapman, wide receiver Bam Childress, fullbackKyle Eckel, safety Ray Ventrone, offensive lineman Ryan Krug and linebacker Eric Alexander, all of whom still had their lockers in place. Incidentally, the locker for former linebacker Roman Phifer no longer has his nameplate affixed at the top and now sits empty.