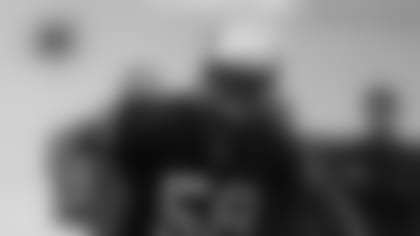 ]()Change is a good thing for Mincey and Woods**
An elephant is a difficult thing to replace. For the past 12 years, the elephant in the Patriots defense had been Willie McGinest. Now, with McGinest in Cleveland and no proven veteran ready to step in and replace him, there is an opportunity for a young player to come in and contribute early on in their career. Two players who are trying to help the Patriots fill the void at the elephant position in their 3-4 defense are Jeremy Mincey andPierre Woods.
While no one expects a young player to come right in and produce like McGinest has over the years, both Mincey and Woods have a good chance to make an impression because the Patriots lack depth at their rush end position. Mincey, a sixth-round selection out of Florida, and Woods, an undrafted free agent from Michigan, enter the NFL as DE/OLB tweeners. With Mincey weighing 263 pounds and Woods coming in at 249 pounds, both players are best suited as edge rushers in a 3-4 scheme like the one the Patriots run.
Mincey played two seasons at Florida after transferring from Butler County Community College. He started all 24 games for the Gators at defensive end and recorded 113 tackles, 5.5 sacks and 10.5 tackles for loss. Mincey was named Florida's Outstanding Defensive Lineman in 2004 and made All-Southeastern Conference second-team last year as a senior. Like many before him, Mincey is trying to make the transition from college defensive end to NFL outside linebacker.
"This is totally different for me," he said. "I thought when they said standup linebacker it was similar to defensive end but it's linebacker. I have to adjust to the terminology and everything else. It feels different standing up but I just have to get used to it. A football player is a football player and that's what I am."
Mincey said his former college coach, Urban Meyer, prepared him for how things were going to be in New England under Bill Belichick.
"I knew this was going to be a hard-nosed program from the start," Mincey said. "Coach Meyer told me to prepare for the worst. I just need to keep giving 100 percent, learn everything I need to do and get everything right."
Woods was considered an underachiever at Michigan. He finished his senior year with 24 tackles, 3 sacks and 10 tackles for loss. His best season came as a sophomore when he registered 68 tackles, 7 sacks and 14 tackles behind the line of scrimmage. Woods played both outside linebacker and defensive end for the Wolverines and he's known for having a quick initial burst once the ball is snapped. His speed off the edge should help Woods compete for a spot on the team as a situational pass rusher.
"He'll definitely play outside linebacker here," Belichick said. "That's what he'll do for us. He's played some on his feet, probably more down than up but there were sometimes when they ran blitz zones where he had some opportunities in coverage but not all that much. Not many colleges play a lot of 3-4 defense."
Woods knows making the transition from defensive end to linebacker isn't an easy one but he also knows it's something he has to do if he wants to make the team.
"I think my quickness is one of my best assets as a pass rusher," Woods said. "My strength is rushing the passer. I played with my hand down most of the time in college. It feels weird standing up sometimes because I'm used to playing defensive end. I just have to learn on the run and make the transition otherwise I won't be here long."
Both players have the ability to rush the passer but it's dropping back into coverage that appears to be their biggest challenge.
"Maybe once in a blue moon I was in coverage in college but here there's like a 70 percent chance I'll be in coverage, so that's a big difference," Mincey said.
Woods added, "I'm used to being a pass rusher but we also have to drop back in coverage, so I have to learn that part of the system too. I feel comfortable rushing the passer but I didn't cover people a lot in college. It's something I need to improve on."
Sunday at mini-camp, Mincey did pretty well in coverage, despite being worried about that part of his game. He showed quick feet and even was able to stay with first-round draft pick Laurence Maroney on a couple of occasions. Mincey definitely showed that he has some versatility in his game.
Woods didn't look as fluid in coverage but he too made a nice play on Maroney, not letting the running back create seperation from him.
Mincey and Woods have a long way to go before they're ready to contribute as outside linebackers in the Patriots system but both players expressed their eagerness in doing whatever it takes to make the team.
"I just want to work as hard as I can and help the team," Mincey said. "It doesn't matter what it is, I just want to help the team win."
Woods echoed the thoughts of his fellow rookie teammate.
"I'll do whatever they ask me to do," he said. "Play special teams, contribute in any way I can. I'm just happy to be here in New England, it's a blessing. I'm just trying to make the team in any way I can."
· The most impressive player on the field Sunday was tight end David Thomas. Everything seems to come easy for Thomas. He got down the field quickly, ran great routes and caught everything thrown his way. Thomas is very smooth in and out of his breaks. He showed the ability to go up and snatch the ball out of the air, even when a defender had tight coverage on him. Nobody on the field could cover him.
· After struggling a little bit yesterday and even early Sunday, Garrett Mills bounced back to have a nice practice. The H-back made some nice catches and showed that he's a very good route runner.
· Chad Jackson had another good practice, catching virtual every pass in his direction. His hands are like suction cups where he just swallows any ball near him. Jackson does a very good job of catching the ball with his hands and not letting it get to his body. One negative on Jackson is that he sometimes struggles coming out of his breaks. He's so fast that occasionally his feet get tangled up and he either trips over them or looses his footing. Being a more controlled route runner is something Jackson will need to work on over the next couple of months.
· Randy Hand is a mountain of a man and although he played mostly tackle in college, the Patriots had him lining up at guard on Sunday while Dan Stevenson – a guard at Notre Dame - played center. Overall, the Patriots new crop of offensive linemen all looked like big, mobile players with a lot of strength.
· Corey Bramlet made a lot of nice throws throughout practice. Bramlet seems to know when to fire the ball in there and when to take something off his throws so his receivers can run under the ball and make the catch. He's very accurate throwing over the middle and I thought he had a very impressive day at quarterback.
· Matt Shelton had some trouble catching the ball in a couple of drills and was forced to do push-ups after his drops. At 6-0, 170 pounds, Shelton is a long shot to make the team and dropping balls early on in camp won't help his cause any.
· Willie Andrews made some nice plays on Sunday. He showed good recovery speed, knocking down a couple of balls intended for Chad Jackson. He was the one defensive back that was able to stay with Jackson on a consistent basis.
· Laurence Maroney caught the ball well out of the backfield. He didn't always create separation from the defender but he displayed good hands for a back that didn't catch the ball much in college.
· Inside linebackers Corey Mays and Freddie Roach both struggled in coverage. Each player lost their man at times and had difficulties trying to stay with Thomas and Mills in the flats.
· Patriots owner Robert Kraft was on hand checking out his newest investments. Mr. Kraft was on the sideline talking with some assistant coaches as different drills were going on.