Cornerback: Kyle Arrington, 4th year; Devin McCourty, 3rd year; Ras-I Dowling, 2nd year; Will Allen, 12th year; Sterling Moore, 2nd year; Alfonzo Dennard, rookie; Marquice Cole, 4th year.
Safety: Patrick Chung, 4th year; Steve Gregory, 7th year; James Ihedigbo, 5th year; Josh Barrett, 5th year; Tavon Wilson, rookie; Sergio Brown, 3rd year; Ross Ventrone, 2nd year; Malcolm Williams, 2nd year; Nate Ebner, rookie.
The Patriots secondary in 2012 was the football equivalent ofReggie Jackson. The famous Mr. October enjoyed a Hall of Fame career due to his 563 home runs. Unfortunately for Jackson, nobody amassed more than his 2,597 strikeouts either.
Such was the case for the Patriots defensive backs a year ago. The group turned in its share of big plays, racking up 23 interceptions on the season. It also surrendered more than a few, finishing 31st in the league against the pass.
Bill Belichick hopes it won't continue to be an all-or-nothing situation when it comes to his secondary and he added some pieces to the mix for 2013. The problems a year ago rested in a couple of spots, one a result of injuries and the other due to an unforeseen drop-off in performance.
The situation at safety never settled from the moment Belichick opted to jettison a pair of veterans, Brandon Meriweather and James Sanders, at the end of training camp. The loss of the veterans left young Patrick Chung as the position's leader, and no one of any significant experience to play alongside him.
Chung played next to the likes of Josh Barrett,Sergio Brown and James Ihedigbo before being forced to the sideline with a knee injury that cost him eight games. Barrett's season ended prematurely due to a thumb injury that landed him on injured reserve in early November. Ihedigbo battled a troublesome shoulder problem throughout the season and was often joined by special team playersMatthew Slater and Julian Edelman during the season's second half. Rookie cornerback Sterling Moore started three games in Chung's place, and down the stretch Devin McCourtywas often seen rotating from corner to safety in subpackages.
Belichick identified this problem early in the offseason and signed veteran Steve Gregory from San Diego. The undrafted safety out of Syracuse started 13 games for the Chargers a year ago and figures to be the odds-on favorite to open the season next to Chung in the starting lineup.
In addition, Belichick drafted Illinois defensive backTavon Wilson in the second round. Wilson played both safety and corner for the Illini and worked more at the former during the spring. He should add some depth to the back end of the secondary.
Ihedigbo, Barrett and Brown also return, along with special teamers Ross Ventrone and Malcolm Williams. Ihedigbo and Barrett figure to be the lead contenders for roles on defense among this group, but none is guaranteed a roster spot, let alone playing time. Rookie Nate Ebner, a former rugby player out of Ohio State, will vie for a job as a special teamer as well.
The other major concern from last year came from n unlikely source: McCourty. After a Pro Bowl campaign as a rookie, McCourty's sophomore season was an unmitigated disaster. He was picked on all season long and didn't turn in nearly the amount of big plays he did in 2010. His struggles greatly affected the play of the entire unit, and they also forced some changes in coverage throughout the season.
No one, certainly not the coaches, saw McCourty's drop-off coming and his ability to bounce back and revert to form will be a huge key going forward. The hope heading into last season was to lean on his ability to lock down on the outside and utilize extra personnel elsewhere. Obviously that plan didn't materialize but it's reasonable to assume things will improve for the talented corner in 2012.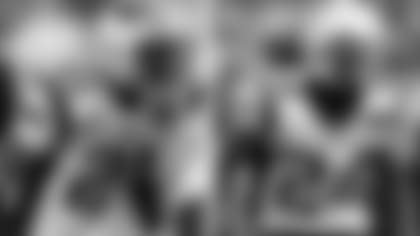 McCourty spent all of spring at left cornerback with Ras-I Dowling and Kyle Arrington working on the other side. Dowling worked on the outside with Arrington often moving to the slot during the camps, which consist almost exclusively of passing. That trio figures to receive the bulk of the playing time at corner during the season, assuming Dowling can overcome the injury woes that have plagued him throughout his career in college and as a rookie.
Moore is an interesting player who appeared to get better and better the more he played last season. After getting picked up from the Raiders, Moore alternated between the practice squad and active roster before solidifying a role down the stretch. His strip of Lee Evans allowed the Patriots to defeat Baltimore in the AFC title game and he performed well during the Super Bowl as well. Moore can play both safety and corner and that versatility could allow him to carve a role again in 2012.
Veteran Will Allen also has the ability to play either spot. Entering his 12th season, Allen saw time at both positions during the spring and appeared to be grasping the system well. Rookie Alfonzo Dennard would have been drafted much higher than the seventh round if not for a pre-draft arrest. Assuming his legal status is cleared, Dennard showed the cover skills at Nebraska to compete for playing time. He'll likely join Moore and Allen in a fight for a role.
Fourth-year veteran Marquice Cole spent his first three seasons with the Jets but was not tendered by New York and therefore became a free agent. The 5-10, 192-pound cornerback will join a long list of players looking to win jobs on special teams.