Starter: Tom Brady, 13th year
Backups: Brian Hoyer, 4th year, Ryan Mallett, 2nd year
The Patriots offense continues to evolve and produce and that's largely due to the excellence of Tom Brady. He orchestrates a unit that remains at or near the top of the league in several statistical categories, not the least of which was points. As he gets set to begin his 13th NFL season Brady will have an embarrassment of riches to work with this summer, and the possibility clearly exists for the group to be even better in 2012.
Despite all the success, Brady continues to work toward improving his game. The latest example came via a recent Boston Herald piece written by the incomparable Karen Guregian. After losing his long-time friend and throwing coach Tom Martinez, who died in February while awaiting a kidney transplant, the All-Pro found another voice to listen to.
Guregian wrote that Brady has been working with former Major League pitching coach Tom House at the Rod Dedeaux Research and Baseball Institute at USC. House used to have his pitchers throw footballs as part of their warm-up routine and is well-regarded in terms of mechanics and fundamentals.
While Brady's work with House amounts to little more than fine-tuning, it's still noteworthy considering his status as one of the game's best quarterbacks at this advanced stage of his career. And lest we forget, the guy threw for a career-high 5,235 yards last season while completing 65.6 percent of his passes with 39 touchdowns and 12 picks (105.6 rating).
It will be interesting to watch him work on the field with several of the new receivers on board. He now knows he'll have Wes Welker back after the slot receiver signed his franchise tender earlier in the week. But after that there are some questions.
How will Brady mesh with newcomer Brandon Lloyd, who figures to start on the outside and become a big part of the offense? Will Jabar Gaffney make a seamless transition back to New England? Where does Deion Branch fit in? Will an offseason be enough to finally get Chad Ochocinco in the mix? Do veterans Donte' Stallworth and Anthony Gonzalez have anything to offer?
Spring and summer camps won't be enough to answer any of these questions but they will offer some insight into Brady's comfort level with them.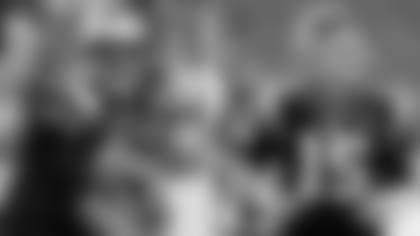 Backing up Brady will once again be the young tandem of Brian Hoyer and Ryan Mallett. Hoyer, a restricted free agent, signed his tender after generating no interest on the market due to his lack of playing time. The team likes his work ethic and knowledge of the system, which could bode well for him if he's ever pressed into duty.
It will be interesting to see if Mallett has made any strides toward surpassing Hoyer as the No. 2 guy. Mallett appeared to be in better overall shape during some charity appearances earlier in the offseason, but few would question his physical skills to begin with. If the 2011 third-round pick shows an improved grasp of the offense he could press for the backup job, as well as make it easier for the team to let Hoyer walk as an unrestricted free agent next spring.
The more likely scenario would see a repeat of last year's depth chart, followed by a decision on Hoyer moving forward. Assuming Brady stays healthy, none of that will be of much concern in 2012.