Tight end: Rob Gronkowski, 3rd year; Aaron Hernandez, 3rd year; Daniel Fells, 6th year; Brad Herman, rookie; Nick Melillo, rookie.
It would be hard to imagine a position on any football team being in better shape than tight end on the Patriots. With the dynamic duo of Rob Gronkowski and Aaron Hernandez ripping apart defenses at record rates in 2011, no team boasts the weapons that New England has at tight end.
Why, then, does the team seem to be concerned with adding a veteran to the mix this spring?
First the team reportedly expressed interest in Pro Bowler Dallas Clark before the former Colt inked a free agent deal with Tampa Bay. Now news of veteran Bo Scaife working out for New England has surfaced via Aaron Wilson of Scout.com. In between the Patriots signed Nick Melillo, a rookie free agent out of Kentucky.
Clearly Bill Belichick is trying to add some depth at the position, at least in the short term. Last week during the media's first peek at OTAs, Gronkowski (offseason ankle surgery) and newcomer Daniel Fells (unknown) did not take part in practice. That left just Hernandez and undrafted rookie Brad Herman as the lone tight ends. In light of that Belichick had defensive lineman Alex Silvestro, a first-year player who spent time on the practice squad in 2011, working out at the position.
Adding Melillo obviously gives the team another body for their offseason camps, but it's the interest in Clark and Scaife that has raised some concerns. Both are proven veterans who would provide more than just a warm body for drills and the team's interest in them could be a sign that Fells' absence could linger. The 31-year-old Scaife is a seven-year veteran who spent six of those with the Titans (2005-10). The 6-3, 249-pound tight end posted career highs in 2008 with 58 receptions for 561 yards and two touchdowns. There is no official information on his status so it's entirely possible Fells could be on the field for Thursday's OTA session, but the interest in established veterans is something to keep an eye on.
Other than the possibility of depth issues, tight end is indeed a major strength for the Patriots. Gronkowski is coming off a season for the ages with 90 catches for 1,327 yards and a record 17 touchdowns. He added another score on the ground and his blocking ability coupled with his pass-catching prowess currently makes him the measuring stick by which all others are measured.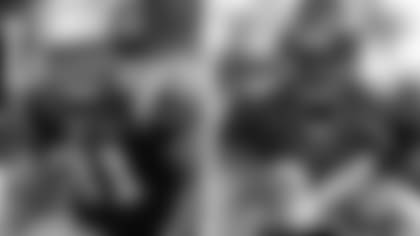 Hernandez wasn't too far behind, at least in the receiving department. He added 79 catches for 910 yards and seven touchdowns while also factoring in as a fill-in ball carrier out of the backfield. The duo's versatility and athleticism allow Belichick to employ each of them in many ways to best create mismatches. They were on the field together on virtually every snap when healthy and that should remain the case even with the addition of some weapons on the outside.
Fells figures to take on the role filled capably by Alge Crumpler in 2010. Though not considered the punishing blocker Crumpler was, Fells is more adept catching the ball and his athleticism is certainly higher than Crumpler's was two years ago. Assuming he's healthy, Fells should eliminate the need for offensive linemen to serve as extra blockers in three tight end sets going forward.
Herman and Melillo face long odds to stick around but remember a year ago when Belichick showed interest in both Lee Smith and Will Yeatman as potential practice squad performers before each was scooped up off waivers. The need for a developmental tight end may be lessened if the coach keeps three on the active roster, but if either of the rookie free agents shows promise, it wouldn't be surprising to see one get a chance to grow.
But in short term the Patriots tight end situation is all about Gronkowski and Hernandez, and few teams come anywhere close to matching that talent.