Illinois running back Mikel Leshoure. AP Photo.


INDIANAPOLIS -- Beauty is in the eye of the beholder. Good things come in small packages. Size matters.
There are plenty of clichés that could be used to describe the varied talent that's available at the running back position in the 2011 NFL Draft class.
After a modern day low of just 12 players were drafted at the spot last year, according to NFLDraftScout.com more than two dozen backs could be drafted this spring – ranging in size from 5-7, 190-pounder Noel Devine out of West Virginia to bigger backs like 6-0, 227-pound Mikel Leshoure from Illinios.
But there doesn't appear to be a truly elite, sure-thing in the class, which is led by a large group of underclassmen that includes Alabama's 2009 Heisman Trophy winner Mark Ingram (5-9, 215).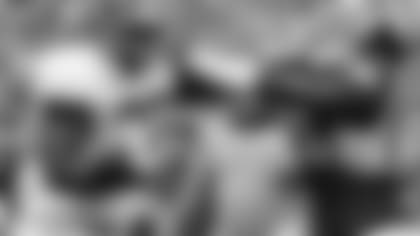 Plenty of mock drafts have already linked both Ingrim and Leshoure to the Patriots with either the 17th or 28th pick. Despite BenJarvus Green-Ellis'breakout 1,000-yard season last fall, the uncertain futures of free agents Sammy Morris, Fred Taylorand Kevin Faulk could leave a couple openings in the New England committee backfield that's carried five players for most of the last couple seasons.
Both Ingram and Leshoure are vying to be the top back selected come April. After his 1,600 yards as a sophomore, Ingram battled a knee injury early last fall and then split carries with Trent Richardson on his way to just 875 yards with 13 touchdowns.
Ingram's 42 touchdowns in just three seasons are a Tide record, and his overall size and style have drawn many to compare him to Cowboys Hall of Famer Emmitt Smith. It's a comparison that Ingram doesn't necessarily embrace, but doesn't shy away from either.
"He's the leading rusher in NFL history. I mean, it's a great honor just to even be mentioned in the same breath with him. So it's a tremendous honor," Ingram said. "It's just a comparison. Everybody is entitled to their own opinion. People get compared all the time. But I don't feel like I'm entitled to live up to being like Emmitt. Of course I'm going to try to be the best player I can be, definitely, and take it one step at a time."
Ingram is well aware of the connection between Alabama head coach Nick Saban, who he praised for demanding perfection with Tide players, and Bill Belichick. But he says he's not yet met with New England.
"I know him and Coach Saban are real close, so I heard they're kind of similar in their coaching styles and how they run things," Ingram said. "But I haven't talked to them yet."
While some don't see any one aspect of Ingram's game that stands out – he described himself as "a complete all-around back" -- Leshoure is trying to showcase all areas of his abilities in Indy to push himself to the top spot among running back prospects.
"I definitely think I can be the No. 1 running back taken," Leshoure said. "That's my goal."
Leshoure broke current Steeler and former first-round pick Rashard Mendenhall'sschool rushing record at Illinois with 1,697 yards and 17 touchdowns last fall, including 330 yards in a win over Northwestern. He hopes to run a 4.5 40 to solidify his draft status, and said his decision to leave school early, like so many other backs in the class, was an easy one.
"As a running back the tires are running," Leshoure said alluding to the idea that backs have only a limited number of carries in their bodies, so much tread on the tires. "Gotta go while the iron's hot."
While Ingram and Leshoure may be battling for the top running back spot, a large group of diverse talents are bunched up with potential second- through fourth-round grades. Included in that group is Virginia Tech's Ryan Williams (5-10, 205), Oklahoma State's Kendall Hunter (5-7, 199), Oklahoma's DeMarco Murray(6-0, 214), Oregon State's Jacquizz Rodgers (5-7, 192), Kansas State's Daniel Thomas (6-2, 230), Cal's Shane Vereen (5-10, 210) and UConn's Jordan Todman (5-9, 195).
Thomas is the biggest body in the group, but is also a relatively athletic player as a former high school quarterback who ran the Wildcat at both junior college and Kansas State. He rushed for more than 2,800 yards over his two seasons at K-State, and likes to compare himself to Larry Johnson in his prime.
"I'm a big back, but can do all the things a little back will do, too," Thomas said. "A big, powerful back that has the ability to take it outside with speed. I can run between the tackles, pass protect and catch the ball out of the backfield."
Though he won't be able to run at the Combine due to a hamstring injury, Thomas' stock could very well be tied to his 40 time in the pre-draft process.
Todman, a Dartmouth, Mass. native who rushed for 1,695 yards as the Big East Player of the Year, is a bit undersized but showed he could carry the full load for the Huskies last fall after splitting carries earlier in his career. Some teams may see him as a perfect complementary option in a multi-back system.
"The league has gone to a lot of complementary backs, two different backs, maybe three backs in a set," Dolphins GM Jeff Ireland said, speaking about running backs in general. "Maybe the value of the No. 1-type running back who's going to get 350 carries, there's not many of those guys out there anymore."
But those who've played against Todman think he's more than just a complementary player.
"He's everything you want in a running back," Oklahoma defensive end Jeremy Beal said prior to facing UConn in the Fiesta Bowl. "Fast, powerful, can make people miss.
While there is a big difference between some of the backs on the opposite ends of the size spectrum, Cal's Vereen fits somewhere in the middle. But that may actually leave him with even more questions to answer.
"I think teams have a lot of questions about me speed-wise, and size-wise. I don't know if they know exactly how big I was or fast I can be," Vereen said of what he has to prove to teams. "So I'm looking forward to going out there and showing them the type of player that I really am."
Coming from Cal's relatively complex, pro-style offense, he hopes to become the next in the school's growing line of running backs to find success in the NFL.
"I learned a lot about offense. Our offense is pretty complex, very pro style, and I think it's going to help me at the next level. I know there's still a lot for me to learn, and I think I'm starting from a real good spot," Vereen said of being the next Cal back. "I don't know if it's pressure. I think it's more of a responsibility that you take over being a Cal running back. You know what's expected of you and you don't want to do anything less than what is expected."
There's a similar group of varied talents projected to go in the late rounds of the draft. On the smaller side are guys like Kentucky's Derrick Locke (5-8, 188), Pittsburgh's Dion Lewis (5-7, 195) and Devine, while the bigger bodies include Wisconsin's John Clay (6-1, 230) and USC's Allen Bradford (5-11, 235). In the middle of the size range for late-round options is Nebraska's Roy Helu Jr. (5-11, 216).
Locke, who had 887 yards and 10 touchdowns as a senior despite missing four games to injury, helped himself out with a solid performance in the Senior Bowl.
"I needed to go in there and show I could compete with some of the best players that are going to get drafted and show that I can be physical and I can run between the tackles and show my vision," Locke said. "(I've) got great hands, great speed. I felt like I needed to show that."
And he emphasized that despite his size, he's not just a guy to run around the end of the line.
"My yards don't come from running outside. I run between the tackles. I'm not scared to drop a shoulder," Locke said. "I'm an all-purpose kind of back. I'm glad they really got to see that when I was down there."
Clay actually lost 30 pounds to get down to 230 for the Combine, something that he hopes will impress NFL decision makers and allow him to test a bit better in some of the drills. Add that to his career totals of over 3,400 yards, 41 touchdowns and back-to-back 1,000-yard seasons and it might raise his value.
He said he has a specific number in mind that he'd like to run in the 40, "but I'm going to keep in to myself."
Between now and draft weekend teams like the Patriots that are looking to add backs to their depth chart will have to pour over all those 40 times, statistics, measurements and scouting reports to decide which, if any, of the many productive backs in this year's class fit their needs. While there would seem to be a very good chance New England might take a back at some point in the three-day draft process, fans will have to wait till then to find out when exactly that happens and which type of back draws the team's interest.