NEW ORLEANS (AP) -- The New Orleans Saints are still unbeaten and have joined the Indianapolis Colts in making NFL history.
Drew Brees threw for a season-high 371 yards and five touchdown passes, and the Saints beat the New England Patriots 38-17 on Monday night. The Saints joined the Colts at 11-0, the first time two teams have opened with that many wins in the same season.
The convincing victory left little doubt about New Orleans' credentials to match the Patriots' 16-0 regular-season mark in 2007. New England remains the only team to go undefeated in a 16-game regular season - for now.
Brees threw touchdown passes to five different players: Pierre Thomas, Devery Henderson, Robert Meachem, Darnell Dinkins and Marques Colston.
It was the second time the Patriots (7-4) lost to an unbeaten team on the road in three weeks.
Unlike in Indianapolis, there was no drama at the end, only thunderous chants of, "What dat say they gonna beat them Saints?"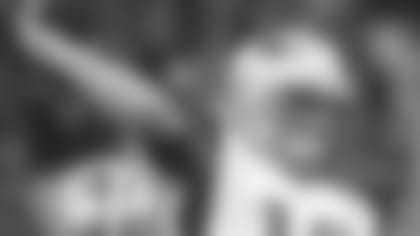 ]()Tom Brady, returning to the Louisiana Superdome for the first time since leading the Patriots to their first Super Bowl title in 2002, won't have many fond memories of this game. He was intercepted twice, sacked once, hit as he threw several times and was pulled from the game in the fourth quarter with New Orleans leading by three TDs.
Brady finished 21 of 36 for 237 yards and did not throw a TD pass. He did, however, become New England's all-time passer, eclipsing Drew Bledsoe's mark of 29,657 yards passing.
The Patriots were within a touchdown early in the third quarter after marching 81 yards on a drive highlighted by Brady's 47-yard completion to Randy Moss, which set up Laurence Maroney's 2-yard TD.
New Orleans needed only three plays to get it back though. Brees hit Colston along the right sideline, and the receiver turned it into a 68-yard gain by eluding Jonathan Wilhite's tackle. That set up tight end Darnell Dinkins' first TD of the season on a 2-yard pass to make it 31-17.
Patriots coach Bill Belichick, clearly worried about his club's ability to stop Brees, made his latest unconventional fourth-down call.
Unlike in Indianapolis, where the Patriots tried to put the game away by going for it in their own territory late in the fourth quarter, New England this time went for it on fourth-and-4 from New Orleans 10 in the third quarter.
Brady's pass for Moss along the left sideline was broken up by Mike McKenzie, who was playing for the first time since fracturing his right kneecap a year ago. The play preserved New Orleans' two-touchdown lead.
*2009 The Associated Press. All rights reserved. *