Veteran NFL coaches caution against making too many evaluations off of limited action. Doing so based on a preseason game is even more dicey. But the Patriots received strong opening game performances from the two guys they hope will comprise a good deal of their rushing attack in 2012 – Stevan Ridley and Shane Vereen.
With Ben-Jarvus Green-Ellis gone there is an opportunity for both to step into larger roles in the New England offense this season. Both were high draft picks a year ago – Vereen in the second round and Ridley in the third – and both showed flashes of being able to contribute.
Last night against the Saints each was impressive. Ridley opened the game with Tom Brady and the rest of the first unit and picked up 40 yards on eight carries, good for a healthy 5-yard average. He bounced off tacklers and showed a good burst in getting to the edge on a couple of occasions. And perhaps the most welcomed sight was he never came close to losing the football.
Vereen saw most of his action in the second half, but even though he wasn't facing the Saints iron he was quite effective. He finished with 64 yards on 11 carries (5.8-yards a pop) and added a pair of catches for 17 more yards. He showed the ability to break through the traffic at the line and find some open spaces while also displaying soft hands in the passing game.
Both look to be big parts of the Patriots ground attack in 2012, but which was worth getting most excited about last night. Our Samsonite Make Your Case asks that very question this week. PFW's Paul Perillo says ...
Stevan Ridley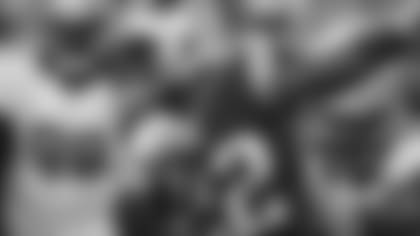 I liked what I saw out of both backs against the Saints and am looking forward to seeing if they can duplicate that success moving ahead, especially if teams start adjusting to them and preparing to stop the running game in the future. I thought Ridley was the more impressive of the two basically because he did his work against New Orleans' starters, and he displayed both physical toughness running inside and the quick elusiveness necessary to get to the edge.
From the start I believe Ridley's skills have been a bit undersold. He's more than just a plowhorse who's going to grind it out between the tackles. He's capable of hitting the occasional home run, as he did in limited action as a rookie. Against the Saints his longest run went for just 9 yards, but he consistently showed the ability to break through the hole and outrun tacklers to the outside to pick up more yards.
I liked the way Ridley attacked the defense and I'm looking forward to seeing more of that in the coming season. Shane Vereen
!You never want to make too much out of a preseason game, but the spark that Vereen showed was truly intriguing. After essentially having a redshirt rookie year, the former second-round pick looked like the best player on the field when he was out there against the Saints. He brings a unique combination of size, speed, quickness, vision and a decisive running style that's unlike any of his backfield competitors.
The more I see from him, the more I believe he can be an every down back in a pass-first offense like New England's. We had to wait a year to see it, but we're finally getting a view of what Bill Belichick liked when he used a valuable second-round pick on Vereen. Hard to believe, but the Patriots may have added yet another playmaking weapon to a unit that is already among the NFL's best. Vereen has moves that would make his cousin Ben proud.
--AH
Now it's the fans turn to cast their vote in this week's Samsonite Make Your Case poll question.
http://polldaddy.com/poll/6454730/